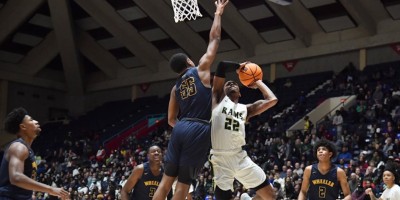 Basketball action took center stage Tuesday and on the girls side, 7A North Forsyth beat Class 3A No. 10 Lumpkin County 51-49 in a comeback victory.
Junior point guard Anna Gliatta led the Raiders with 19 points and senior shooting guard Ali Jones scored nine points. Lumpkin County was led by freshman guard Averie Jones who finished with 20 points. Sophomore shooting guard Lexi Pierce and senior point guard Isabel Davenport each scored seven points. North Forsyth moved to 2-1 on the season and will play at Roswell on Saturday. Lumpkin County is 2-2 and hosts 7A No. 9 Cherokee on Friday.
The fourth-ranked Wesleyan girls had five players who scored in double-figures as it defeated Mount Pisgah 77-22 to move to 3-0 on the season. Chit Chat Wright led with 20 points, nine assists and five steals. Sade Ojanuga scored 15 points with 10 rebounds. Alyssa Phillip finished with 13 points and nine rebounds. Eva Garabadian scored 11 points with five rebounds and Imani Washington finished with 10 points and eight rebounds. Wesleyan will travel to Sequoyah on Saturday.
See the rest of the scores below.
Boys
Alcovy 60, Central Gwinnett 52
Banks County 68, Commerce 56
Blessed Trinity 62, River Ridge 49
Brookwood 70, Rockdale County 62
Callaway 47, Northside-Columbus 38
Camden County 57, Trinity Christian 50
Centennial 65, Roswell 63
Coahulla Creek 48, Ringgold 36
Creekside 61, Morrow 60
Drew Charter 112, B.E.S.T. Academy 54
East Paulding 71, Woodland-Cartersville 37
Elbert County 57, North Oconee 55
Gatewood 56, Lake Oconee Academy 39
Glynn Academy 50, Benedictine 44
Greater Atlanta Christian 53, Marist 36
Hampton 53, Riverdale 48
Harris County 72, Northgate 37
Hebron Christian 76, King's Academy, GA 45
Hillgrove 79, Campbell 57
Hiram 50, Douglas County 44
Jackson County 68, East Hall 57
Jenkins 55, Groves 35
Lakeview Academy 53, Mt. Bethel Christian Academy 51
Lanett 73, Troup County 67
Liberty County 69, Savannah Christian 60
Model 72, Armuchee 34
Montgomery County 58, Hawkinsville 47
Murray County 58, Lakeview-Fort Oglethorpe 57
Newton 65, Archer 47
North Atlanta 57, KIPP Atlanta Charter 54
North Gwinnett 58, Forsyth Central 28
Oak Mountain, AL. 55, Haralson County 44
Oconee County 80, Jasper County/Monticello 57
Pace Academy 73, South Atlanta 20
Riverwood 74, North Springs 22
Sandy Creek 76, Milton 73
Social Circle 53, Apalachee 50
Sonoraville 57, Cartersville 52
South Cobb 67, Lassiter 37
Spalding 66, Hapeville Charter 47
Valdosta 64, Coffee 42
Walker 68, Mt. Vernon 50
Winder-Barrow 69, Mountain View 53
Girls
Alexander 64, Lithia Springs 47
Alpharetta 62, Northview 27
Apalachee 57, Social Circle 36
Armuchee 48, Model 44
Bacon County 49, Long County 45
Banks County 48, Commerce 44
Brookstone 41, Schley County 39
Buford 69, Parkview 58
Callaway 47, Northside-Warner Robins 38
Cambridge 46, Creekview 38
Campbell 64, Hillgrove 49
Carrollton 65, East Coweta 43
Cherokee 63, Sequoyah 58
Cherokee Bluff 41, East Jackson 37
Coahulla Creek 63, Ringgold 52
Cross Creek 55, Josey 39
Dawson County 63, Lanier 30
Deerfield-Windsor 58, Worth County 28
Dutchtown 66, Ola 25
Eagle's Landing 79, Locust Grove 4
Etowah 42, North Cobb 39
Griffin 55, Banneker 16
Heard County 36, Central-Carroll 21
Hebron Christian 59, West Forsyth 39
Hiram 54, Douglas County 45
Holy Innocents' 59, Forest Park 52
Houston County 54, Veterans 35
Jackson 69, Crisp County 39
Jenkins 60, Groves 30
Lake Oconee Academy 58, Gatewood 13
Landmark Christian 61, Trinity Christian 60
Langston Hughes 53, Pebblebrook 32
Loganville 76, Madison County 40
Lovejoy 74, North Clayton 12
Marist 56, Greater Atlanta Christian 45
Montgomery County 45, Hawkinsville 32
Morrow 52, Creekside 49
Murray County 59, Lakeview-Fort Oglethorpe 45
North Forsyth 51, Lumpkin County 49
Northside-Warner Robins 68, West Laurens 27
Oglethorpe County 46, Greene County 43
Peach County 67, Mary Persons 48
River Ridge 55, Blessed Trinity 22
Riverdale 51, Hampton 44
Riverwood 54, North Springs 25
Rockdale County 60, Brookwood 50
Roswell 71, Centennial 56
Savannah 46, Islands 41
Savannah Country Day 46, South Effingham 29
Schley County 57, Social Circle 36
Sonoraville 70, Cartersville 33
South Atlanta 31, Pace Academy 14
South Cobb 44, Lassiter 27
Stockbridge 83, Salem 25
Tallulah Falls 72, Bethlehem Christian 21
Tattnall County 58, Vidalia 29
Temple 51, South Paulding 29
Thomas County Central 46, Cook 25
Toombs County 38, Portal 35
Troup County 57, Lanett 24
Valdosta 61, Coffee 54
Warner Robins 66, Rutland 18
Wesleyan 77, Mt. Pisgah Christian 22
Woodstock 74, South Forsyth 46