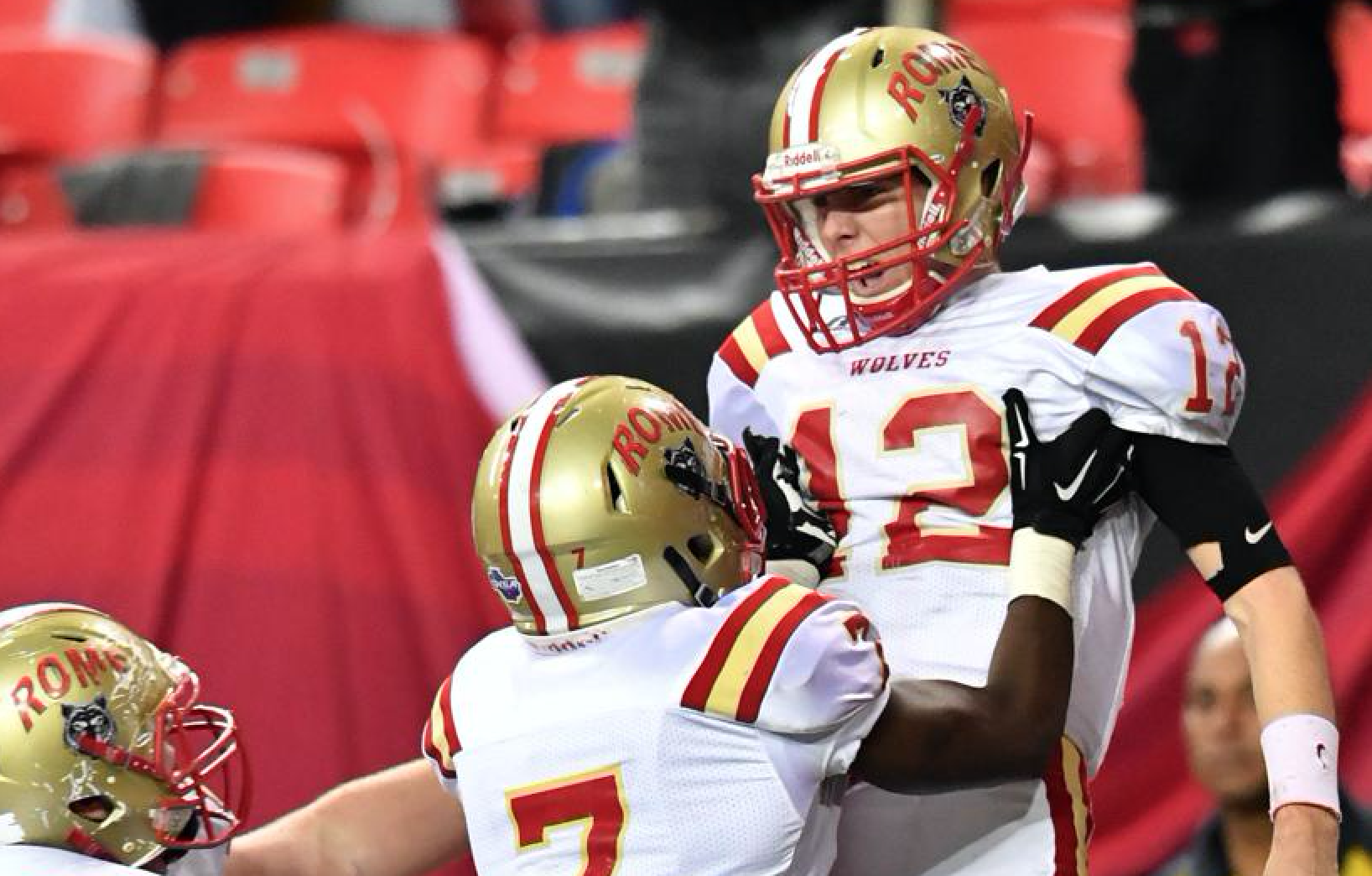 AJC.com
The 2018 MetroPCS Corky Kell Classic will introduce two new sites and a fresh lineup of teams to celebrate its 27th year as Georgia high school football's kickoff extravaganza. This year's slate consists of nine games, which will be played over the span of three days at three separate locations. The action starts with a doubleheader at Rome's Historic Barron Stadium on Thursday, Aug. 16, followed by a Friday night doubleheader at Georgia State Stadium on Aug. 17th and concludes with a five-game marathon at Mercedes-Benz Stadium on Saturday, Aug. 18.
The first two games, and opening day, of last year's Corky Kell Classic were hosted by Mercer's Five-Star Stadium in Macon, but delays which postponed the scheduled opening of Mercedes-Benz Stadium, required a substitute site to step up to host the event's second and third day games. An expedited effort was needed to pull it off, but the newly-transformed Georgia State Stadium (formerly Turner Field) accomplished in accommodating what would be the first seven football games ever played at the historic venue. Six of the games were decided on the final play and the quality of the overall experience laid the foundation for Georgia State Stadium and the Corky Kell Classic's ongoing partnership.
Macon's two-year contract expired after last year's run and the city of Rome began a convincing campaign that successfully brought the Corky Kell Classic, and its spotlight, to the Northwest region of the state for the first time.
"We are so thankful for Mercer, Five-Star Stadium and the Macon community for being wonderful hosts these past two years," said Dave Hunter, the Executive Director of the Classic. "The city of Rome and Floyd County were very determined to bring the Corky Kell to their backyard and we are thrilled for this opportunity."
The Rome double-header at Barron Stadium opens with Class AAAA Ridgeland squaring off with reigning Class AAA state champion Calhoun at 5:30 p.m. Class AAAAAAA Marietta will take on two-time defending Class AAAAA state champion Rome at 8:45 p.m.
"The Corky Kell is one of the, if not the biggest and most competitive opening weeks of high school football in the country," said Rome head coach John Reid. "This would never have been possible without the help of Rome City Schools and our tremendous support staff and fans. … To be chosen as a host site along with other venues like the Mercedes-Benz Stadium and Georgia State Stadium, as well as previous venues like the Georgia Dome and Mercer University, says a great deal for the city of Rome and its great football tradition."
Georgia State Stadium's star-studded double-header kicks off at 5:30 p.m. with Tucker and Buford, in what marks the first meeting between the two powerhouses since the 1955 season (Buford 7, Tucker 0). Class AAAAAAA state title hopefuls Milton and Archer will play in the 8:30 p.m. nightcap in the first-ever meeting between the two programs.
The 10 teams playing at Mercedes-Benz will get the opportunity to be the first football games played in the world-class venue since the unforgettable College Football National Championship game between Georgia and Alabama on Jan. 8, 2018.
Kell and East Coweta are up first with a 9 a.m. kickoff, followed immediately by Walton and Mill Creek at 11:45 a.m. McEachern and Colquitt County are scheduled for a 2:45 p.m. kickoff and Brookwood and defending Class AAAAAAA state champion North Gwinnett are set to get started at 5:45 p.m. The final game is scheduled for an 8:45 p.m. kickoff between Norcross and Mays, which will be the first Atlanta Public School represented in the 27-year-old event.
"I get goosebumps when I think about that matchup," said Atlanta Public Schools Athletic Director Jasper Jewell." A lot of these kids don't get the opportunity to step foot inside of Mercedes-Benz Stadium. So for us, it's something that will present us with memories that will last a lifetime. It gives our district an opportunity to showcase our many, many talents and to let people know that we belong in this stadium and we belong on this stage with all these great teams."
In addition to the new venues and first-time participants, this year's Corky Kell Classic will offer the first look at the GHSA's new ruling that requires a seventh official be added to every playoff game this upcoming season. The announcement to expand the officiating crews from six to seven came from the aftermath of the controversial ending to the 2017 Class AAA state championship game between Peach County and Calhoun. There are simply not enough officials available to staff seven-man crews statewide during the regular season, which is why the rule is reserved for the postseason. The Corky Kell Classic, however, took the early steps needed to give its 18 head coaches the option of voting on whether or not they wanted to have seven-man crews at this year's games. The group gave a unanimous 'yes' and so all nine games this year will take part in the seven-man test run.
All games include a halftime show and the MetroPCS Tailgate shows in between games and be televised live by My ATL TV (Channel 36) and on Facebook Live by 11Alive. The games will be broadcasted on 92.9 The Game and various channels around the state. There also will be a live game tracker at CorkyKell.com.
For more information about the Corky Kell Classic, including team previews and event history, visit www.CorkyKell.com.
2018 MetroPCS Corky Kell Classic Schedule
Thursday, Aug. 16 at ROME's BARRON STADIUM
5:30 p.m. Ridgeland vs. Calhoun
8:30 p.m. Rome vs. Marietta
Friday, Aug. 17, at GEORGIA STATE STADIUM
5:30 p.m. Buford vs. Tucker
8:30 p.m. Archer vs. Milton
Saturday, Aug. 18, at MERCEDES-BENZ STADIUM
9 a.m. Kell vs. East Coweta
11:45 a.m. Mill Creek vs. Walton
2:45 p.m. McEachern vs. Colquitt County
5:45 p.m. Brookwood vs. North Gwinnett
8:45 p.m. Norcross vs. Mays
*Tickets for Aug. 16th at Rome can be purchased HERE
*Tickets for Aug. 17th at Georgia State can be purchased HERE
*Tickets for Aug. 18 at Mercedes-Benz Stadium can be purchased HERE