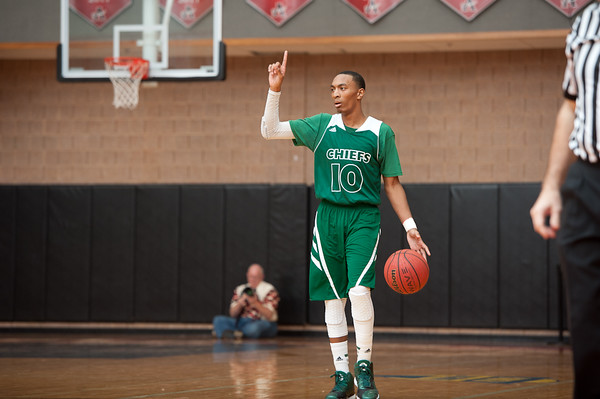 Photo by Ty Freeman
Shiloh gets the nod as the No. 1 team in Class AAAAAA heading into the 2015-16 season. Four transfers join recent Georgia Tech-commit Josh Okogie to form a favorite in the state of Georgia. The three-star forward averaged 21 points and 7 rebounds and now has electrifying guard Darnell Rogers (George Washington), steady ball handler Khalil Richard (Siena), shooter Greg James and big man Thurman Massenburg all joining the party over in Snellville. Don't forget about senior guard Malik Chandler, who adds depth and is coming off a season in which he was the team's third leading scorer at 9 points per game. The Generals were 28-4 last season and suffered their only in-state loss to Pebblebrook in the state semifinals, 57-47.
No. 3 Westlake is loaded with Division-One players headed by Langston Hughes transfer Chuma Okeke who averaged 22.8 points and 8.3 rebounds per game as a sophomore. No. 9 Newton has looked extremely impressive early on this year behind the Rams' excellent guard play.
In Class AAAAA, No. 1 Miller Grove is the logical frontrunner to win their seventh state title after falling in the quarterfinals a year ago. Transfers Aaron Augustin (Peachtree Ridge), Tae Hardy (Southwest DeKalb) and Colin Young (Laney) have all been excellent and have helped the Wolverines rout Stephenson and AAA No. 4 East Jackson in a scrimmage. UConn signee Alterique Gilbert is one of the best point guards in the nation.
No. 2 McIntosh has everyone back from last year's 29-1 team. Wofford signee Dishon Lowery anchors the paint while Jordan Lyons, a Furman signee, averages over 24 points per game. Will Washington might be the best pass-first point guard in the state. Isaac Kellum transferred from nearby Fayette County High School, but for some reason the GHSA will not allow him to play this year, hurting the McIntosh's chances and disallowing the senior to play basketball in his final year in school.
Class AAAA has turned into a deep field with many great individuals, but No. 1 Lithonia has a senior-laden team that cares more about playing for each other than individual stats. Senior guards Rodney Chatman and Tyheem Freeman make up a tough backcourt while senior forward Tyleen Patterson chips in on the offensive and defensive sides of the ball. Transfer Jacara Cross, a 6-foot-6 senior forward from Cedar Grove, instantly rounds out a now balanced attack. Cross averaged 15.9 points, 6.5 rebounds and 2.7 blocks as a junior and is known for playing above the rim.
Defending two-time state champion No. 2 Jonesboro will need to find pieces to place around five-star swingman MJ Walker. Big man Jamari Smith and senior guard Tariq Jenkins will be the first in line to help contribute. Defense will always be the backbone of the Cardinals and keep them in the state championship hunt.
No. 1 Laney opens up as the top dog in AAA. Senior 6-foot-2 guard Christian Keeling is a recent Charleston Southern signee after posting 11.3 points, 4.5 rebounds, 2.2 assists and 2.1 steals in 2014-15. Zep Jasper runs the offense as the lead guard and is a College of Charleston signee. He chipped in 8.1 points and 3.9 assists to the balanced offensive attack. Sophomore Donald Henley and junior Tahj Tanksley might be the next two guards to take the spotlight after the seniors graduate. The Wildcats' recipe for success last season was their smothering defense that allowed 54.4 points per game.
No. 1 Seminole County has emerged as a force in Class AA and will look to repeat behind a stellar senior class led by Georgia-commit Jordan Harris. Harris poured in 27.4 points, 11 rebounds, 7.2 assists, 3.6 steals and 1.9 blocks per game last season. Seminole County isn't a one man show however. Seniors Anfernee King and Jahmyka Pearson are both dangerous scorers that compliment Harris perfectly. King, a guard, averaged 18.3 points, 7 rebounds, 4.5 assists and 5.6 steals while Pearson, a forward, pitched in 15.5 points, 9.5 rebounds, 2.4 assists 1.1 steals and 1 block a night. Point guard Alex Fudge and forward Dwayne Samson round out the Indians' starting five under Coach Kevin Godwin.
No. 2 Pace Academy boasts the best player in the entire nation for the Class of 2017 in center Wendell Carter Jr. He and 6-foot-8 transfer Isaiah Kelly will be a nightmare for teams inside. Zack Kaminsky is also a talented forward that brings length and shooting to the Knights.
Greenforest Christian takes over No. 1 in Class A-Private behind unmatched size across the state in 7-foot-1 center Ikey Obiagu and 6-foot-8 forwards Precious Ayah and Victor Enoh. John Ogwuche and Justin Forrest are excellent guards as well.
Calhoun County will open up the season at No. 1 in Class A-Public after finishing 30-2 with a thrilling 84-82 state championship victory over Greenville. Sophomore Rashun Williams and senior Jerrek Solite are the two focal points of the offense. Senior center Jalin Gray also has experience and brings some bulk inside for the Cougars.
Class AAAAAA
1. Shiloh
2. Norcross
3. Westlake
4. Wheeler
5. Milton
6. Pebblebrook
7. Collins Hill
8. Berkmar
9. Newton
10. Lambert
Class AAAAA
1. Miller Grove
2. McIntosh
3. Gainesville
4. Allatoona
5. Brunswick
6. LaGrange
7. Warner Robins
8. Heritage-Conyers
9. Jones County
10. Cedar Shoals
Class AAAA
1. Lithonia
2. Jonesboro
3. Liberty County
4. Bainbridge
5. Sandy Creek
6. St. Pius
7. Worth County
8. Henry County
9. Grady
10. Columbia
Class AAA
1. Laney
2. Jenkins
3. Morgan County
4. East Jackson
5. Calhoun
6. Blessed Trinity
7. Callaway
8. East Hall
9. Central-Macon
10. South Atlanta
Class AA
1. Seminole County
2. Pace Academy
3. Crawford County
4. GAC
5. Thomasville
6. Holy Innocents'
7. Early County
8. Vidalia
9. Swainsboro
10. Rabun County
Class A-Private
1. Greenforest Christian
2. St. Francis
3. North Cobb Christian
4. Whitefield Academy
5. SWAC
6. Landmark Christian
7. St. Anne-Pacelli
8. Stratford Academy
9. Lakeview Academy
10. Tattnall Square Academy
Class A-Public
1. Calhoun County
2. Hancock Central
3. Treutlen
4. Wilkinson County
5. Turner County
6. Randolph-Clay
7. Greenville
8. Dooly County
9. Portal
10. Terrell County