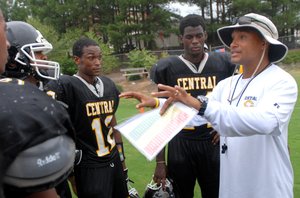 Gwinnett Daily Post
Flowery Branch, GA – Central Gwinnett High School Head Football Coach Todd Wofford has been named the Atlanta Falcons Coach of the Week presented by Ford. This is Coach Wofford's sixth season as head coach of Central Gwinnett High School.
Central Gwinnett finished the regular season with a 6-4 record and reached the playoffs for the third straight year. The Black Knights opened the playoffs with an impressive 49-20 victory at Walton. Coach Wofford was also named the Gwinnett County Coach of the Year in 2014.
In addition to his success on the field, Coach Wofford involves his program in community initiatives as well. The team regularly visits local elementary schools to read to the students and they provide gift boxes to a local church to ship worldwide during the holiday season.
Coach Wofford is also committed to the health and safety of his players. He is USA Football Master Trainer and is an advocate for proper tackling techniques, heat and hydration safety and proper equipment fitting.
"Coach Wofford is a hard working coach who really cares about his program and the kids," said Athletic Director Matt Champitto. "He is always there for his players, even amongst difficult and challenging times in their lives."
As Coach of the Week, Coach Wofford will receive a $1,000 grant to use towards his football program, a plaque signed by Falcons Head Coach Dan Quinn and suite tickets to the Falcons home game on December 27.
Each Coach of the Week is selected weekly based on their coaching achievements, dedication to community service and commitment to player health and safety.