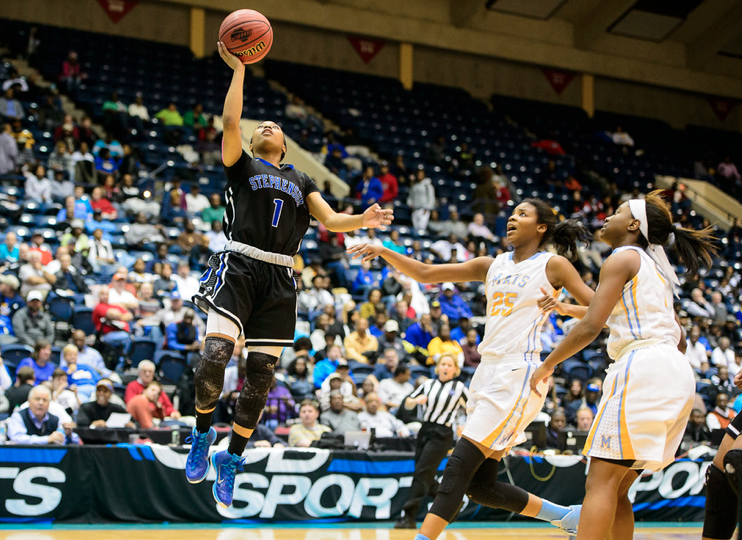 Norcross opens up the 2015-16 season ranked No. 1 in Class AAAAAA after losing a heartbreaker in the state championship to McEachern in overtime, 58-51. Vashnie Perry, Taylor Mason and Tylia Gillespie all return as the core of Coach Angie Hembree's offense. New addition Vanessa Blagmon transferred over from Woodland-Stockbridge where she led the Wolfpack in scoring as a sophomore, averaging 14.7 points per game from her guard position. The Lady Blue Devils have already scored two impressive victories, beating No. 6 Woodstock by 20 and Tift County, a 21-game winner last season, 59-38.
No. 1 Sequoyah takes the throne to begin the season in Class AAAAA. The Lady Chiefs return their top five scorers from a 27-4 team that lost to eventual state champion Stephenson in the Elite Eight, 55-53 on a buzzer beater. Kelley Hartman anchors the paint inside and averaged 13.3 points, 7.9 rebounds and 1.5 blocks per game. Scintillating sophomore Alyssa Cagle poured in 7.1 points and 3.5 assists as a freshman and will be counted on to run the offense while Megan Garcia provides sharpshooting from the outside, connecting on 40 percent of her three-point attempts in 2014-15.
State runner-up Mays slots in at No. 2 after a 27-3 campaign and a 65-56 loss to Stephenson for the title. Harlyn Wyatt and Kennedy Rushin must be replaced to take the pressure off guards Kamiyah Street, Kennya Simms and Kendall Pack. Wyatt stood 6-foot-2 while Rushin was 6-foot-5. Wyatt posted 18 points and 13 rebounds in the championship. Defending champion Stephenson will be without star guard Davion Wingate who is playing at Stony Brook University. Purdue commit Miracle Gray will be asked to take the reins of the offense.
In Class AAAA, No. 1 Buford will try to defend its state title. No. 2 Veterans looks to build on a 30-2 season which saw the Warhawks fall in the semifinals to state runner-up No. 3 Carrollton by one. Senior center Emily Waters will be the driving force behind the Carrollton Trojans offense that looks to get over the hump and capture a state title after losing to Buford 35-34.
Otis Smart will need to replace the do-everything play of Aliyah Collier, who is now at Clemson, to lead No. 1 Laney to another state championship against a hard-charging AAA field. No. 2 Decatur had possibly the strongest trio of juniors in the state, but leading scorer Jayla Morrow transferred in the off-season to Tucker to hurt their standing. The Bulldogs will lean on center Janay Williams even more this year after she averaged 13.6 points and 12.8 rebounds as a junior.
AA No. 1 Holy Innocents' finished 31-1 with their only blemish coming to No. 2 Wesleyan in the state championship, a team they had beaten three times before earlier in the season. North Carolina State signee Erika Cassell (14.7 points, 13.1 rebounds, 3.0 blocks) will try to finish her career with the program's second only title. Khayla Pointer and Kaila Hubbard are the other two centerpieces in Coach Tony Watkins' powerful Golden Bears lineup.
No. 1 St. Francis is loaded with talent again in Class A-Private. The Lady Knights will try to repeat and snatch their third state title in the process. Four juniors are all highly-touted prospects led by Kasiyahna Kushkituah, Nichel Tampa, Maya Dodson and Taja Cumming. Dodson stunned No. 2 SWAC with a steal and a layup at the buzzer to win the championship 47-45 last year.
Class A-Public powerhouse No. 1 Taylor County won its 11th state title in 2014-15. Rasheka Simmons and Kelsie Towns steer the Vikings' ship on offense and come up with big steals and deflections on defense.
Class AAAAAA
1. Norcross
2. Archer
3. Parkview
4. McEachern
5. Osborne
6. Woodstock
7. South Forsyth
8. Tucker
9. Mountain View
10. West Forsyth
Class AAAAA
1. Sequoyah
2. Mays
3. Brunswick
4. Loganville
5. Cross Creek
6. Stephenson
7. South Effingham
8. Woodland-Stockbridge
9. Effingham County
10. Greenbrier
Class AAAA
1. Buford
2. Veterans
3. Carrollton
4. Marist
5. Griffin
6. Americus-Sumter
7. Jonesboro
8. Monroe
9. North Hall
10. Mary Persons
Class AAA
1. Laney
2. Decatur
3. South Atlanta
4. Peach County
5. Washington County
6. Kendrick
7. Dawson County
8. East Hall
9. Ringgold
10. Calhoun
Class AA
1. Holy Innocents'
2. Wesleyan
3. Lovett
4. Model
5. Putnam County
6. Pelham
7. Manchester
8. Darlington
9. Armuchee
10. Jeff Davis
Class A-Private
1. St. Francis
2. Southwest Atlanta Christian
3. Mt. Paran
4. Eagle's Landing Christian
5. Calvary Day
6. Savannah Country Day
7. Tattnall Square
8. Our Lady of Mercy
9. Stratford Academy
10. Fellowship Christian
Class A-Public
1. Taylor County
2. Turner County
3. Dooly County
4. Randolph-Clay
5. Atkinson County
6. Terrell County
7. Treutlen
8. Claxton
9. Mitchell County
10. Commerce