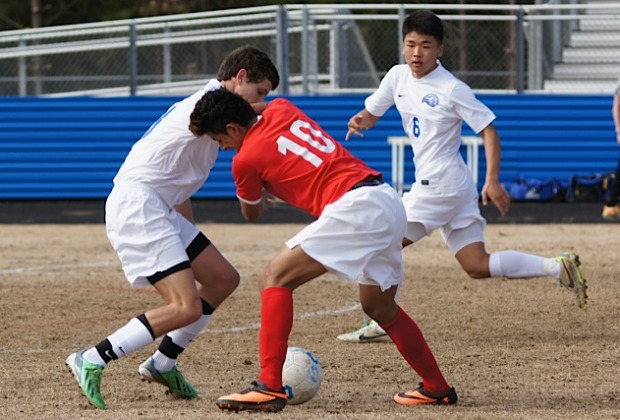 The state's smallest classification saw a change at the top this week as AIS fell to No. 2 after being upset by Paideia. Hebron Christian, which has not yet lost to a Class A team all season, took over at No. 1. Paideia used its big win to jump into the top five of this week's rankings.
Class AAAAAA saw just a couple changes as Lambert fell to No. 9 after a loss to Habersham Central while Peachtree Ridge made the rankings at No. 10.
Class AAAAA saw a bit of a shakeup in the top five as Gainesville fell to Clarke Central causing the Red Elephants to fall to No. 6. The Gladiators climbed to No. 4.
Grady dropped to No. 5 in Class AAAA after losing to Chamblee, which moved into the top five after winning six of seven matches. Columbus slid to No. 10 after getting beat by Carrollton.
Oconee County's loss to Jackson County was the big news in Class AAA this week and the Warriors fell to No. 5 while Jackson County debuted at No. 10. North Murray lost to Coahulla Creek, which jumped to No. 7 having won six straight.
Jefferson made the Class AA top five after Spencer and Murray County each took losses last week.
Class AAAAAA
1. Brookwood
2. Mill Creek
3. Campbell
4. Walton
5. Lassiter
6. Douglas County
7. Central Gwinnett
8. Duluth
9. Lambert
10. Peachtree Ridge
Class AAAAA
1. McIntosh
2. Greenbrier
3. Glynn Academy
4. Clarke Central
5. Lakeside-DeKalb
6. Gainesville
7. Starr's Mill
8. Riverwood
9. Houston County
10. North Atlanta
Class AAAA
1. Dalton
2. Johnson-Gainesville
3. Spalding
4. Chamblee
5. Grady
6. Southeast Whitfield
7. LaGrange
8. Perry
9. Jonesboro
10. Columbus
Class AAA
1. Woodward Academy
2. St. Pius X
3. Cartersville
4. Dawson County
5. Oconee County
6. West Hall
7. Coahulla Creek
8. North Murray
9. North Hall
10. Jackson County
Class AA
1. GAC
2. Calhoun
3. Westminster
4. Westside-Augusta
5. Jefferson
6. Bremen
7. Murray County
8. Spencer
9. Toombs County
10. Coosa
Class A
1. Hebron Christian
2. AIS
3. Pinecrest Academy
4. Fellowship Christian
5. Paideia
6. Brookstone
7. Our Lady of Mercy
8. Mount Paran
9. First Presbyterian
10. Pace Academy