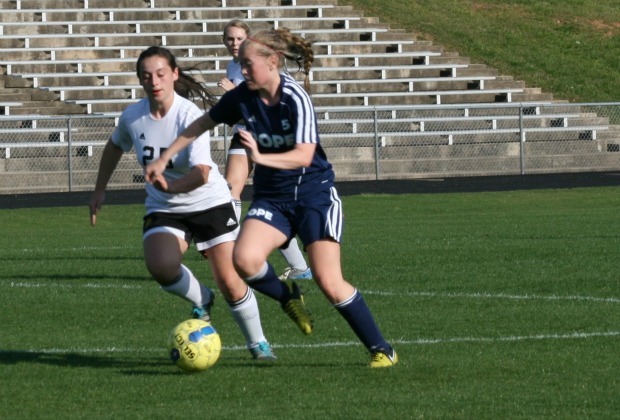 Gail Johnston
The final week of the regular season in Class AAAAA was an eventful one, starting at the top of the rankings. McIntosh was undefeated until April 16, but it has now lost two games in a row. After falling to Class AAAA No. 1 Marist, the Chiefs succumbed to Starr's Mill 2-0 last Tuesday. They still hold the top spot thanks to their overall body of work, but second-ranked Pope is hot on their trails and Starr's Mill climbed to No. 3.
North Paulding actually moved up despite losing and it's not hard to figure out why. The Wolfpack used a stingy defense to test Class AAAAAA No. 1 Harrison in a hard-fought 1-0 loss last Tuesday. North Paulding jumped one spot to seventh, passing Loganville—which suffered a 4-2 setback against Heritage-Conyers.
Close behind Harrison in the highest classification, Brookwood and Parkview swapped places at No. 3 and No. 4, respectively, after the Broncos scored a 2-1 road victory over their rival last Wednesday. Norcross is making an appearance in the top 10 at No. 9 following a 1-0 win at Duluth's expense.
A top 10 matchup in Class AAAA saw River Ridge hammer Heritage-Catoosa 6-1 last Tuesday. River Ridge climbed two spots to No. 7 as Heritage-Catoosa fell from sixth to 10th.
Class AAAAAA
1. Harrison
2. Grayson
3. Brookwood
4. Parkview
5. Peachtree Ridge
6. Walton
7. Milton
8. Lassiter
9. Norcross
10. Duluth
Class AAAAA
1. McIntosh
2. Pope
3. Starr's Mill
4. Northgate
5. Heritage-Conyers
6. Northview
7. North Paulding
8. Loganville
9. Villa Rica
10. Allatoona
Class AAAA
1. Marist
2. Veterans
3. Columbus
4. Grady
5. Spalding
6. Cairo
7. River Ridge
8. Chamblee
9. Alexander
10. Heritage-Catoosa
Class AAA
1. St. Pius
2. Blessed Trinity
3. Buford
4. Oconee County
5. Woodward Academy
6. Pike County
7. Dawson County
8. North Oconee
9. Decatur
10. Cartersville
Class AA
1. GAC
2. Lovett
3. Westminster
4. Calhoun
5. Armuchee
6. St. Vincent's
7. Vidalia
8. Wesleyan
9. Jefferson
10. Jordan
Class A
1. First Presbyterian Day
2. Hebron Christian
3. Paideia
4. Fellowship Christian
5. Holy Innocents'
6. Calvary Day
7. Providence Christian
8. Mt. Paran Christian
9. Pace Academy
10. AIS