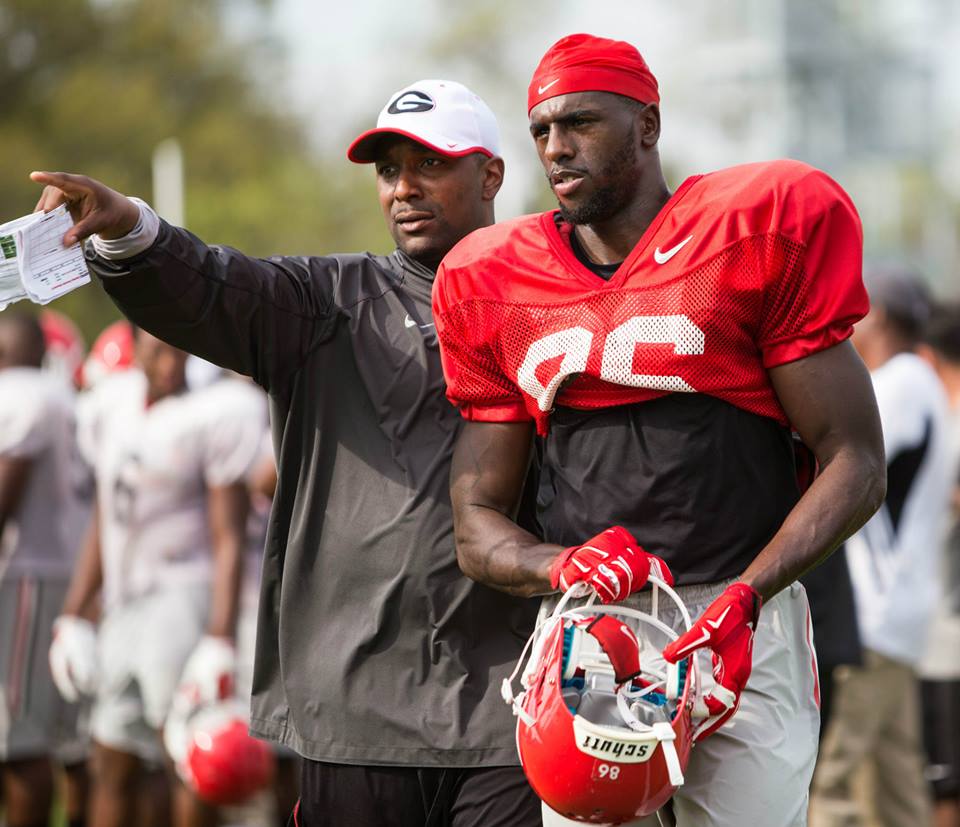 Georgia Football
Apologies to the English playwright Robert Bolt in stealing the title he bestowed on the dramatic story of Sir (later Saint) Thomas More. Good news for Bryan McClendon is that he doesn't need to deal with the likes of King Henry VIII.
What McClendon does have to deal with, is his day to day job when the team is on the field as a wide receiver's coach. Let us not glaze over the fact that he moved to that spot with Tony Ball heading to LSU and his old teammate/good friend Thomas Brown returning to Athens as the running back's coach. That was the spot formerly held by McClendon.
Even with his young coaching career to this point, McClendon has already had massive amounts of success as a coach and recruiter. Since he joined head coach Mark Richt's staff in 2009 he has mentored three freshman All-Americans in Isaiah Crowell, Todd Gurley, and just this past season Nick Chubb.
His recruiting success has led him to be named the program's recruiting coordinator, in addition to being named Assistant Head Coach in January by Richt. Plus, he is the passing game coordinator for the Bulldogs offense.
With all of these titles and success, what does he call himself when he meets with recruits and their families?
"I'm just coach McClendon man," McClendon said with a smile. "That's it."
With all of the job titles that have been given to him over the past couple of seasons, you would think that a local stationary shop in Athens would be getting a call about printing out new business cards. According to McClendon he might need to do something like that.
"I was actually looking through my business and I just realized that I needed some more," McClendon said. "So, I don't know. Maybe I can a little notebook or something to hand out to everybody."
Now we're starting to unfold the "man for all season's" part.
College football with increased exposure and popularity has truly become a year round venture. Sure, the season itself runs from September to January on the field. That said, you're not counting recruiting, offseason training for your players, coaching clinics, and other parts of the job. McClendon has his hand in pretty much most, if not all of those parts of coaching.
Georgia was able to bring in 29 players during the signing period this past February. Right now for 2016, they already have nine players committed to join them come February. They have gotten a strong commit from the top quarterback in the country in Jacob Eason out of the state of Washington. He is already drawing comparisons to first pick overall in the 2009 NFL Draft, Matt Stafford. Georgia fans remember him don't they?
These strong recruiting classes have McClendon's finger prints all of it. Nine commitments already… Is this odd? McClendon doesn't think so.
"I just think that's where recruiting has gotten to be honest with you," McClendon said. "It's important. Obviously you like to get those commitments, every piece counts and every piece is important to the class. Obviously we're happy to have them. But, you've just got to keep recruiting them all like they're not committed."
McClendon played at Georgia from 2002 to 2005 as a wide receiver out of Chicago, Illinois. He was on three SEC East Championship teams in 2002, 2003, and 2005. They won the conference outright in two of those seasons. He helped win the 2005 title game over LSU, by blocking a punt in their 34-14 thrashing of the Tigers in Atlanta. Also not to be forgotten is his 35 catches for six touchdowns in that senior season.
McClendon would eventually move onto the NFL for a brief career with the Chicago Bears as a rookie free agent signee.
With all of these accolades as a player, do recruits know about Bryan McClendon the player?
"I think they do now," McClendon said. "The one's that talk to me do for sure (laughter). To be honest with you, it's kind of all relative. The reason why I say that is you look across the country and you look across the SEC in how many guys played that position that are now coaching it. It's probably 50/50 I don't know what it is. But it's not 100%."
McClendon was one of those not coaching the position he played, until this season. We covered the reasons leading up to it already. He was all about heading to this spot on the staff, to make room for his friend Thomas Brown.
"It feels like I'm back at home," McClendon said. "The toughest part about it all was really just leaving those guys in that (running backs) room that kind of I was leaving. But, those guys took it a lot better than I did initially. I knew I wanted to do it. Me and coach (Richt) had actually talked about doing that before, years ago."
McClendon says the move was easier, with Brown coming in to coach the group he'd gotten to know. It was his familiarity with Brown's football philosophy that made him comfortable. It's pretty much right in line with his way of coaching.
Earlier Friday afternoon, Georgia announced their spring player awards for the offensive and defensive sides of the ball. Three of his wide receivers were given awards. Also two of his former running backs made the list as well.
Sophomore wide receiver Isaiah McKenzie was given the Coffee County Hustle Award, alongside stellar sophomore running back Nick Chubb.
Junior wide receiver Reggie Davis was named one of two most improved offensive players. Junior running back Brandon Douglas was one of two players to receive the Hugh Hendrix Memorial Award given to the player who strains the most out of their potential.
Redshirt sophomore Clay Johnson was given the Outstanding Walk-On Award.
These are just some of the players that McClendon has directly or indirectly impacted on the 2015 Georgia Bulldogs roster. However, it just continues to show how valuable an asset he has become to this program.
He truly shows that the job in college football really never ends. At least it never ends for Bryan McClendon.