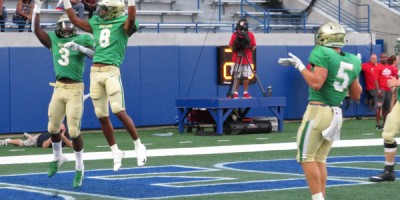 Buford Wolves running back Derrian Brown (3) celebrates his 25-yard touchdown run in the third quarter with Xyrie Wilson (8) as Seth Auer (5) looks on during their game against the Tucker Tigers on Friday, Aug. 17, 2018, at Georgia State Stadium in the 27th annual Corky Kell Classic. (Adam Krohn/special)
Buford 40, Tucker 14
Buford's offensive line protected its four-star recruit Derrian Brown on his way to a four-touchdown showing as Buford moved past Tucker 40-14 in the Metro PCS Corky Kell Classic at Georgia State Stadium on Friday.
"He's a phenomenal player," said Buford coach John Ford of his star back. "He's everything good about high school football. He has a smile on his face every day. I'm glad the whole country got to see what he's made of tonight."
Brown, who finished the game with 139 rushing yards, had three rushing touchdowns of 25, four and one yards. He added a 39-yard receiving touchdown from quarterback Aaron McLaughlin.
"It's just a combination of practice and the coaches calling the plays," said Brown. "I just read the keys and when I do that I have a great line and then follow the blocks, open a crease and I take it. Our offensive line blocked great for me tonight."
The game was scoreless through the opening quarter before Buford struck on Brown's 4-yard run with 10:45 left in the second quarter. Tucker answered on a 76-yard run by Tyler Hughey just 15 seconds later to tie the game at seven. A pair of Brown touchdowns pushed the Wolves lead to 21-7 when Tucker answered on a 69-yard pass from Travon Ford to Isaiah Dunson to cut into the lead. 21-14. That's as close as it would get.
From the 6:04 mark of the third quarter, Buford had total control. The Wolves countered Tucker with two unanswered touchdowns, a field goal and a safety on a muffed punt which broke the game open. The Wolves found scoring from Brown's 25-yard run, an Austin Turner reception on a 73-yard pass from McLaughlin and Hayden Olsen's 36-yard field goal.
McLaughlin finished with 154 yards and two touchdowns on 7-of-15 passing. Turner led Buford with 106 yards receiving. Ford finished 12-of-19 passing for 171 yards and a touchdown for Tucker.