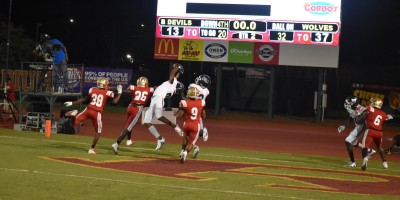 Rusty Mansell
ROME — In their first-ever appearance in MetroPCS Corky Kell Classic, host and the defending AAAAA champion, Rome Wolves treated their home crowd to a thrilling 51-41 victory over Marietta in the second game of the evening at Barron Stadium as Thursday night gave way to Friday morning.
"I think this game played out about like I thought it would," said Rome head coach John Reid. "This is about like I predicted. With the heat, the talent on the field, I just thought it would be like this. It was a war of attrition."
Late in the second quarter, Rome had a commanding 34-13 lead. But by the end of the fourth quarter Marietta pulled within 10 points. Rome regained control on a crushing hit by Marquis Glanton on Blue Devils receiver Arik Gilbert at the 2-yard-line. The hit, and ensuing fumble, prevented a Blue Devil that would have pulled Marietta to within three points (with the extra point).
"It's the Corky Kell Classic," said Glanton as he watched the replay of his hit on the sideline television screens after walking off the field. "I have a lot of my friends out here and I'm trying to win this for them and my team."
The fast finish, however, was countered by a slow start and 36 penalties dragged the game well past 12:30 Friday morning.
Marietta struck first on a 61-yard pass from Harrison Bailey to Ramel Keyton before Rome answered on an 11-yard run by Xavier Roberts with 2:24 left to leave the game tied at seven at the end of the quarter.
Rome star Jamious Griffin gave Rome the lead with a pair of touchdowns that pushed the Wolves lead to 21-7. Griffin scored on a 12-yard run early in the second quarter and then just three minutes later, he scored again on a 16-yard pass from Knox Kadum.
Bailey's 18-yard touchdown pass to Keyton with 6:12 in the second quarter cut into the Rome lead, 28-13, following a missed extra-point.  Rome answered with a 47-yard pass from Kadum to Roberts with 3:49 left in the half
With 2:04 left in the half, Marietta faced a fourth-and-long situation and elected to punt. A high snap failed to find the kicker and the Rome defense pounced on the opportunity for a safety which pushed the lead to 30-13. Griffin's 10-yard rushing touchdown with 49 seconds left left before the half seemed to be the exclamation point on the victory. Bailey's 32-yard pass to Taji Johnson as the time expired cut into the Rome lead 37-21.
Kadum finished  with 218 passing yards, completing 13-of-19  with three touchdowns. Griffin rushed for 162 yards and three touchdowns.
Marietta's Bailey finished passing for 443 yards and six touchdowns on 36-of-51 passing. Keyton finished with four receiving touchdowns. Gilbert and Johnson each caught one touchdown pass.