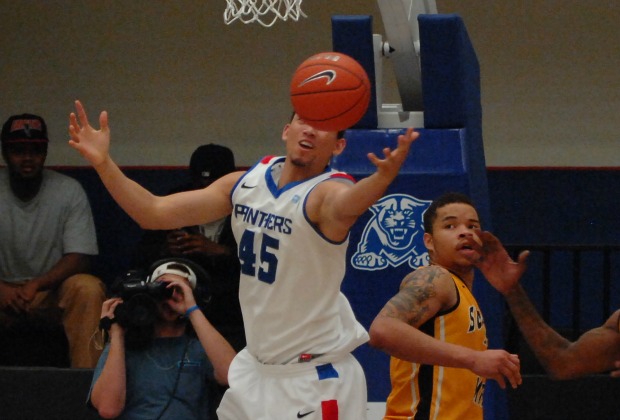 Photo by Sonny Kennedy
Former Georgia State basketball forward Eric Buckner (2010-12) signed with the New Orleans Pelicans on Monday. Buckner averaged 10.8 points, 7.1 rebounds and 3.4 blocks per game in his final year at Georgia State. Buckner also holds the school-record in blocks with 167.
"I was pleased to see Eric get the opportunity to play with an NBA franchise," Georgia State men's basketball head coach Ron Hunter said in a school press release. "Since leaving Georgia State, he has worked extremely hard to improve his game. He has had a great deal of success over in Turkey and I am sure he will take advantage of this great opportunity."
Georgia State men's tennis head coach Brent Ross hired former East Carolina assistant coach Mike Murray on Friday. With Murray's assistance, the Pirates went 34-13 during his two-year tenure. "
We are very fortunate and excited to bring Mike Murray to Georgia State University. I really feel he is one of the top young coaches in the country," Ross said. "His playing background and coaching experience combined with his enthusiasm for the game will be an extremely valuable asset to the program."
ARGENTINA ATKINS …
Recent graduate and former Georgia State men's basketball forward Manny Atkins (2012-14) signed with Juventad Sionista, a professional basketball team based in Paraná, Argentina. Atkins averaged 14.4 points, 6.1 re- bounds during his final year at Georgia State.
"I am so happy that Manny gets to continue his dream of playing basketball professionally," said Hunter. "Manny was a special student-athlete and one that I will never forget. He will always be welcome back in the Sports Arena. I expect him to have a very successful career and wish him all the best of luck."
DIAMOND NOTES …
Georgia State baseball senior right-hander Kevin Burgee of the St. Cloud Rox (Minn.) Northwood League baseball team was named to 2014 Northwoods League All-Star Game on Friday. Burgee ranked third in Sun Belt Con- ference with eight saves last season for the Panthers. Sophomore catcher/outfielder Trae Sweeting of the DC Grays made the Cal Ripken League All-Star game. Sweeting hit .333 with seven RBI last season for the Panthers