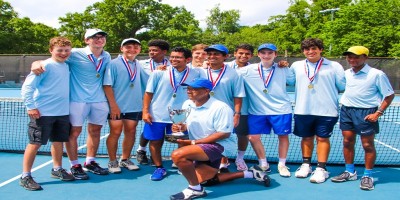 For a third consecutive year, the Chamblee Bulldogs were named the best DeKalb County athletics program. Three state championship teams and an incredibly dominant Girls program led to a convincing win of the DCSD All-Sports Award.
Throughout the school year, teams are awarded points for their success throughout the season. In sports in which there isn't a county competition such as football or softball, the team in the county with the best regular season record is awarded nineteen points, second is awarded eighteen, and so on. In the sports that do have a county tournament such as cross country and swim, points are awarded in the same fashion but based on the county meet. Additional points are available for teams that win their region or make waves on the state level.
Chamblee was propelled by its incredible performance on the region and state levels. The Region 5-AAAAA champions in boys' and girls' tennis, girls' soccer, volleyball, girls' cross country, and fast pitch softball were all Bulldogs. Boys' tennis won their first state title in thirty years; girls' tennis completed their own three-peat in the AAAAA state tourney (they've lost just one match since 2017); girls' swimming added the third and final state title, the first for the girls' team in school history.
For the first time in the All-Sports Award's history, schools were recognized for their gendered athletic programs' accolades as well as their combined success; the CHS Bulldogs took home hardware for the girls' division while Tucker topped the table for the boys.
Of Chamblee's 352.0 All-Sports points, 212.5 came from the girls' program. The girl Bulldogs amassed fifty-three more points than the second-place Dunwoody girls, and outscored eleven entire schools on their own.
The boys' scores were much more of a competition, with the Tucker Tigers edging out Southwest DeKalb by just four points (168.5 to 164.5 respectively). Druid Hills was not too far behind second, falling ten points behind Southwest DeKalb. The boy Tigers won three region titles between cross country, basketball, and soccer. Tucker finished sixth overall.
The overall race looked similar to the girls' standings, with Chamblee head and shoulders above the other schools. Southwest DeKalb was forty-five points shy of taking home the title, with Lakeside and Dunwoody (301.0, 296.5) closely in tow.
Overall
1) Chamblee, 352.0
2) Southwest DeKalb, 307.0
3) Lakeside, 301.0
4) Dunwoody, 296.5
5) Druid Hills, 289.0
6) Tucker, 287.5
7) Arabia Mountain, 283.0
8) Stephenson, 237.5
9) Cedar Grove, 207.5
10) Clarkston, 192.5
11) Martin Luther King Jr., 189.5
12) Miller Grove, 160.0
13) Lithonia, 159.0
14) Redan, 155.5
15) Stone Mountain, 150.0
16) Columbia, 149.5
17) Towers, 93.5
18) McNair, 85.0
19) Cross Keys, 83.0
Boys
1) Tucker, 168.5
2) Southwest DeKalb, 164.5
3) Druid Hills, 154.0
4) Lakeside, 150.5
5) Chamblee, 139.5
6) Stephenson, 137.5
7) Dunwoody, 137.0
8) Cedar Grove, 127.5
9) Arabia Mountain, 125.5
10) Lithonia, 106.5
11) Clarkston, 100.0
12) Martin Luther King Jr., 96.5
13) Stone Mountain, 95.0
14) Redan, 85.5
15) Columbia, 80.0
16) Miller Grove, 71.0
17) Cross Keys, 54.0
18) McNair, 48.5
19) Towers, 46.0
Girls
1) Chamblee, 212.5
2) Dunwoody, 159.5
3) Arabia Mountain, 157.5
4) Lakeside, 150.5
5) Southwest DeKalb, 142.5
6) Druid Hills, 135.0
7) Tucker, 119.0
8) Stephenson, 100.0
9) Martin Luther King Jr., 93.0
10) Clarkston, 92.5
11) Miller Grove, 89.0
12) Cedar Grove, 80.0
13) Redan, 70.0
14) Columbia, 69.5
15) Stone Mountain, 55.0
16) Lithonia, 52.5
17) Towers, 47.5
18) McNair, 36.5
19) Cross Keys, 29.0