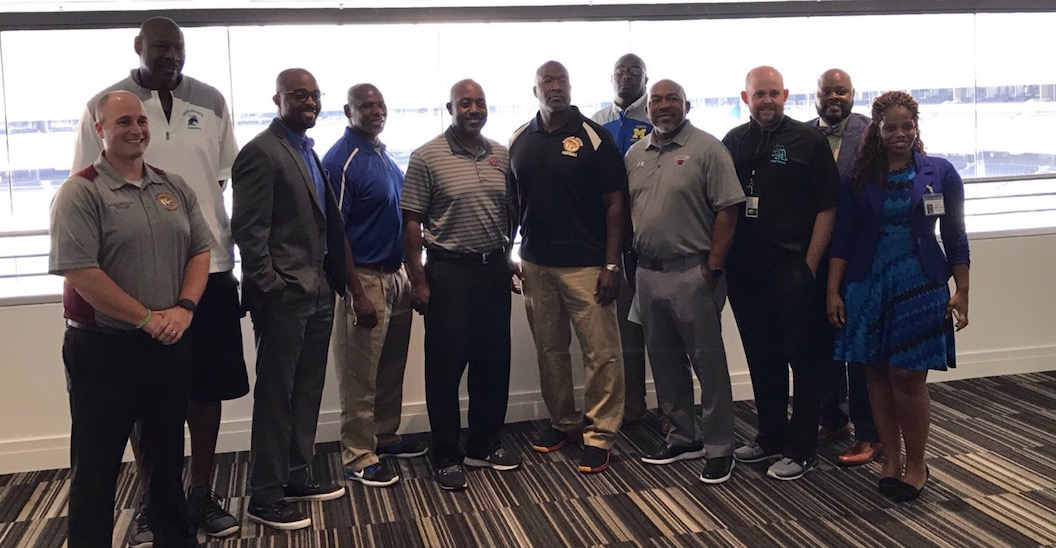 Coaches, Athletic Directors, Principals, City Council Members and members of the media met at Georgia State Stadium Tuesday morning to celebrate the announcement of the first annual Great Atlanta Bash.
"We are excited to be here today to announce a new event, which will be played here on Saturday, Sept. 21 called the Great Atlanta Bash," said Score Atlanta President IJ Rosenberg. "We wanted to create an event that could also capture the excitement that is going on in the city and I think that everyone is excited about what is going to happen."
The three-game event features six Atlanta public high schools and is already receiving a growing amount of support from prominent members in the surrounding community. Thanks to a partnership recently formed with Atlanta-based CBS46 and Peachtree TV, all the games will be televised. The first of the three games will kickoff at 10 a.m. and the trio of matchups should last until around 6 p.m.
"I think the neat thing about doing these games on September 21 is our partnership that we have with CBS46 and Peachtree TV," said Rosenberg. "That evening in prime time on CBS, Notre Dame will be up in Athens. So what we're going to do, there will be a CBS reporter up in Athens covering that game and CBS is doing their own pregame show from Athens, so we will be able to do live cut-ins from Athens that day during the broadcast of our tripleheader. So people are going to be able to watch all three of our games, while they are looking forward to that game kicking off afterwards."
Jasper Jewell went into the Georgia Athletic Director's Association Hall of Fame this year for all the work he has done in the role of Athletics Director of the Atlanta Public School System and he took a moment to talk about the event and its inception.
"We were fortunate enough to have an event in the Georgia Dome called 'Domecoming' for eight years consecutively," explained Jewell. "So when Mercedes-Benz opened up, we began looking for opportunities and I approached IJ as well as my good friend Dave Hunter. First and foremost, I wanted to get an Atlanta Public School in the Corky Kell Classic. For people that do not know about Corky Kell, it is the biggest and best high school football event, perhaps in the entire nation. So we were blessed and fortunate enough to get one of our schools in the event last year and again this upcoming season with Benjamin E. Mays High School, which always does a great job at representing our district well."
Matt Stewart, who has been covering Georgia High School Football since 1998, will be calling the games in the booth with Craig Sager II.
"It's the most fun thing I do all year is call high school football games," said Stewart. "So I am honored to be a part of, and calling play-by-play for the first-ever Great Atlanta Bash."
Corky Kell Executive Director and Founder Dave Hunter added, "First of all, the Great Atlanta Bash has fantastic leadership with Jasper Jewell. He always puts the kids first and that is what I love most about him. The key to growing into a great event is the competition, the venue and the exposure and you've got all those things in place with the Great Atlanta Bash."
The schools that will be participating are South Atlanta, Booker T. Washington, Maynard Jackson, Carver-Atlanta, Mays and New Manchester. Five of the schools are representing the Atlanta Public School System and New Manchester is from the Douglas County School System. Each of the six head coaches made a brief statement to close out the press conference.
"I want to thank Jasper Jewell for this tremendous opportunity and allowing us for being a part of this event," said New Manchester head coach and former Stockbridge coach Kevin Whitley. "I've been in Douglas County for 90 days now and so I'm learning it, but the kids are working hard. Anytime you are new to a program, there are going to be changes. Douglas County is getting on board and I'm excited to be a part of this. I do want to add this about Jasper Jewell, he has done a tremendous job with Atlanta Public Schools. If you have been coaching a while, what he has done, you don't even have to mention what he has done over the years, because the impact that he has made is so obvious."
"I'm very excited," said Mays head coach Niketa Battle. "We always talk about Georgia State being the school in the city that kids really want to play for and attend. So hopefully this will give our kids the opportunity to experience the excitement about Georgia State football too. …We have 10 returning starters on our defense this year. We were young and went 6-5 last year, but we have an experienced team coming back with about 34 seniors."
"We're working hard at building our depth," said South Atlanta's Brad Stephens. "That is definitely one of the challenges of playing Class AA football, but we are excited about the opportunity to play in this venue. For a lot of the kids, this is going to be a once in a lifetime opportunity for them. It's an honor and we appreciate being selected."
"I'm thankful for this opportunity to play at this venue and get exposure for our kids," said Booker T. Washington head coach Derrick Avery. "We embark on this 2019 season with only three starters returning on offense and just four on defense so it is going to be tough, but we are working hard and doing some great things this offseason to get ready for this upcoming season."
"Most of our kids come from this area so playing in this is going to be a lot of fun," said Maynard Jackson head coach Eric Williams. "We have a pretty good track record against our region, until we play Carver. So this year will be the year we get over that hump."
"We are looking forward to it, especially the opportunity to play in a college venue," said Carver head coach Darren Myles. "We have been able to play in the Georgia Dome before, but to play in a college venue which is right down the street from us in the same neighborhood, that is going to be big for the players, the faculty and for the staff."
Great Atlanta Bash 2019 Schedule
10 a.m.: South Atlanta vs. Washington
12:40 p.m.: Maynard Jackson vs. Carver
3:20 p.m.: Mays vs. New Manchester
To see more about the event CLICK HERE for CBS46's coverage of today's announcement