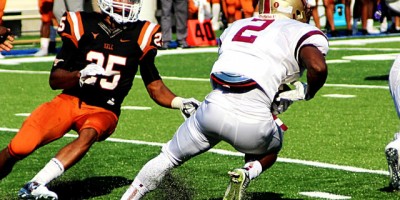 Taurean Taylor runs against Kell in the Corky Kell. Mark Brock/DeKalb County.
Coffee (9-3) at Tucker (12-1)
Coffee entered the playoffs at just 6-3 with losses to Tift County, Class AAAAA Warner Robins and Lee County, but the Trojans were one of the top teams in the Maxwell ratings all season long, holding the top spot in Class AAAAAA for multiple weeks. Coffee defeated Effingham County 52-32 and Evans 55-21 before defeating Alpharetta 28-14 in the quarters. While Coffee has made the semifinals just once before and has never made a title game, Tucker has won two titles in the past decade, in 2008 and 2011, and is making its second-straight finals appearance. The Tigers also rolled through their first two playoff games before winning a 20-12 matchup over Allatoona.
Tucker features quarterback Travon Ford, who has passed for 1,487 yards and 19 touchdowns. Running back Taurean Taylor has rushed for 1,198 yards (9.7 yards per carry) and 15 touchdowns, and David Davis is a 700-yard rusher with nine scores. Josh Vann has caught 56 passes for 979 yards and 15 touchdowns. Bryan Lamar's squad features top sack artist Antonio Showers at defensive end; he has 18 sacks through 13 games. The top-seeded Tigers get to host at their home field of Adams Stadium.
Coffee has offensive firepower as well in the form of running back Jameon Gaskin, who has 1,212 yards rushing so far. Quarterback Wade Sumner has passed for just under 2,000 yards and has 22 passing touchdowns; he is completing 65 percent of his passes (139-of-215) and has 6-3 senior Dalrone Donaldson as a top target (698 yards receiving, 12 touchdowns). The Trojans, however, lost backup running back Marquavius Jefferson to injury in the Alpharetta, and the back's status is up in the air for Friday's semifinals game.
Glynn Academy (9-3) at Lee County (12-1)
Glynn Academy looks to advance to its second championship game in three years, as the Red Terrors lost a defensive battle to Allatoona in 2015 in the Class AAAAA title matchup. Glynn, which has played football for over 100 years, won a state title in 1964, but Lee County is making its first-ever semifinals appearance in its 48th season. Glynn lost to an outstanding Class AA Benedictine team to start the season and dropped a game to Tift County on Sept. 1 to drop to 1-2. Lee County was a front-runner from the beginning, losing only to Valdosta and holding the No. 1 spot for multiple weeks.
Glynn Academy got three rushing touchdowns from running back Caine Crews in its 31-7 win over Harrison in the quarters. Quarterback Randon Jernigan also had a 7-yard TD run in the fourth quarter of the relatively easy win. The Red Terrors' rush-heavy offense looks to dominate time of possession and embark on long scoring drives; Glynn Academy only allowed Harrison to run six plays in the third quarter. Glynn kicked off the playoffs with wins over Valdosta (27-3) and Heritage-Conyers (34-26).
Lee County boasts one of the best quarterbacks in Class AAAAAA in Jase Orndorff, a 6-2, 185-pound senior had 230 yards passing in the team's 34-14 quarters win over Mays. The Trojans spread the ball around to top running back Nikko Cruz and receiver Ty Terrell, but the defense is one of the top units in the state. Featuring defensive backs Otis Reese and Kermit Solomon (brother of former top LC recruit and current Michigan player Aubrey Solomon), linebacker Quin Geer and a deep defensive line, the Trojans have given up just 11.5 points per game in 13 games.