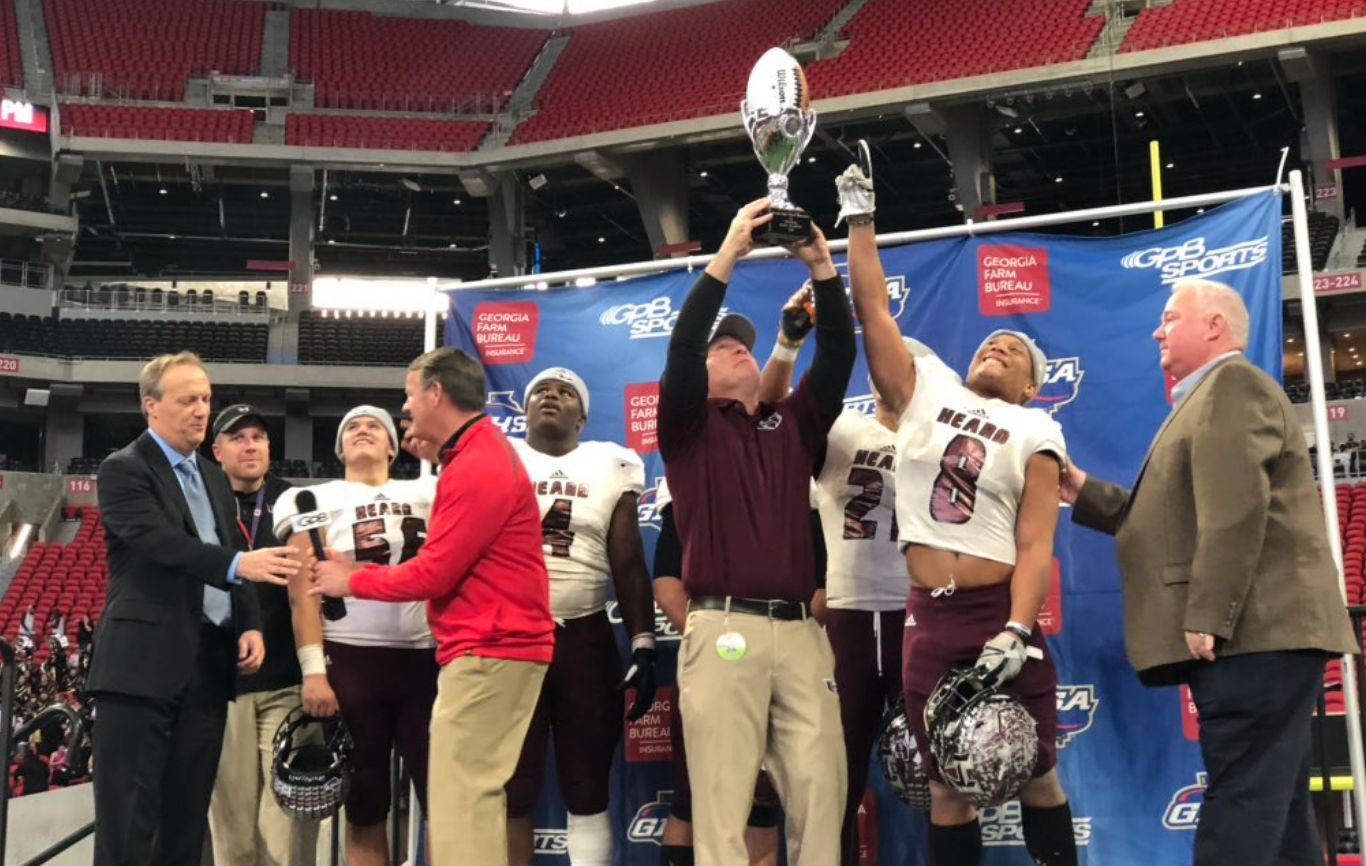 Heard County captured its first-ever state football title after defeating Rockmart 27-6 at the Mercedes-Benz Stadium on Wednesday. Heard County relied on two touchdowns each from star players Aaron Beasley and Alijah Huzzie in the rout.
"Look at those stands up there," lauded head coach Tim Barron after the win. "They support us whether we are good or bad. They love the kids. They always put the kids first."
The championship victory was a stark contrast to Heard County's 33-0 loss to Rockmart on  Sept. 7. The turnaround, according to Barron, was something special.
"We started out pretty rough," admitted Barron. "Rockmart humbled us and we only played half a football game. The fact that the kids looked back on themselves and they, as players, turned their season around. For them to do that through that adversity and all that stuff and to come back and be where they are now, it's just unreal."
Heard County took the lead on Beasley's 2-yard run with 3:20 left in the first quarter and, following the 2-point conversion, the lead was 8-0. Huzzie scored the next two touchdowns, both on goal line dives late in the third quarter and early in the fourth quarter to push the lead to 20-0. Beasley added his insurance touchdown with 7:56 left in the game before Rockmart's Dylan Bailey connected with Juke Boozer on a desperation heave with 4 minutes left.
"It means a lot," Huzzie said. "We had our doubters and our haters and have been through a lot. We all stuck together and brought it in and fought through adversity and we won."
Beasley finished with 150 yards and two touchdowns on 31 carries. Huzzie rushed for 33 yards and two touchdowns on 10 carries and was 2 of 6 passing for 13 yards. Andrew Leak and Jai Wright each made six tackles. Micaiah Austin made 5.5 tackles and Huzzie made 4.5 tackles.
Rockmart's Bailey was 9 of 20 passing for 114 yards and a touchdown with two interceptions. Kieron Roberts made 7.5 tackles to lead Rockmart. Kelan Pitts added 4.5 tackles and Paine Culver and Deacon Allen each made 4 tackles.