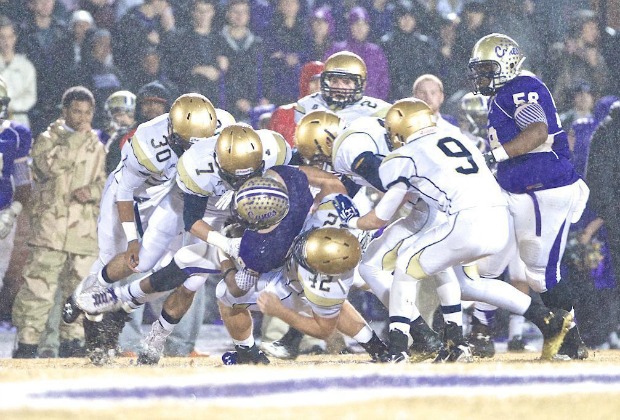 Photo by Erin Sheppard
Buford vs. Cartersville
Buford visits Cartersville for its first road playoff game since its last trip to Weinman Stadium in 2012. Buford, one of the four semifinalists making its Class AAAA debut, has run synonymous with the word dynasty, having won the last two Class AAA state titles and four of the last five Class AA championships. Cartersville has reemerge over the past three seasons going a combined 36-3. The Canes will look to avenge a 21-10 defeat in the semifinals against Buford back in 2012. Buford went on to defeat St. Pius 10-3 in the state championship following the road win over Cartersville. Buford is once again loaded with Division-I talent and quarterback Luke Humphrey runs the show. Junior Isaac Nauta is pegged as the fourth-ranked tight end in country for the Class of 2016. Martin Mangram, Xavier Gantt and Joshua Thomas are all difficult to stop on the ground and have plenty of colleges recruiting them. Senior defensive tackle Quay Picou and linebacker Austin Smith are headed to Tennessee. David Curry is headed to Virginia's secondary while junior Shug Frazier has multiple big schools knocking at his door.
Buford has mauled its way to 13-0, outscoring opponents by 37 points per game. Cartersville has also shown dominance in its Class AAAA debut and have not lost since a 27-26 defeat to North Cobb on Sept. 5. The Canes average 41 points per game while allowing just nine points per game. Everything starts with freshman quarterback Trevor Lawrence. The 6-foot-4 signal caller is one of the top ranked freshmen in the nation. He has thrown for 2,903 yards and 26 touchdowns this season. Lawrence supplanted
Miller Forristall as the team's starter. The 6-foot-5 Forristall has switched to wide receiver and has been a reliable target. A poised Lawrence led Cartersville to a thrilling victory over Sandy Creek in the quarterfinals when the Canes took their only lead of the game with 20 seconds remaining. Tiamon Pennymon gets the majority of carries for the Canes. Athlete Kalin Heath has committed to Kansas State.
Woodward Academy vs. St. Pius
A rematch of a Week 2 matchup that saw Woodward Academy take care of the visiting Golden Lions 42-21, St. Pius has caught its stride and has won 11 straight games to finish the season 11-2 and win the Region 6 crown. The War Eagles got the better of St. Pius that day using 156 yards rushing and two touchdowns from junior Elijah Holyfield. Woodward Academy quarterback Jes Sutherland threw for 116 yards and two scores in the victory over St. Pius. The War Eagles use a balanced attack of both run and pass that has helped them average 34 points per game. Holyfield has run for over 1,450 yards while totaling 30 touchdowns. Sutherland has passed for more than 1,700 yards and 18 touchdowns with just three interceptions. Sutherland found Joshua Johnson for an 18-yard score with 43 seconds remaining to knock off North Oconee in a back and forth quarterfinals game.
Expect ground-and-pound St. Pius to look for success running the football against a Woodward Academy defense led by four-star safety and Stanford commit Arrington Farrar. Coming in averaging 290 yards per game on the ground, the Golden Lions only managed 170 yards on 40 carries in their loss to Woodward Academy. St. Pius will need to get its leading rusher Dalton Wilson involved in the game early. The senior has 789 yards rushing and 14 touchdowns. Wilson was limited to just one carry for two yards in their previous meeting. Joey Connors is the team's second leading rusher with 669 yards on the ground. Connors also has taken snaps under center and Ransom Klinger, Grant Holloman, and Reed Egan all have chipped in more than 300 yards rushing this season. The Golden Lions seldom throw the ball, but if they do it is usually Cameron Fannon who is making the play. Fannon leads the team with 10 catches for 247 yards and three touchdowns.