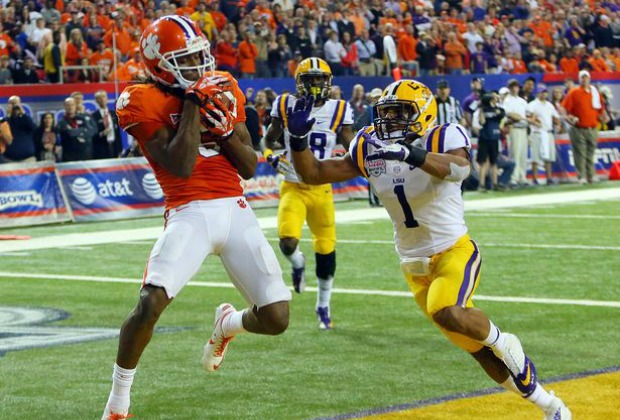 Curtis Compton/AJC
The Chick-fil-A Bowl is always looked at as the best bowl game that is not a New Year's Day or a BCS bowl. The 2012 edition did not disappoint as Clemson came back from 11 points down to defeat LSU 25-24 on New Year's Eve at the Georgia Dome.
"This is a landmark win," Clemson head coach Dabo Swinney said after the game, whose team won 11 games for the first time in 31 years and fourth time in school history. "This is a team that got better all year long."
LSU got struck first when defensive end Barkevous Mingo forced a Sammy Watkins fumble and was recovered by Craig Loston. Two plays later, Jeremy Hill rushed for a 17-yard score.
Not only did Clemson commit the turnover they also lost Watkins for the game with an ankle injury. But they were able to regroup on the ensuing drive, putting together an 11-play, 75-yard drive which ended with a Tajh Boyd 1-yard touchdown run.
After both defenses imposed their will after the two scores (especially Clemson as they sacked Zach Mettenberger four times in the first quarter), LSU took back the lead early in the second quarter when Mettenberger threw a 6-yard touchdown pass to Jarvis Landry.
Clemson looked to tie the game midway through the second as Boyd threw an 11-yard touchdown pass to DeAndre Hopkins. But the extra point was blocked and Clemson trailed by one going into halftime.
LSU's M.O. was to start fast in both halves of play. They did that in the first half and they also accomplished that in the second half as Jeremy Hill rushed for a 57-yard touchdown on the first play from scrimmage in the third. Later in the quarter, LSU increased their lead to 11 when Drew Alleman kicked a 20-yard field goal. That field goal was set up when LSU's Sam Montgomery forced an Andre Ellington fumble on the series prior and it was recovered by Eric Reed.
"I liked out chances when we took the ball over," LSU head coach Les Miles said. "If we've just got first downs, run the clock out, the game is over,"
What Miles is talking about is what happened in the fourth quarter when Clemson scored 12 unanswered points in the fourth quarter. It started when Chandler Cantanzaro kicked a 26-yard field goal to cut the LSU lead to eight early in the fourth. Then Clemson cut the lead the two when Boyd completed a 12-yard touchdown pass to Hopkins, but the two-point conversion failed.
So with 2:43 left on the clock, all LSU had to do was get a couple of first down and would secure the win. But Miles had Mettenberger throw three consecutive times and they only gain eight yards. That led to LSU giving the ball back to Clemson and the ACC Tigers had 1:39 to work with at their own 20-yard line and all three timeouts.
Boyd found Hopkins three different times on the drive including a 26-yard completion on fouth-and-16, and Clemson got the ball to the LSU 20-yard line. That set up a Catazanro 37-yard field goal as time expired and the Clemson Tigers come from behind to win.
"He has only missed one kick all year long," Swinney said. "So there was never really any much doubt.
Boyd, who was named Most Outstanding Player on offense (LSU's Kevin Minter was named Most Outstanding Player on defense) came up big for Clemson in what was the biggest game for the ACC runner up. He completed 36 of 50 passes for 356 yards and two touchdowns. He also had 22 rushing yards and one rushing touchdown.
"That what great players do," Swinney said talking about the play of Boyd. "He was awesome, I'm so proud of him."
The defense also came up big for the Clemson, forcing LSU to punt nine times, rushing for only 99 yards and covert only three of 13 third downs.
For LSU, they drop to 10-3 and go into the long offseason with a lot of questions, especially with the juniors that could leave to go the NFL.
"This is a team that could be playing for the finest honor," Miles said "And an opportunity to do so is certainly what we are after."
As for Clemson, they are coming off their best two-year stretch in recent memory, winning have back-to-back 10-plus win seasons. Now they have to build on it by taking the next step, which is being a national championship contender.
"You can't win 12 until win 11," Swinney said. "We've played great in these type games for three quarters, three and a half quarters. We got to finish and tonight they did."