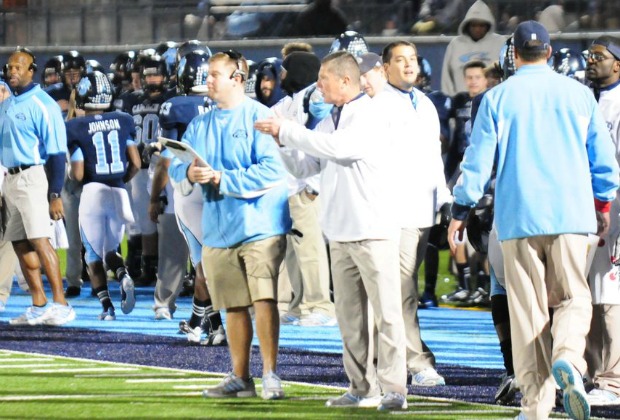 Terance Johnson
In what is rivaled perhaps by only the college football coaching shuffle each December, the sidelines at high school football games across the Peach State will have many of the same faces in new places in 2013. Many coaches decide to pick up and move on to new jobs because they are seeking a new challenge or they want to move closer to family or perhaps because an opportunity to start a football program from scratch is too much to pass up.
Over the past few seasons, championship coaches have departed for programs with less prestige for various reasons. Lee Shaw left Flowery Branch for Rabun County to move closer to his family while Franklin Stephens left Tucker, fresh off the 2011 Class AAAA state title, to assume the head coaching position at his alma mater, Lamar County.
In 2012, Mark Farriba coached Prince Avenue Christian to a berth in the Class A-Private championship game. Farriba will coach 2013 at Stratford Academy, his alma mater, which will begin playing GHSA football in 2014.
Prince Avenue Christian didn't wait long to snag a coach with a championship pedigree as the program hired Camden County's Jeff Herron. The four-time GHSA champion decided to move back to the Athens area where he previously coached at Cedar Shoals before winning a title with Oconee County in 1999. Herron has family in the Athens area.
Two other notable coaches made the decision to leave current jobs based on family reasons. Duluth's Corey Jarvis elected to leave Gwinnett County after three seasons and a 12-18 record to take the Mays job. Jarvis told the AJC's Todd Holcomb that the decision to leave Duluth "was a family decision." Jarvis previously coached in DeKalb County at M.L. King from 2005-2009, racking up a 49-11 record. Jason Conner was promoted to take over for Jarvis.
South Cobb's Ed Koester resigned at South Cobb, telling the Marietta Daily Journal that a 90-minute commute had "taken its toll," and that he wanted to spend more time with his family. Koester was 26-27 as head coach at South Cobb, but led the Eagles to the program's first-ever state playoff win. South Cobb tapped Burke County defensive coordinator Michael Youngblood as its new coach.
Other than Herron's decision to leave Camden County, the biggest eye-opener of a coach leaving one school for another is new Creekview head coach Terry Crowder. The former Chattahoochee coach led the Cougars to the 2010 Class AAAA state title and compiled 60 wins in nine seasons with the north Fulton program. Crowder decided to start fresh and headed to Cherokee County to become just the second coach of the Grizzlies. Al Morrell began the program in 2006 and leaves an impressive 48-25 mark with three playoff appearances over the past five seasons.
Other notable coaching changes so far this season include Joseph Kegler replacing Dell McGee (position with Auburn), Ed Pilcher (Bainbridge) to Berrien, Leroy Ryals (Clarke Central) to Thomasville, Chad Frazier (Heritage-Conyers) to Villa Rica, Cortez Allen (Newton) to ML King, Michael Pollock (Americus-Sumter) to Habersham Central, Kenny Dallas (formerly Landmark Christian) to North Cobb Christian, Kipp Hall (Druid Hills) to Atkinson County, Jason Galt (Dutchtown) to North Forsyth, Chad Fisher (Gordon Central) to Lafayette, Tommy Jones (Lumpkin County) to Dacula, Harney Hester (Tattnall Square) to Howard, Shane Williamson (Toombs County) to Forsyth Central and Mike Parris (Jackson) to Heritage-Conyers.
Some schools promoted from within after seeing previous coaches resign or retire such as John Ford (Roswell), Buddy Holder (Effingham County), Ben Hall (Jefferson), Todd Wheeler (Coosa), Hildrick Garrison (Bacon County), Scott Hodges (Bremen), David Humphreys (Gordon Central), Tanner Glisson (Manchester), Dary Myricks (Jackson), Ahren Self (Clarke Central), Mike Forrester (Mt. Pisgah) and Jerry Underwood (Franklin County).
Finally, several former assistants will move on to take over other programs including Michael Owens (Brookwood) at Chattahoochee, Bryan Love (Shiloh) at Westlake, Kevin Jones (Lovejoy) at Dutchtown, Phillip Johnson (Wayne County) at Lanier County and Von Lassiter (West Laurens) at Houston County.