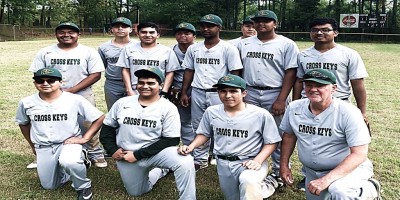 An historic victory for Cross Keys highlighted the local baseball results from last week.
Coach Mark Adams and the Indians bounced back from a 22-0 loss in the first game of a doubleheader to Riverdale and then outlasted the visiting Raiders with an 13-11 triumph in the nightcap. The victory ended a losing streak of 87 games.
The two teams battled in a back-and-forth affair and were tied 10-10 after six innings. The Indians then struck for three runs in the top of the seventh to take a 13-10 lead.
Cross Keys benefited from several walks and errors with a key RBI hit by Alomgir Hussain to take the three-run lead into the bottom of the inning as Riverdale was awarded the advantage of being the home team for the second game at Cross Keys.
Cross Keys starting pitcher Jose Parra went six innings but had to exit the game due to the pitch count after battling the Raiders offense in a 10-10 tie.
Hussain inherited the three-run lead and after an inside-the-park home run by Riverdale to trim the lead to 13-11, the Raiders put runners on base with a walk and an error with still no outs in the inning. The runners moved up to second and third and Hussain stepped up with a pair of strikeouts to get the Indians within one out of securing that elusive baseball victory.
"Alomgir came up big with those strikeouts in a very tight spot," said Head Coach Mark Adams, who goes out on a winning note as he retires at the end of the school year.
Riverdale's best hitter came to the plate next after already hitting two balls over the Indian's outfielders in left and right to score runs. He promptly hit a hard liner into center field where the Indians' outfielder Issidor Santillano turned his back to the infield and sprinted towards the fence.
In a move that brought Willie Mays iconic over-the-shoulder-catch to the mind of his coach, Santillano reached up over his shoulder for the ball. Seconds later he raised his hands with the ball in his glove.
"We could not see whether he caught it or it was rolling to the fence since his body blocked our view," Adams said. "Then he raised his hands with the ball in his glove and the kids erupted to celebrate something that had not happened in over 4 years."
Cross Keys last prevailed March 10, 2015 in a 12-5 decision over Atlanta Jewish Academy. The Indians closed out the 2019 season with a final record of 1-12.
"So many times they have been beaten hard or just could not hold on in the last inning," said Adams. "But to see these kids play so well in a pinch in such a pressure cooker for them and come out on top was a joy."