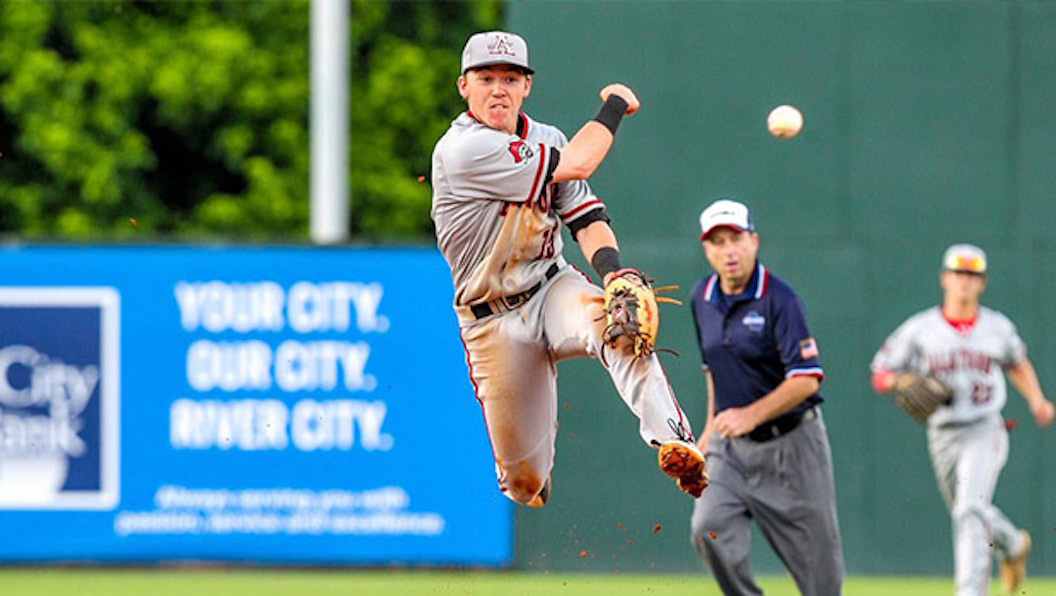 In Class AAAAAAA, Parkview remains No. 1 with a 24-4 record and a perfect 10-0 start in Region 7-AAAAAAA play. Hillgrove climbed one spot to come in at No. 2 and North Gwinnett jumped to No. 3 ahead of fourth-ranked Walton.
In Class AAAAA, Loganville overtakes the No. 1 spot as former No. 1, Buford, falls to third behind No. 2 Starr's Mill. Loganville is riding a three-game winning streak with victories over Brookwood 9-7 on April 11 and back-to-back shutout wins over Cedar Shoals 13-0 on April 12 and 17-0 on April 15 on the road. Kell holds the No. 4 spot this week with Decatur rounding out the top-5.
Jefferson is the team to beat in Class AAA again this week and, since losing to East Jackson 2-1 on April 4, the Dragons have won five straight games including three victories over Franklin County and a 12-0 victory in a rematch with East Jackson. Morgan County is No. 2 this week after climbing up from No. 4. Lovett, No. 6 last week, moved to third. Pike County, fifth last week, moved up to No. 4 ahead of No. 5 Ringgold.
Bremen, Rockmart and Jeff Davis are the top-3 teams in Class AA again this week. The top-ranked Blue Devils have won four-straight since losing to Oxford, Ala. 7-2 on April 6. Since then Bremen has beaten Temple three times (13-7, 7-2, 10-0) and Bowdon 8-7. Rockmart has been rolling since losing to Gordon Lee 6-0 on April 4. Since then, its beaten Model 12-1, Gordon Central twice (17-0, 8-1) and Dade County 4-3 in nine innings. Harlem and Thomasville round out the top-5 this week.
Gordon Lee lost to Aurora Central Catholic, IL 1-0 on March 30 and since then, the Trojans have been on a winning streak. That's a ten-game stretch including a 6-5 victory over Heritage-Catoosa in 10 innings. The Trojans have moved past King's Ridge 8-5 and St. Francis 4-3 in its past two games. Schley County is second again this week with Johnson County, Irwin County and Emmanuel County Institute making up the top-5.
Tattnall Square is the team to beat in Class A-Private with just one loss on the year to Calvary Christian 4-1 in eight innings on March 29. Since then, it's won six straight with four shutouts including an 11-0 victory over Lake Oconee on April 11 and a 4-0 victory over First Presbyterian Day on April 15. No. 2 Savannah Christian and No. 3 Mount Vernon Presbyterian hold the same spots this week with Lakeview Academy at No. 4 and Wesleyan at No. 5.
Class AAAAAAA
1. Parkview
2. Hillgrove
3. North Gwinnett
4. Walton
5. North Paulding
6. North Cobb
7. Grayson
8. Woodstock
9. Mountain View
10. Mill Creek
Class AAAAAA
1. Winder-Barrow
2. Heritage-Conyers
3. Harrison
4. Pope
5. Greenbrier
6. Allatoona
7. Houston County
8. Effingham County
9. Alexander
10. Richmond Hill
Class AAAAA
1. Loganville
2. Starr's Mill
3. Buford
4. Kell
5. Decatur
6. Ola
7. Carrollton
8. McIntosh
9. Walnut Grove
10. Harris County
Class AAAA
1. Blessed Trinity
2. Cartersville
3.  Marist
4. Eastside
5. Northwest Whitfield
6. Cairo
7. Woodward Academy
8. West Laurens
9. North Oconee
10. Mary Persons
Class AAA
1. Jefferson
2. Morgan County
3. Lovett
4. Pike County
5. Ringgold
6. Worth County
7. Pace Academy
8. Benedictine
9. Calhoun
10. Jackson
Class AA
1. Bremen
2. Rockmart
3. Jeff Davis
4. Harlem
5. Thomasville
6. Westside-Augusta
7. Bacon County
8. Banks County
9. Elbert County
10. Fitzgerald
Class A-Private
1. Tattnall Square
2. Savannah Christian
3. Mount Vernon Presbyterian
4. Lakeview Academy
5. Wesleyan
6. Fellowship Christian
7. St. Francis
8. Strong Rock Christian
9. Savannah Country Day
10. North Cobb Christian
Class A-Public
1. Gordon Lee
2. Schley County
3. Johnson County
4. Irwin County
5. Emanuel County Institute
6. Baconton Charter
7. Clinch County
8. Seminole County
9. Telfair County
10. Charlton County