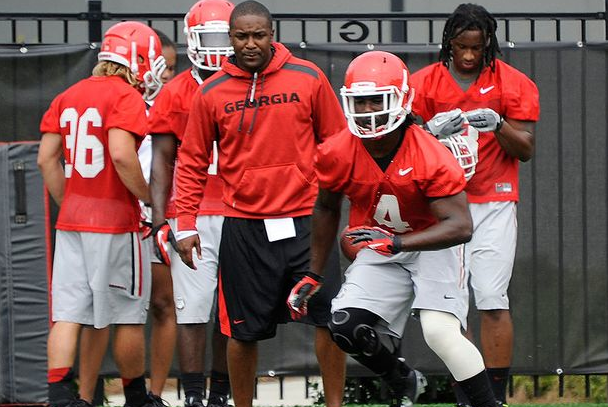 Photo by John Kelly Jr.
Last Friday signaled the official start of Georgia's football season, with the first practice of fall camp. The 2014 regular-season campaign is less than a month away, but some key position battles are under way in Athens. Georgia is trying to find three new starting offensive linemen, tight end help and a trio of new starters in the secondary.
So far on the offensive line it looks like senior tackle Mark Beard could have an inside track on being the starter at left tackle. That would put John Theus at right tackle. If those moves come to fruition, the Bulldogs would be left to fill the two open guard spots. For the time being, Georgia appears to be going with senior Kolton Houston at left guard and redshirt sophomore Greg Pyke at right guard.
When it comes to tight ends, Georgia is trying to get junior Jay Rome healthy for the start of the season. In his introductory press conference last Friday, head coach Mark Richt indicated Rome was still being bothered by a toe issue. That being said, Rome has been on the field for the most part in a red jersey (denoting contact) for most of the drills. The Bulldogs are also working converted fullback Quayvon Hicks into the fold at H-Back. We could also see freshman Jeb Balzevich get some meaningful snaps this season.
As for the secondary, new defensive coordinator Jeremy Pruitt is trying to find his starters at safety and the cornerback position opposite senior Damian Swann. The battle for that corner spot looks like it could come down to redshirt freshman Aaron Davis, junior Devin Bowman, or junior Sheldon Dawson. The Bulldogs could also work sophomore J.J. Green, a converted running back, into the defensive backfield. Pruitt gave Green plenty of reps at both safety and corner- back during spring practices.
WEEK ONE …
One personnel move that is already known for certain is redshirt freshman line- backer Davin Bellamy will be suspended for the first two games of the season for a driving un- der the influence arrest. That means Bellamy will miss an Aug. 30 home showdown against Clemson and a Sept. 13 visit to South Carolina.
This year's season-opening game against the Tigers is a rematch of a 2014 thriller in which the visiting Bulldogs fell 38-35. The two teams combined for 1012 yards of total offense in that contest.