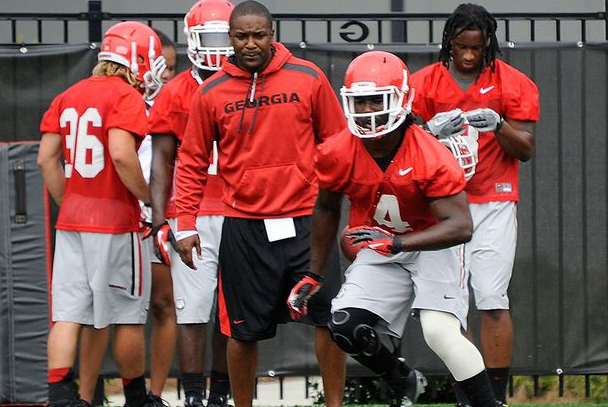 Photo by John Kelly Jr.
The start of the Georgia football season is about two weeks away and the Bulldogs are trying to figure out who is starting where. Questions on both side of the ball need to be answered within that time, before the Bulldogs bring Clemson between the hedges on Aug. 30.
On defense, Georgia has needed to deal with some time practicing without inside linebacker Ramik Wilson. The senior has been suf- fering from the effects of a concussion since last week. The good news is that the team got him back on the field on Wednesday. He was practicing in a green non-contact jersey ac- cording to Chip Towers of the Atlanta Journal Constitution.
While Wilson has been out, Mark Richt has gone with sophomore inside linebacker Reggie Carter (a South Gwinnett High School alum) to play alongside Amarlo Herrera. Cart- er gained some experience last season and could be counted on if needed.
On the offensive side of the ball, the team has been trying to get tight end Jay Rome back on the field from a foot injury that forced him out last season. Since that time, Rome has come back to the field on a full-time basis at times during fall camp. However, he has also been dealing with a toe issue that has either put him in that green non-contact jersey or kept him off the field altogether.
At running back, the praises of Nick Chubb continue to be sung. In fact, you can go on Vine and follow Morgan Weeks of Bulldawg Illustrated to get a view of Chubb blowing up fullback Merritt Hall in a static blocking drill. It had already been said that Chubb might be one of the strongest guys on the team. By all accounts he also had a great performance in the Bulldogs' first scrimmage.
UGA ADDS HUGE RECRUIT …
The duo of defensive coordinator Jeremy Pruitt and running backs coach/recruiting co- ordinator Bryan McClendon continues to be a great team, as shown earlier this week with the commitment of defensive tackle Trent Thompson out of Albany, Ga. The 6-4, 292-pound defensive tackle is ranked as the number one player in the state of Georgia and number one defensive tackle in the country according to 247sports.com. He is second-ranked player in the country in their player rankings.
Thompson is choosing UGA over Alabama and Auburn, among many other schools.