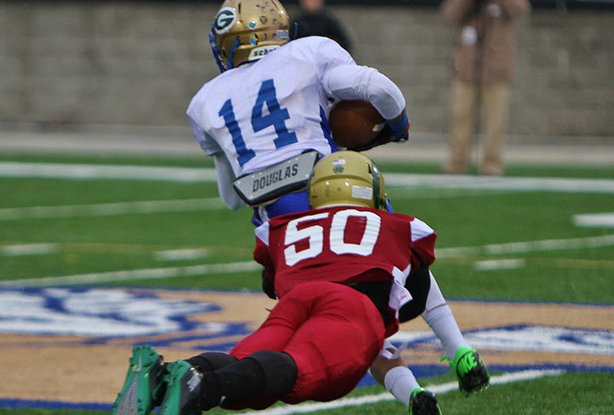 Photo by Rob Saye
Athletic group looks college ready…
NORTH TEAM
Chris Calhoun (Centennial):
Calhoun is my sleeper right now for a recruit that is flying under the radar, but could become a household name by the end of next season. At 6-foot-4, 222 pounds, Calhoun possesses a very unique set of skills. His speed allows him to cover an entire side of the field and he can do so even when he is lined up at defensive end rushing the passer. In practice, I saw Calhoun drop back into coverage and soar in the air to pick off a pass intended for a crossing route 15 yards behind him. Calhoun received his first offer on Jan. 27 from the Duke Blue Devils. Read more about Calhoun HERE.
Daniel Fennell (Grayson):
Fennell might be the most college-ready linebacker out of the group and his ability to tackle in the open field was amazing. Fennell's best play came on a wide open screen to five-star running back Taj Griffin that left Fennell one-on-one. Griffin had plenty of daylight, but Fennell exploded in and chopped him down before he could make a move. Fennell already has offers pouring in from top programs and he is listed as the No. 15 inside linebacker in the nation. I would not be surprised if he is in the top 10 by the end of the summer and in the top five midway through next season.
Robert Muschamp (Darlington):
At 6-foot-2, 225 pounds, Muschamp has the build to be a Division 1 starting linebacker. Muschamp led Darlington to a 9-3 record last season and is the anchor of a defense that held five opponents to single digits. During the Elite Junior Classic, Muschamp's size and strength stood out most during the action. Rivals lists him as a three-star recruit and he is the type of athlete that could lead a college defense in the future.
Dalton Wilson (St. Pius X):
Wilson is a versatile linebacker that has the physicality and pass rushing skills to play defensive tackle or defensive end when needed. At 6-foot-2, 225 pounds, Wilson made sure that the South running backs earned no easy yardage up the middle. Wilson plays at a fast pace and has Division 1 strength and speed.
Chase Middleton (Brookwood):
Middleton had an outstanding weekend at the Elite Junior Classic and showcased his versatility as an outside linebacker and pass rusher. At 6-foot-2, 210 pounds, Middleton has a huge wingspan that makes him hard to block and his speed enabled him to chase down the South running backs as they tried to break outside. Middleton plays with a very low pad level and tackled with great leverage.
SOUTH TEAM
Logan Hunt (Washington County):
Hunt will be a defensive end in college and was one of the most impressive tacklers and athletes on the field in the Elite Junior Classic. Hunt stands 6-foot-3, 230 pounds and plays tight end, defensive end, outside linebacker and even receiver for Washington County. In the Elite Junior Classic, Hunt had three tackles-for-loss and was unguardable against the talented North offensive line. Hunt had the best combination of speed, size and strength I saw in the game and was involved in nearly every play. Hunt will be a steal for whatever team recruits him at the next level. Hunt blocked four punts this season and recorded eight sacks.
Daquare Hunter (Effingham County):
Hunter is an all-region 3-AAAAA linebacker who uses his athletic 6-foot, 225-pound frame to crush ball carriers. Hunter is one of the strongest players in the state and has a 405-pound bench max and can put up 530 pounds in the squat rack. Hunter is physically college-ready and has the speed to make an immediate impact on special teams in college. Hunter is a great form tackler and will enter the recruiting ranks very soon.
Daylan Willams (Jefferson County):
Williams was one of Georgia's leading tacklers last season (137 total tackles in 12 games) and made a statement in the Elite Junior Classic with three tackles in the opening quarter. While making a stop in the early action, Williams dislocated his left elbow. A surgery to repair the elbow went successfully and now the Augusta Chronicle All-Area linebacker will rehab for a busy summer of visits and training.
Nathan Brantley (Lowndes):
Brantley was honorable mention all-region 1-AAAAAA last season and helped Lowndes hold five opponents to single digits and reach the state quarterfinals. Brantley stands 6-foot, 205 pounds and uses speed to impact the game. Brantley looks like a defensive back in his pass coverage and flies to the line of scrimmage to make stops. Brantley was able to fight off blocks well in the Elite Junior Classic and made some athletic plays at the middle linebacker position.
Jordan Colbert (Griffin):
Colbert stands 6-foot-3, 205 pounds and played receiver, safety and tight end on top of his linebacker duties for Class AAAA state champion Griffin. With all of these skills it is clear why Colbert is a four-star recruit. Colbert has the speed of a Division 1 receiver with the height and size to play the position like a tight end. On defense, Colbert's ability to catch the football makes him extremely dangerous in coverage and at safety he uses his ability to read the field to make plays. At linebacker, Colbert can use all of these skills and he is one of the best 2015 recruits at any position in the state.