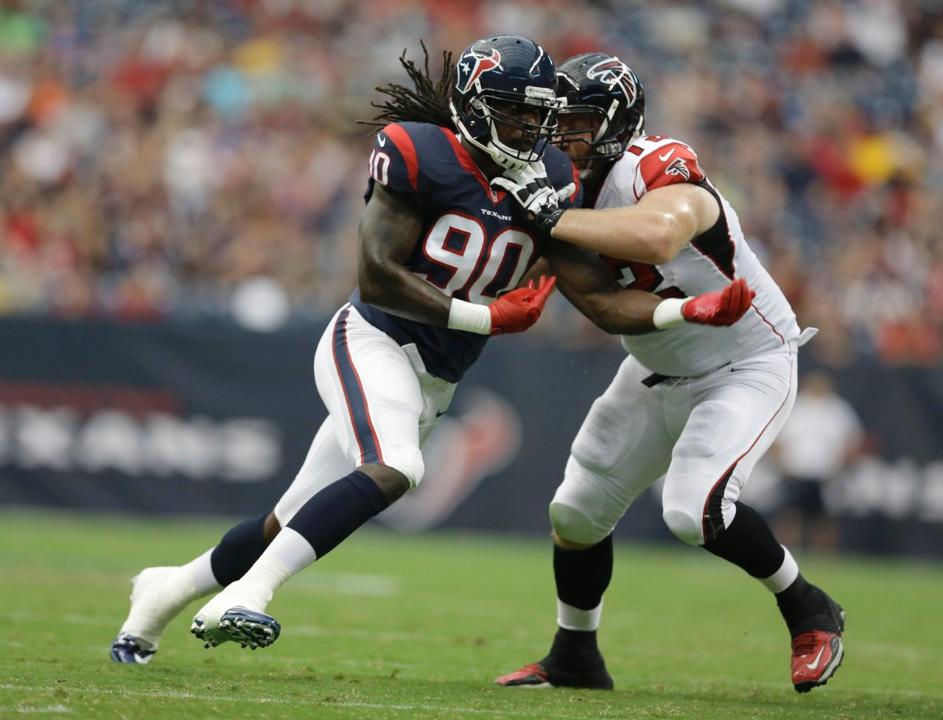 Photo by AtlantaFalcons.com
It will go down as a 32-7 loss for the Falcons, but the game itself seems like the score could have been a lot worse. The Falcons had a tough time in all three facets of the game and likely lost left tackle Sam Baker for the rest of the season with a knee injury.
The Falcons only converted three third downs in 11 chances Saturday night inside Houston's NRG Stadium. Plus, they only rack up 248 yards in 57 offensive snaps throughout the entire game. Not to mention, the special teams snafu's that included a blocked punt returned for a touchdown and a blocked 51 yard field goal attempt by place kicker Matt Bryant. Falcons backup quarterback TJ Yates also didn't enjoy his return trip to Houston, with a pair of interceptions. One of those was returned for a fourth quarter touchdown by rookie cornerback Andre Hal out of Vanderbilt.
All of these factors led head coach Mike Smith to not look far beyond the game, before saying what he thought about it.
"It was very obvious that we didn't play well in any phase of the game tonight," Smith said. "We had breakdowns in all three phases. We had way too many penalties. Weren't able to convert on third down and weren't able to get off the field on third and long. Not anywhere close to the level we need to play and perform at."
Falcons picked up 10 penalties for 89 yards in the loss and their average field position was at their own 18 yard line, as compared to the Texans getting an average start from their own 33.
The news could be even worse for head coach Mike Smith, with left tackle Sam Baker getting carted off the field with a knee injury. Just based on Baker's reaction, you can probably conclude that he doesn't believe it's a minor injury. Smith however, is waiting on more definitive evidence.
"I don't have an update," Smith said. "We'll have more information in the next 24 hours. As soon as we do, we'll let you guys know."
One silver lining from the night was having wide receiver Julio Jones get back on the field to get some playing time since his season ending foot injury early last regular season. He finished the night with two catches and 20 yards receiving. His quarterback Matt Ryan liked what he saw from him.
"I thought Julio looked good," Ryan said. "It's good to have him back. Obviously, he's a dynamic player for our offense and somebody we feel like is a game changer. I thought he did a nice job out there tonight. I think there will be an improvement for all of us from week two to week three, but I think it was a good start."
That is about the only positive that Ryan could point to in a night that saw his first team offense go 0-4 on third down during his time on the field Saturday night in Houston. He's pretty disappointed; given the fact the offense drove the field and scored last week against the Miami Dolphins on their first possession.
"We had chances," Ryan said. "We had opportunities and we had some third and manageables that we that we feel are- those third and five, third and six- those are third downs that we feel we should execute at a high percentage, and we didn't do that tonight."
On the flip side, wide receiver Roddy White doesn't seem too concerned about the 32-7 loss to the Texans in week two of the preseason game. Even going as to say that you can't judge anything from what happens in a preseason game.
"You get nothing out of exhibition games except for a lot of people conditioning, what shape they are in, and if they are able to go 60 plays or not," White said. "You learn how far your young guys have to go, grasping concepts and things you want them to do, but other than the veterans go out and play. Everybody just tries to get through this thing and try to stay healthy as possible and make it to game one."
The Falcons will get one game closer to doing that next week when the Tennessee Titans come to the Georgia Dome for the third game of the preseason. This is also the most meaningful game in terms of the amount of plays the starters will be on the field for. The Falcons are no doubt hoping they can have a bounce back like the Texans had from last week to this one.