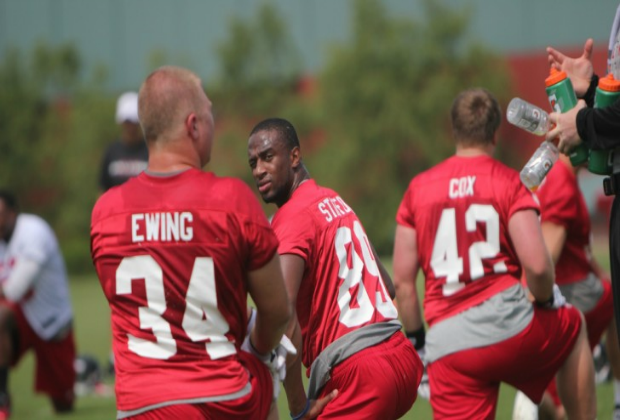 Jay Adams/Atlantafalcons.com
You can call it the final calm before the storm, a little tranquility and downtime before the tempest that will be the 2012 NFL season. Recently the Falcons wrapped up their off-season activities a their Flowery Branch headquarters, and now the team will rest before reconvening July 26 for the start of the 2012 Russell Athletic Atlanta Falcons Training Camp.
The camp is already mapped out to the precise specifications of the ultra-detailed head coach, Mike Smith. On most days, the Falcons will go through a walkthrough in the morning that will be closed to the public. In the afternoons, the team will have an open practice beginning at 3:30 and lasting until around 6:00.
Falcons fans in northwest Georgia will get a treat on Monday, Aug. 6, when the squad meets the Tennessee Titans at Coahulla Creek High School in Dalton for a combined practice from 4:30 – 7:15. The Baltimore Ravens come to the Georgia Dome four days later for the first preseason game. After Aug. 12, all practices will be closed to the public. Camp breaks Aug. 19. Most importantly, the regular season begins Sept. 9 at 1:00 at the Kansas City Chiefs.
STATE OF THE TEAM …
As the minicamp was wrapping up, Smith gave the media a state of the union interview. He was most passionate about two areas: the competition for playing time on both sides of the line of scrimmage and the more passive practice guidelines established in last year's collective bargaining agreement.
"The two areas that I think are going to have the most competition and the biggest battles are the offensive and defensive line," Smith said. With the addition of Asante Samuel and wide receiver Julio Jones moving into his second pro season, improved line play looks to be a major key to a playoff run this winter.
Then the field boss showed his frustration and also his anticipation.
"We've got somewhat of an evaluation process through the OTAs and minicamps, but when we compete in pads, it's going to be a completely different animal."