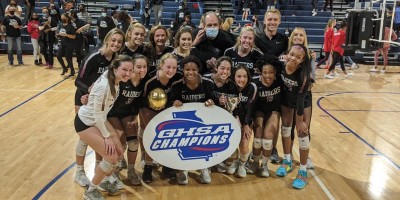 Alpharetta scored a stunning 3-1 victory over Walton to win the Class 7A state championship and closes out the year at No. 1. Lambert comes in at No. 3 behind Walton and Roswell and North Gwinnett round out the top 5.
Buford clinched the Class 6A state championship over Pope and leads the poll with Sequoyah, Lassiter and Kennesaw Mountain rounding out the top 5.
McIntosh defeated Blessed Trinity 3-1 to finish No. 1 in Class 5A and St. Pius comes in at No. 3 behind the Titans. Greenrbier, which fell in the Elite 8 to McIntosh 3-0 (25-18, 25-18, 25-20), finishes the year at No. 4.
Marist clinched the top spot in Class 4A after defeating Northwest Whitfield 3-0 in the championship this Saturday. Heritage-Catoosa, Jefferson and Islands rounds out the top 5.
No. 1 Westminster took the Class 3A championship with a sweep over Morgan County and closed out its playoff run without dropping a single set.
In Class 2A/A Public, Pace Academy held off Gordon County 3-2 to finish the year at No. 1 ahead of the Trojans. Finally, in Class A-Private, Holy Innocents' finishes at No. 1 ahead of rival Hebron Christian after taking the championship with a 3-1 win over the Bears.
Class 7A
1. Alpharetta
2. Walton
3. Lambert
4. Roswell
5. North Gwinnett
6. Newnan
7. North Forsyth
8. Harrison
9. Cherokee
10. Norcross
Class 6A
1. Buford
2. Pope
3. Sequoyah
4. Lassiter
5. Kennesaw Mountain
6. Riverwood
7. Lakeside-Evans
8. Lee County
9. Richmond Hill
10. Carrollton
Class 5A
1. McIntosh
2. Blessed Trinity
3. St. Pius
4. Greenbrier
5. Whitewater
6. Starr's Mill
7. Northside-Columbus
8. Northgate
9. Northview
10. Harris County
Class 4A
1. Marist
2. Northwest Whitfield
3. Heritage-Catoosa
4. Jefferson
5. Islands
6. Fayette County
7. North Oconee
8. Central-Carroll
9. Columbus
10. Ridgeland
Class 3A
1. Westminster
2. Morgan County
3. LaFayette
4. Sonoraville
5. Greater Atlanta Christian
6. Oconee County
7. Sandy Creek
8. Savannah Arts
9. White County
10. Richmond Academy
Class 2A/A Public
1. Pace Academy
2. Gordon Lee
3. Elite Scholar's Academy
4. Woodville-Thompkins
5. Union County
6. Lamar County
7. Armuchee
8. Vidalia
9. Davidson Arts
10. Bremen
Class A-Private
1. Holy Innocents'
2. Hebron Christian
3. Savannah Christian
4. Athens Academy
5. Mt. Paran
6. St. Francis
7. Wesleyan
8. Trinity Christian
9. Calvary Day
10. St. Vincent's