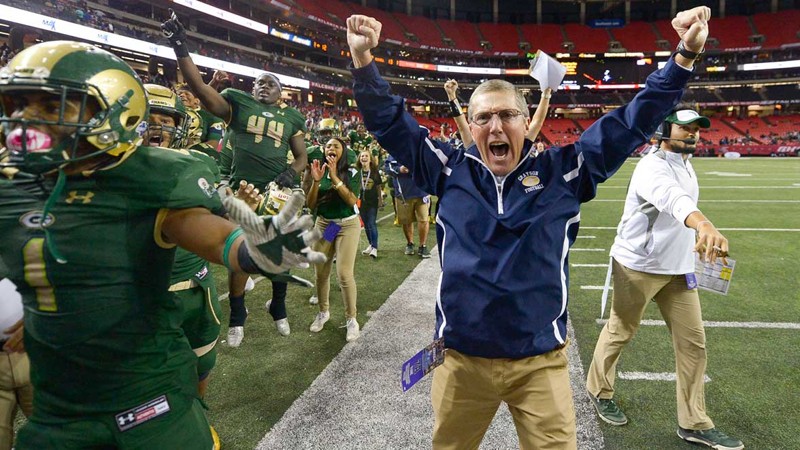 The Grayson Rams used a 23-20 overtime victory over Roswell to clinch the top spot in Class 7A. Westlake was a semifinalist, but the four losses were not enough to crack the top 5 as 8-5 Colquitt County's more challenging schedule left the Packers at No. 5.
Valdosta topped Tucker for the Class 6A title and the exclusive rights to No. 1. Dalton's 13-1 season was enough to land the Catamounts a spot at No. 3. Rome's upset over Buford in the Class 5A title game put the Wolves at No. 1 for the first time this season over the Wolves from Buford.
Cartersville on the other hand, is a wire-to-wire top-ranked team after clinching back-to-back Class 4A titles and the program's 30th consecutive win with a blowout over No. 2 Thomson. Cedar Grove put DeKalb County on the podium with a top finish in Class 3A, and Benedictine ran away with the Class 2A crown while completing the wire-to-wire season at No. 1.
AAAAAAA
1. Grayson (14-1)
2. Roswell (14-1)
3. Mill Creek (13-1)
4. McEachern (11-2)
5. Colquitt County (8-5)
6. Westlake (10-4)
7. Lowndes (10-3)
8. Norcross (11-1)
9. North Cobb (10-3)
10. Brookwood (8-4)
AAAAAA
1. Valdosta (14-1)
2. Tucker (13-2)
3. Dalton (13-1)
4. Northside-Warner Robins (11-3)
5. Mays (11-2)
6. Harrison (10-2)
7. Glynn Academy (11-2)
8. Lee County (8-3)
9. Coffee (7-6)
10. Alexander (10-2)
AAAAA
1. Rome (13-2)
2. Buford (13-2)
3. Stockbridge (13-1)
4. Carrollton (11-2)
5. Kell (11-3)
6. Ware County (8-4)
7. Woodland-Stockbridge (10-3)
8. Griffin (11-2)
9. Grady (10-2)
10. Loganville (9-3)
AAAA
1. Cartersville (15-0)
2. Thomson (14-1)
3. Woodward Academy (11-2)
4. Jefferson (12-2)
5. Mary Persons (11-3)
6. Cairo (11-2)
7. Blessed Trinity (10-3)
8. Burke County (9-3)
9. Spalding (8-5)
10. Sandy Creek (8-4)
AAA
1. Cedar Grove (13-2)
2. Greater Atlanta Christian (13-2)
3. Peach County (12-2)
4. Westminster (10-3)
5. Calhoun (10-3)
6. Crisp County (13-1)
7. Liberty County (11-2)
8. Lovett (8-4)
9. Pace Academy (6-5)
10. Jackson (8-4)
AA
1. Benedictine (15-0)
2. Fitzgerald (13-2)
3. Callaway (13-1)
4. Rabun County (11-1)
5. Screven County (11-2)
6. Hapeville Charter (10-4)
7. Pepperell (10-2)
8. Jefferson County (10-2)
9. Rockmart (9-3)
10. Vidalia (9-3)
A-Private
1. Eagle's Landing Christian (14-0)
2. Fellowship Christian (13-1)
3. Prince Avenue Christian (12-1)
4. Tattnall Square (12-1)
5. Calvary Day (10-1)
6. Landmark Christian (10-2)
7. Wesleyan (9-3)
8. Mount Paran Christian (10-2)
9. Stratford Academy (8-4)
10. Darlington (8-4)
A-Public
1. Macon County (12-2)
2. McIntosh County Academy (10-3)
3. Clinch County (11-2)
4. Emanuel County Institute (11-1)
5. Manchester (10-2)
6. Irwin County (8-5)
7. Commerce (9-3)
8. Greene County (9-4)
9. Mount Zion (9-2)
10. Taylor County (10-2)