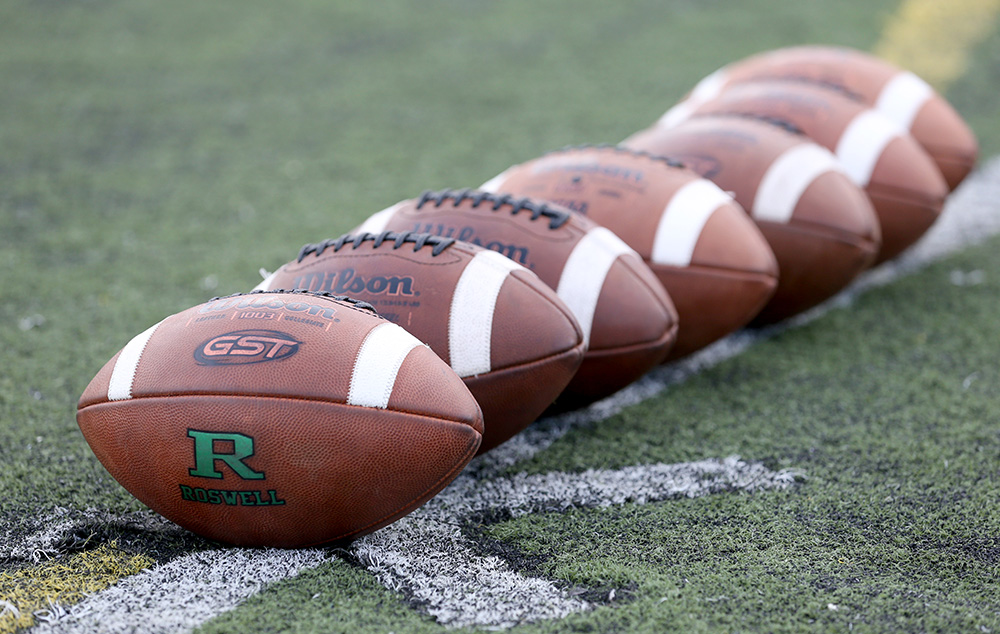 AJC.com
In Class AAAAAA, Roswell dominated former No. 7 Walton 48-14 and jumped Archer for No. 3. Walton, which was banged up from a physical region battle with Wheeler the game before its showdown with Roswell, appears to be out of steam and dropped out of the poll. Camden County joined the top 10 after cruising past Valdosta 31-10.
In Class AAAAA, Northside-Warner Robins and Mays jumped Stockbridge for No. 3 and No. 4.  Burke County defeated Thomson 26-20 and replaced the Bulldogs at No. 10.
Class AAA Jefferson used a four-touchdown performance by Colby Wood off his 45 carries to dominate Elbert County 27-8. The Dragons jumped Elbert County for No. 3 and sent the Blue Devils to No. 7. Former No. 8 Westside-Macon dropped a 31-29 loss to Jackson and fell out of the top 10. Jackson. Callaway debuts at No. 10 at 4-1.
In Class AA, No. 6 Darlington defeated No. 9 Model 28-22. The loss was not enough to drop Model any spots and the poll stayed in tact with Jefferson County anchoring No. 10.
In Class A-Private, Stratford Academy dominated First Presbyterian Day 41-21 to grab No. 8 and Trion used a 39-7 win over Christian Heritage to improve to No. 9 in Class A-Public.
Class AAAAAA
1. Colquitt County
2. Grayson
3. Roswell
4. Archer
5. Mill Creek
6. McEachern
7. Lee County
8. Norcross
9. Peachtree Ridge
10. Camden County
Class AAAAA
1. Houston County
2. Ware County
3. Northside-Warner Robins
4. Mays
5. Stockbridge
6. Jones County
7. Lanier
8. Stephenson
9. Coffee
10. Northgate
Class AAAA
1. Buford
2. Cartersville
3. Woodward Academy
4. Sandy Creek
5. Mary Persons
6. St. Pius
7. Marist
8. Jonesboro
9. Spalding
10. Burke County
Class AAA
1. Blessed Trinity
2. Calhoun
3. Jefferson
4. Cedar Grove
5. Central-Carroll
6. Dodge County
7. Elbert County
8. Peach County
9. Jackson
10. Callaway
Class AA
1. Benedictine
2. Greater Atlanta Christian
3. Fitzgerald
4. Wesleyan
5. Pace Academy
6. Darlington
7. Rabun County
8. Union County
9. Model
10. Jefferson County
Class A-Private
1. Mt. Paran
2. Prince Avenue Christian
3. Eagle's Landing Christian
4. Calvary Day
5. Landmark Christian
6. Aquinas
7. Savannah Christian
8. Stratford Academy
9. Athens Academy
10. Pinecrest Academy
Class A-Public
1. Marion County
2. Turner County
3. Lincoln County
4. Emanuel County Institute
5. Charlton County
6. Hawkinsville
7. Irwin County
8. Clinch County
9. Trion
10. Wilkinson County