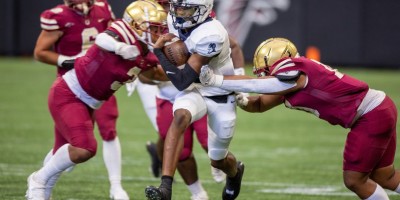 In Class 7A, North Cobb moved up one spot to No. 5 and previously No. 5 ranked Grayson dropped down to No. 9 after its 28-21 loss to Parkview. Milton improved to No. 7 after topping Lambert 31-21 and the Longhorns fell to No. 8. Brookwood remains No. 10 to round out the pre-playoff poll.
In Class 6A, Hughes remains a strong No. 1 team after closing out a perfect 10-0 season that includes a 43.7-point average margin of victory. Thomas County Central enters the playoffs at No. 2 after completing its own perfect regular season and Roswell validated its status at No. 3 with Friday's region championship-clinching road win at Alpharetta. Gainesville and Rome round out the top 5, Woodward Academy comes in at No. 6 and the rest of the poll is rounded out by No. 7 Lee County, No. 8 Marist, No. 9 Houston County and No. 10 Northside-Warner Robins.
In Class 5A, Coffee dropped two slots to No. 5 after its 31-6 loss to No. 1 ranked Ware County in the Region 1 championship. The Class 4A poll saw Burke County slide down to No. 9 after its 17-16 loss to Wayne County in a rare Tuesday night game and Stockbridge remains No. 1 and heads into the playoffs with a seven-game win-streak and no losses within the classification this season.
Cedar Grove enters the playoffs atop Class 3A with Calvary Day, Sandy Creek, Stephens County and Thomasville chasing. In Class 2A, Fitzgerald is at the top with South Atlanta, Thomson, Appling County and Callaway chasing.
Prince Avenue Christian leads Class A Division I ahead of Rabun County, Swainsboro, Irwin County and Brooks County. Bowdon is the team to beat in Class A Division II and leads Johnson County, Early County, Charlton County and Schley County.
Class 7A
1. Buford
2. Colquitt County
3. Mill Creek
4. Carrollton
5. North Cobb
6. Walton
7. Milton
8. Lambert
9. Grayson
10. Brookwood
Class 6A
1. Hughes
2. Thomas County Central
3. Roswell
4. Gainesville
5. Rome
6. Woodward Academy
7. Lee County
8. Marist
9. Houston County
10. Northside-Warner Robins
Class 5A
1. Ware County
2. Creekside
3. Cambridge
4. Cartersville
5. Coffee
6. Calhoun
7. Jefferson
8. Warner Robins
9. Dutchtown
10. Northside-Columbus
Class 4A
1. North Oconee
2. Cedartown
3. Perry
4. Benedictine
5. Bainbridge
6. LaGrange
7. Troup
8. Whitewater
9. Burke County
10. Stockbridge
Class 3A
1. Cedar Grove
2. Calvary Day
3. Sandy Creek
4. Stephens County
5. Thomasville
6. Carver-Atlanta
7. Peach County
8. Carver-Columbus
9. Oconee County
10. Adairsville
Class 2A
1. Fitzgerald
2. South Atlanta
3. Thomson
4. Appling County
5. Callaway
6. Pierce County
7. Worth County
8. Rockmart
9. ELCA
10. North Cobb Christian
Class A Division I
1. Prince Avenue Christian
2. Rabun County
3. Swainsboro
4. Irwin County
5. Brooks County
6. Elbert County
7. Darlington
8. Metter
9. St. Francis
10. Whitefield Academy
Class A Division II
1. Bowdon
2. Johnson County
3. Early County
4. Charlton County
5. Schley County
6. McIntosh County Academy
7. Clinch County
8. Manchester
9. Lincoln County
10. Wilcox County