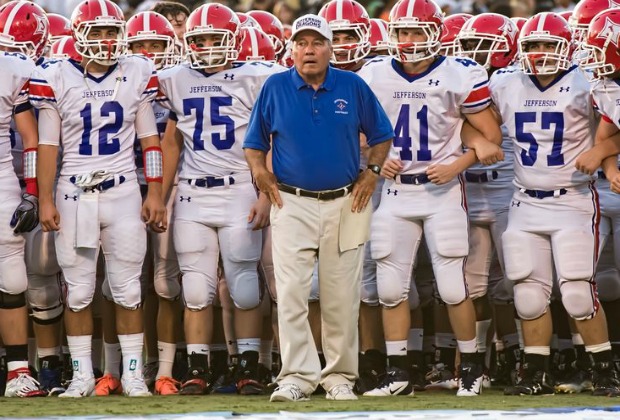 Scott Greene
The football coaching carousel has begun across the college football landscape and in the NFL, but the merry-go-round has been spinning in the Peach State for nearly one month. Jefferson's T. McFerrin was the first big player to step off as he decided to retire following the Dragons' victory in the Class AA championship game. He stepped away after 35 years and a 317-84-4 record, good enough for seventh all-time in the state according to ghsfha.org. He won a pair of GHSA state titles during his time on the sidelines. McFerrin's offensive coordinator over the past four seasons Ben Hall was named the new coach late last week.
Rick Tomberlin also decided to retire from coaching after a 30-year career. Tomberlin won state titles at Washington County in 1994, 1996 and 1997. Tomberlin's resume also included stops at Treutlen, Jenkins, Jonesboro, Lowndes, Valdosta and Effingham County, where he spent his final three seasons. He was 14-17 during his time at Effingham County. He stepped away with a career record of 236-118. Former assistant Buddy Holder was promoted to head coach following Tomberlin's retirement.
Scott Hodges was promoted to head coach at his alma mater Bremen after Ricky Tolleson retired from the spot. Hodges spent the last 12 seasons as a Bremen assistant. Tolleson was 108-48 over his 13 years with Bremen.
Lanier County's David Ward, Dacula's Jared Zito, Harrison's Bruce Cobleigh, Forest Park's Don Williams and Habersham Central's Stuart Cunningham all either retired or resigned following the season. Harrison has hired Matt Dickmann from Seminole Ridge (Fla.) to take over for interim coach Bruce Cobleigh.
John Ford was named as the new Roswell head coach after Justin Sanderson was let go following a 3-17 record over two seasons. Ford previously served as offensive coordinator and has experience coaching quarterbacks, running backs and special teams. Roswell has had eight head coaches since 1954 and all have been promoted from within the Roswell program.
Cross Creek let Travis Nixon go after a 9-21 record over three seasons. Robert McCarty was promoted from the program's junior varsity head coach to coach of the varsity. Houston County hired Von Lassiter to take over for Greg Robinson, who went 17-33 in five seasons.
Finally, Westlake is looking for a new coach after deciding to let Stanley Pritchett go after an 0-10 season.