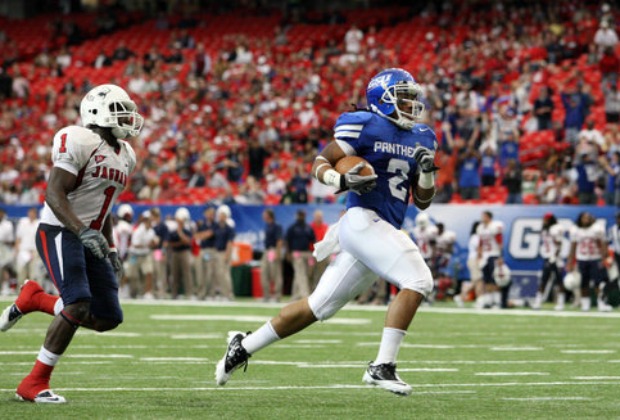 Photo by Jason Getz/AJC
Four former Georgia State football players reported to NFL training camps this week: offensive tackle Ulrick John (Wednesday), for-
mer All-American wide receiver Albert Wilson (Wednesday), defensive tackle Christo Bilukidi (Wednesday) and tight end Emmanuel Ogbuehi (Friday). John was drafted in the seventh round of the 2014 NFL Draft by the Indianapolis Colts. Wilson signed an undrafted free agent contract with the Kansas City Chiefs this past May. Bilukidi was drafted in the sixth round by the Oakland Raiders in 2012 where he played for a season and a half before signing with Cincinnati in 2013. Bilukidi was also the first Georgia State football player to be drafted in the NFL. Ogbuehi signed free-agent contracts with the Washington Redskins and Miami Dolphins in 2013 before signing with the Cleveland Browns this past June.
BIG CAT BATTLE …
Georgia State athletics announced that the Panthers will play at Penn State in football in 2017. The Panthers will receive $1.2 million for the game, the same amount they get for playing at Wisconsin in 2016 which ties the largest pay-to-play amount for Georgia State.
Junior linebacker Joseph Peterson was named to the Preseason All-Sun Belt Conference first team, which is selected by the Sun Belt head coaches and select media members on Monday. Peterson leads the team with a school-record 103 tackles and was third in the Sun Belt in tackles per game (9.4)
Senior guard Ryann Green was named to the 2013-14 NABC Honors Court on Monday. The NABC Honors Court recognizes men's col- legiate basketball student-athletes who per- form well in academics during the past season. The former walk-on guard averaged 4.8 points per game this past season.
"I am extremely proud of Ryann," head basketball coach Ron Hunter told Georgia State Athletics. "He is a great role model on and off the court for our team. He works as hard as anyone in practice to make himself and his teammates better. In the classroom, he truly understands what it means to be a first-class student."
Five men's soccer players will compete in the United States Youth Soccer (USYS) National Championships. Sophomore forward Amiri Abraham and redshirt freshman forward Tyler Alexander will play for the Concorde Fire Elite team in the under-19 division. Freshman Rashid Alarape, freshman goalkeeper Greyson Walldorff and redshirt freshman midfielder Everick Little will play for the GSA 96 Premier team in the under-18 division.