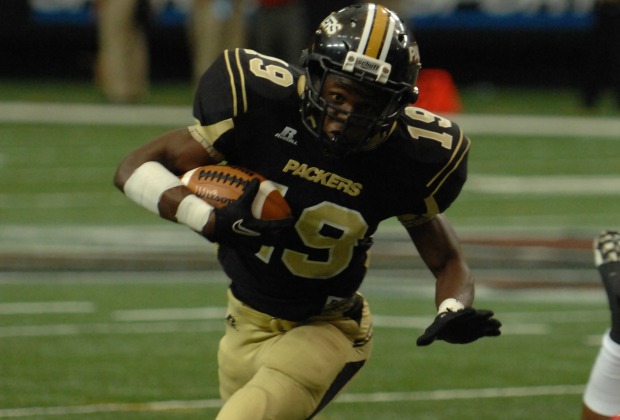 Sonny Kennedy
Lovejoy fell to Colquitt County in an exciting 17-13 affair in Moultrie while Mill Creek steamrolled Brookwood to prove its early-season ranking was justified. Thomas County Central edged Marist and Landmark Christian surprised Wilkinson County in an intriguing Class A matchup.
Read these recaps and more below.
Class AAAAAA
Mill Creek blasted visiting Brookwood 44-10 in an inter-region Class AAAAAA battle in Gwinnett County. The Hawks (2-0) exploded in the first quarter to a 20-0 lead. By halftime, the lead had ballooned to 34-3.
Mill Creek benefitted from 340 rushing yards while holding Brookwood to just 14 on the ground. The Broncos (0-2) were missing running back Josh Brown, who tore his ACL mid-week and will be out the remainder of the season. The Hawks piled up 470 total yards while limiting Brookwood to 116.
Carter Governale led Mill Creek with 91 rushing yards and touchdown runs of 10 and 26 while DeVozea Felton had 82 yards and an 8-yard score. Quarterback Daniel David completed five of seven passes for 120 yards and a 37-yard touchdown pass.
Alpharetta 36, Harrison 7: Visiting Harrison trailed 9-7 at halftime, and could not stop the Alpharetta passing attack. Quarterback Vito Priore threw scoring passes to Daniel Clements of eight and 63 yards and one each to James Marbaugh  (eight yards) and Lem Cobbs (43 yards). Elijah Burnette relieved Priore and connected with William Downing on a 21-yard pass for Alpharetta's final touchdown.
Archer 21, East Coweta 17: Gabe Tiller threw two touchdown passes to Dylan Singleton for host Archer. East Coweta gained a 17-14 lead in the fourth quarter. On an attempt to tie the game, Archer botched a snap and K.J. Parmer turned the mistake into a game-winning touchdown run.
Berkmar 35, Meadowcreek 7: The visiting Patriots were led by running back Kenyuan Riddle, who rushed for two touchdowns. Randy Griffin added 88 yards on the ground. Quarterback JaQuan Morris threw for 100 yards for the Patriots who methodically moved the ball down the field for their scores, dominating the time of possession.
Cherokee 34, Sequoyah 14: Host Sequoyah took a 7-0 lead after Adam Patterson's 45-yard run. Cherokee's Blake Johnson answered with two first-half touchdowns and Spencer Ashley added a third-quarter score. Cherokee's Brittain Brown iced the game with an offensive and defensive touchdown in the fourth.
Collins Hill 21, Dacula 13: C.J. Davis caught a 10-yard Tyler Herman touchdown pass for host Collins Hill in the opening quarter. The Eagles added two more scores in the third with a Tyler Henderson 8-yard direct-snap touchdown run, and a 36-yard Herman touchdown pass to Dwayne Smith.
Colquitt County 17, Lovejoy 13: Colquitt County held onto a 14-7 half-time lead as Lovejoy missed an extra point, then saw a last-minute Lovejoy drive stall on the Packers' 5-yard line with 45 seconds left. Javonta Woods caught a 29-yard pass from Daniel Mobley to put the host Packers up 7-0 in the first quarter, then saw Sihiem King race 64 yards in the second period to put them ahead 14-7. Lovejoy junior receiver Preston Williams caught two touchdown passes from quarterback Quintarius Neely, one for 51 and another for 80. Williams finished with six catches for 174 yards while Neely completed 15 of 30 passes for 226 yards. Mobley was 14 of 29 for 255 yards.
Etowah 44, Centennial 17: Etowah used a big-play ground game to pull away from visiting Centennial in the second half. In the first half, quarterback John Oliver threw touchdown passes to Ben Rowell and Noah Dye. Keith Gordon added a 3-yard run before Brandon Engle scored on runs of 80 and 87 yards. Stanley Logue capped the scoring with a 52-yard run for Etowah.
Newton 15, Lowndes 14: Sophomore quarterback Romario Johnson threw a 28-yard touchdown pass with no time left on the clock as visiting Newton upset Lowndes. Lowndes had taken a 14-8 lead early in the fourth quarter on a 10-yard run by Jerome Davis, but the Vikings botched the extra-point attempt. Newton rolled up 310 total yards and held Lowndes to 208.
Norcross 21, Parkview 7: Josh Boyd scored on touchdown runs of 13 and 34 yards to help visiting Norcross pull away from Parkview. Norcross led 7-0 and built its advantage to 21-0 late in the fourth quarter before Parkview got on the scoreboard. A failed onside kick attempt by the Panthers all but ended the game. Quarterback A.J. Bush threw one touchdown pass for the victorious Blue Devils, a 34-yard strike to Clinton Lynch.
North Forsyth 31, Dawson County 0: North Forsyth used a stifling defense and a stable of running backs to run over visiting Dawson County. Jamal Davenport led Alpharetta with 15 carries for 70 yards including touchdown runs of three and five yards. Trey Wagner scored from two yards and Zach Slaton scored on a 25-yard run. The North Forsyth defense held Dawson County to 133 total yards of offense.
Rockdale 9, Heritage-Conyers 7: Visiting Rockdale held off a late charge by rival Heritage-Conyers to begin the season 2-0 for the first time since 2008. Heritage scored a touchdown with less than two minutes remaining, but could not recover the onside kick. Joseph Wright scored on a touchdown pass from Zuri Minnifield for Rockdale's touchdown in the third quarter.
Shiloh 56, Redan 0: Junior quarterback Wil Larimore stole the show for Shiloh. Larimore threw for five touchdowns in the first half and six total in the Generals' road victory over Redan. Larimore finished with 292 yards passing with no interceptions. Shiloh's defense held Redan to less than 100 yards of total offense. The 56 points are a single-game record for Shiloh.
South Gwinnett 42, Duluth 28: Malik Brown threw a 21-yard touchdown pass to Greg Hollingsworth and rushed for a 60-yard score to help host South Gwinnett take a 35-6 lead into halftime. Duluth quarterback Thad Bell finished with four touchdown passes in the loss, including three in the second half.
West Forsyth 35, Flowery Branch 21: West Forsyth scored twice late in the fourth quarter to break a 21-21 tie. The visiting Wolverines took the lead on a 1-yard run by Trevor O'Brien, then clinched it with a 10-yard scamper by quarterback Hampton McConnell. West Forsyth rushed for 279 yards on 47 carries and had three first-half touchdown runs by Gabe Pierce (35, 9, 5), who led the team with 92 yards on the ground. West Forsyth led 21-14 at the half.
Class AAAAA
Allatoona 39, Paulding County 0: After holding a 9-0 halftime lead, the visiting Buccaneers pulled away in the second half led by Josh Bettistea. Bettistea had 189 yards on 14 carries and scored two touchdowns. Russell Halimon also added two touchdowns on the ground. The Buccaneers' defense recorded two safeties and Scott Roembke had an interception in a shutout effort.
Lakeside-DeKalb 30, Dunwoody 12: Host Lakeside-DeKalb used a strong running game to rally past Dunwoody. Kellyen Walker rushed for 244 yards and two touchdowns and Brad Earnest added 98 yards for the Vikings. Quarterback Nicholas Alexander completed six of 11 passes for 74 yards including a touchdown throw to Daniel Harper for Lakeside-DeKalb. Defensive back Javarus Wesley intercepted two Dunwoody passes.
Salem 26, Wesleyan 0: Salem limited the Wolves to fewer than 100 yards of total offense to preserve the shutout. The host Seminoles were led on offense by quarterback Licash Lackey, who ran for a 62-yard score and threw a 15-yard touchdown pass to Robbie Cyrus. Salem capped off the scoring in the third quarter when Cyrus returned a punt 65 yards for a touchdown.
Thomas County Central 28, Marist 21: Adam Choice rushed for 145 yards and two touchdowns and he completed all four of his pass attempts for 70 additional yards as host Thomas County Central battled past Marist. The visiting War Eagles had leads of 7-0 and 14-7 in the first half, but Thomas County Central broke open a 14-14 halftime tie to go ahead 28-14 after three quarters. Deondre Cooksey and Shaquille Coleman added scoring runs for the Yellow Jackets.
Tucker 75, North Atlanta 0: Seven different players scored for host Tucker. Dominick Sanders led the charge with two rushing touchdowns and a punt return for a score. Stephen Reynolds returned a kickoff for a score and rushed for another. Elijah Sullivan, Tommy Renfroe, Raquan Rush and Jessie Felts also ran for Tiger touchdowns. Quarterback Joe Farrar threw to Detrick Dukes for Tucker's other touchdown.
Union Grove 28, Woodland-Henry 14: Jonathon Slade threw two touchdown passes, one to Josh Peters for 85 yards and another to Caleb Ham for 60 yards, as host Union Grove improved to 2-0. Trevor Gear rushed for two touchdowns of five and two yards. Woodland-Henry fell to 1-1 on the season.
Class AAAA
Griffin 35, Northgate 0: The host Bears held a 14-0 lead at the half and ran away with the game in the second half. Miller had two rushing touchdowns and was also the leading rusher. Trey Willis had a long touchdown reception for another score. The Bears held Northgate out of the end zone with a goal-line stand to end the game.
Locust Grove 7, Ola 3: Visiting Locust Grove utilized a 3-yard touchdown run by Tre King to beat Ola in a low-scoring affair. Despite 208 yards of total offense to Ola's 284, Locust Grove improved its record to 1-1 on the season, while Ola fell to 0-2. Justin Drake caught two passes for 64 yards and also had 28 rushing yards for the visitors.
Riverdale 29, Drew 26: Visiting Riverdale benefitted from a safety off of a blocked punt by Ryan Beasley and fought off a late Drew rally to improve to 2-0. Jordan Metts had two rushing touchdowns and Reshad Canty caught a long touchdown pass to contribute to the win. Isa Muhammed also returned an interception for a touchdown for Riverdale.
Sandy Creek 55, Newnan 28: Sandy Creek overpowered visiting Newnan on the ground and through the air. Quarterback Cole Garvin threw touchdown passes to Demarre Kitt and Cory Banks. Eric Sweeney ran for three touchdowns and Delvin Weems added two more rushing scores. Defensive back Trent Sellers returned an errant Newnan pass for a touchdown. Placekicker Matthew Davenport added six extra points for Sandy Creek.
Stockbridge 15, Upson-Lee 8: Stockbridge won their home matchup behind their stout defense. They came away with three interceptions with one by Javon Brandon setting up a 15-yard Maetron Thomas touchdown run. Stockbridge scored it's other touchdown on a 50-yard touchdown pass from Malachi Brown to Davonte Hamilton.
Class AAA
Decatur 47, Therrell 12: At Grady Stadium, the Bulldogs earned their first 2-0 start since 2010. On Decatur's very first play senior fullback/linebacker Nick Bentley dashed 86 yards for a touchdown, the Bulldogs eventually building a 40-0 halftime lead. Bentley finished with 103 yards total on five carries, all in the first half, scoring three touchdowns, two rushing and another on defense after a recovering a fumble. The loss was Therrell's 17th in row dating to Sept. 29, 2011.
Class AA
Greater Atlanta Christian 56, Apalachee 14: Greater Atlanta Christian's rout of visiting Apalachee was led by Micah Abernathy, who rushed five times for 118 yards and a score while also returning a kickoff 94 yards for a touchdown. Rafe Chapple completed nine of 11 passes for 192 yards and threw touchdowns to Darius Slayton and Chris Williams. The Spartans, who led 49-14 at halftime, also got rushing scores from Ross Wood and Jaelen Venable.
Westminster 24, Laney 6: Rankin Woley rushed for two touchdowns before filling in for injured Jake Forte at quarterback as host Westminster beat Laney for its first win of the season. The Wildcats had a shutout going until Laney scored with four seconds remaining in the game. Nygel Edmonds recovered a blocked punt for another Westminster touchdown and Trey Blasingame added a 49-yard field goal.
Class A
Eagle's Landing Christian 30, Clinch County 0: Eagle's Landing Christian's shutout was highlighted when the visitors stopped a Clinch County first-and-goal from the 1-yard line opportunity in the second quarter. The visiting Chargers promptly went 99 yards, a drive capped off by a touchdown pass from Dalton Etheridge to Davis Carrandi. Etheridge threw two scores to Carrandi and added a rushing touchdown. Running back Lane Timpson also scooped up a fumble and scored for the Chargers.
Fellowship Christian 49, Towns County 14: Hunter Bryant threw three touchdown passes, all to Alex Edmonds, to lead visiting Fellowship Christian to its second win of the season, equaling last season's win total. Travis Kinney added two rushing touchdowns for Fellowship Christian, giving him five scores on the season. Towns County fell to 0-3.
Landmark Christian 37, Wilkinson County 18: Stockton McGuire rushed 16 times for 178 yards and two touchdowns to lead host Landmark Christian past Wilkinson County. McGuire also threw a 16-yard touchdown pass to Sam Dobbs and kicked a 36-yard field goal. The War Eagles got touchdown runs from William Higbie and Darius Smith. They had a slight 7-6 advantage after one quarter before pulling away in the second quarter for a 28-12 halftime lead.
Pace Academy 42, Athens Academy 9: Kevin Johnson threw for 177 yards and four touchdown passes, three to Kameron Uter, to lead visiting Pace Academy to its second win of the season. Malik Staples had 76 rushing yards on 10 attempts and had two touchdowns, one on the ground and also a 37-yard reception for a score. Athens Academy fell to 1-1 with the loss.
Walker 42, North Cobb Christian 7: Gaines Lahue rushed for 118 yards and two touchdowns on 11 attempts to lead visiting Walker over North Cobb Christian to improve to 2-0 on the season. Cameron Bloebaum completed 10 passes for 126 yards and a score and also added a rushing touchdown, while J.T. Wood carried the ball five times for 79 yards and a touchdown.
Whitefield Academy 26, Riverside Military 24: Sky Dupree scored on an 80-yard touchdown run with two minutes remaining in the game as host Whitefield Academy pulled out a back-and-forth thriller over Riverside Military. Everett Pollard completed 11 of 17 passes and threw a pair of scoring strikes to Matt Olson for the victorious Wolf Pack. Lawrence Waters helped the winning cause with a touchdown run and Alex Manning contributed on defense with an interception.
Bill Banks, Sean Conway, Stephen Black, Ryan Caiafa, Ricky Dimon, Craig Sager II and Jay Underwood contributed to this report.