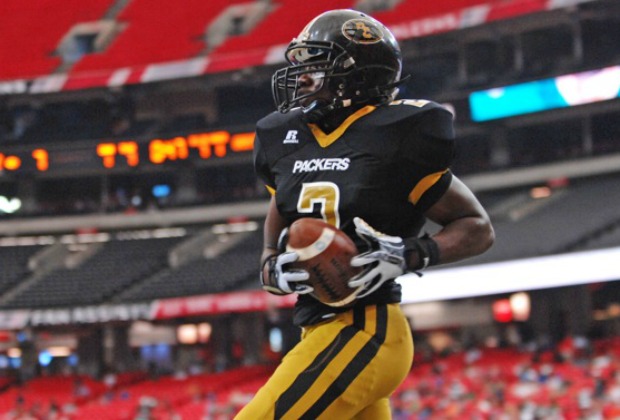 Sonny Kennedy
Marist at Thomas County Central 7:30 p.m.
2012 Result: Marist 29, Thomas County Central 18
Thomas County Central made some noise in 2012 when it lost a close 35-33 game to Region 1-6A Colquitt County in the second week of the season. The Jackets topped Marist 21-17 the next week and finished the season 9-3. The Class 5A No. 6 Jackets enter their matchup with Class 4A No. 4 Marist this year in similar fashion. A Region 1-6A team again topped the Jackets last week as Valdosta escaped 28-24 despite a 187-yard performance from AJC Super 11 quarterback Adam Choice. The Clemson commit has rushed for 350 yards on 43 carries and scored three touchdowns in his first two games. Marist head coach Alan Chadwick led the War Eagles to a 29-18 win over Clarke Central in the opener. Georgia commit Kendall Baker dominates on the offensive and defensive line.
Wilkinson County at Landmark Christian 7:30 p.m.
2012 Result: Wilkinson County 41, Landmark Christian 10
Class A-Private No. 7 Landmark Christian has posted wins over Calvary Day and Athens Christian to start the season and run into a Wilkinson County team that beat them 41-10 in 2012. Landmark hopes to gain momentum with a win over Class A-Public No. 10 Wilkinson County heading into region play, as Region 5-A teams Holy Innocents', Pace Academy, ELCA and Strong Rock Christian all remain unbeaten heading into the weekend. Wilkinson County lost last week 41-32 to No. 3 Wilcox County in its season opener for the second straight year. The Warriors are coming off an 8-4 record in 2012.
Lovejoy at Colquitt County 7:30 p.m.
2012 Result: Colquitt County 14, Lovejoy 7
Colquitt County beat Lovejoy 14-7 in 2012. Each team eventually fell to Norcross in the semifinals and state finals, respectively. Both the No. 5 Packers and No. 9 Wildcats remain in the top 10 Class 6A rankings this season, and this will be the perfect stage to see where the programs stand before opening region play. Jamiyus Pittman is an Ole Miss commit on the Colquitt County defensive line and will try to stop a Lovejoy offense that beat Mundy's Mill 41-12 last week. Colquitt County comes in off a 24-10 loss to Hoover (Ala.).
St. Pius X at North Oconee 7:30 p.m.
2012 Result: St. Pius X 50, North Oconee 14
North Oconee is one of the few Georgia schools that is yet to play a football game this season. The Titans are excited to open the 2013 season after their successful 10-2 run last year, but they will have to face a St. Pius X team that handed them a 50-14 rout a year ago. Titans running back Kawon Bryan needs just 44 yards to be North Oconee's all-time leading rusher. The junior was invited to play in the first annual Georgia Elite Junior Classic this offseason, and has over 2,200 rushing yards and 31 touchdowns in his first two seasons in the backfield. St. Pius X is paced by Auburn commit Nick Ruffin and linebacker Daniel Crochet.
Brooks County at Valdosta 7:30 p.m.
2012 Result: Brooks County 28, Valdosta 24
Valdosta escaped Thomas County Central 28-24 last week, and will have to slow down an AJC Super 11 quarterback for the second straight week with Brooks County's Malkom Parrish. The UGA commit pledged to play cornerback in Athens next year, but quarterbacked Class AA Brooks County to victory last season. The Trojans registered a 26-14 week 1 win over Clinch County and a 48-14 win over Monroe last week. Brooks County has not lost a regular season game since 2011.