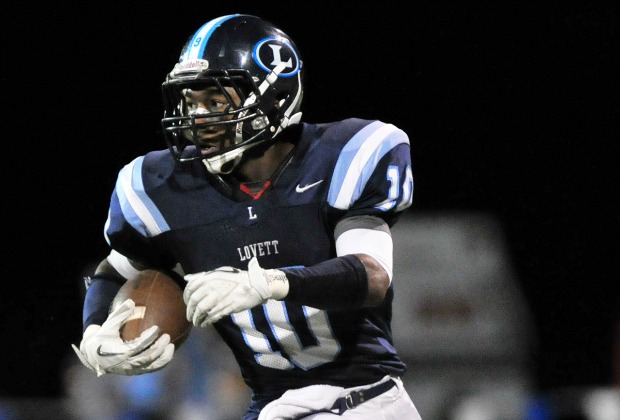 Perry McIntyre
The first Friday night of high school football ended with a couple mild surprises and some great performances. Class AA Lovett upended Class AAA Woodward Academy in a battle of Atlanta private schools, while South Georgia's Coffee beat Class AAAAA Whitewater 20-7.
See below for those recaps and more.
6A
Coffee 20, Whitewater 7: Visiting Whitewater scored on a 1-yard rushing touchdown by Ryan May. The Wolverines' scoring stopped there as Coffee put up 20 unanswered points.
Hillgrove 26, Westlake 6: Host Hillgrove stormed to a comfortable 26-0 halftime lead. Justin Denton had seven receptions for 74 yards and three touchdowns for Hillgrove, and quarterback Elijah Ironside finished 17-of-34 for 120 yards and three touchdown.
Wheeler 44, Sprayberry 14: Visiting Wheeler opened its scoring on a 26-yard Devonte Jackson touchdown run. Jackson added two more scores (94, 97), finishing with 217 yards and three touchdowns off three carries. Wheeler Quarterback Elijah Staley threw for three scores.
Woodstock 34, Johns Creek 6: Visiting Woodstock had two long drives in the first half to take a 14-0 lead. The Wolverines' defense returned an interception for a score and recovered a fumble on the Gladiators' 2-yard line.
5A
Arabia Mountain 40, Clarkston 7: Visiting Arabia Mountain took a 31-0 halftime edge. Trevous Reynolds paced the victorious Rams on 20-of-22 passing with four touchdowns, and senior wideout Greg Phillips hauled in five passes for 125 yards and three scores.
Osborne 25, Chapel Hill 14: Visiting Chapel Hill scored on a 30-yard run late which Osborne answered with a 70-yard touchdown reception to bring the score to 25-14. Osborne stopped Chapel Hill's next drive and held on to win.
Villa Rica 27, Woodland-Bartow 3: Quarterback Kevin Martin was 22 of 35 for 317 yards for host Villa Rica while receiver Kris Ballinger had eight catches for 112 yards. Female kicker Taylor Tidaback made kicks of 35 and 39 yards for the hosts.
4A
Lithonia 36, South Atlanta 0: Visiting Lithonia got on the board in the opening minutes with a 30-yard interception return for a touchdown by Frank Turner. Quarterback Rico Bruton added a 40-yard touchdown pass to Micah Stewart and a 30-yarder to Courtney Lott.
3A
Towers 13, Jackson-Atlanta 0: Visiting Towers scored on two defense touchdowns. Jackson-Atlanta's quarterback fumbled at the 15 which Towers recovered in the endzone and later threw a interception returned for a touchdown by a Towers defensive lineman.
2A
Lovett 21, Woodward Academy 14: The Lions scored the game-winning touchdown on a 10-yard pass from Willie Candler to Jack McGranahan with 2:02 left. Lovett running back Grant Haley ran in the Lions' first two scores on runs of 33 and five.
A
Holy Innocents' 28, Lakeside DeKalb 14: Host Holy Innocents' running back Jack Pfohl had touchdown runs of 90 and three yards. Jack Palmore threw a 25-yard touchdown pass, and Owen Penn tacked on a 5-yard touchdown for a 28-14 final.
Landmark Christian 30, Calvary Day 22: Darius Smith had three touchdown runs and quarterback Stockton McGuire added another and also kicked a field goal for visiting Landmark Christian. Smith's 39-yard score with 5:13 left clinched it for the War Eagles.
Walker 21, Temple 0: The visiting Wolverines took a 21-0 half-time lead and made it stick. Quarterback Cameron Bloebaum threw three touchdowns passes, two to Kevin Bray and one to Justin Delbrook.