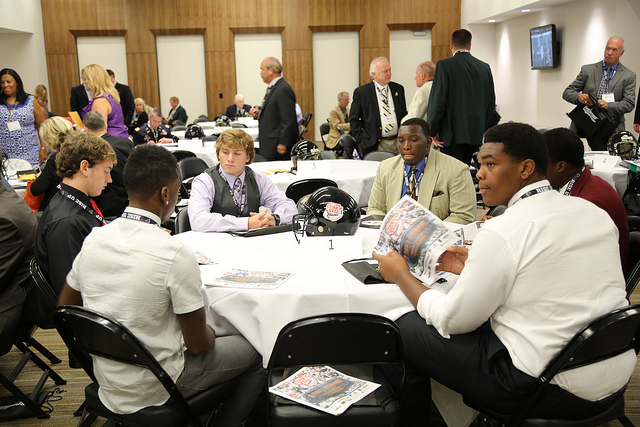 DJ Galbiati Blalock
The five-game marathon otherwise known as the Metro PCS Corky Kell Classic begins on Saturday, but before gates open at 8:00a.m., the states' most respected coaches and players met Thursday at the Dome for the 2nd Annual Corky Kell Luncheon. Randy Cross played host, and the former San Francisco 49er enters his 15th year as a broadcaster and on-air analyst. Prior to the booth, Cross earned six All-Pro selections, three Super Bowl Championships and a place in the College Football Hall of Fame in 2011. The UCLA grad played with greats like Joe Montana and Dwight Clark throughout his career and provided words of wisdom for the luncheon's guest. Cross recalled personal accounts from his playing days and beyond that have furthered his love of the game.
High School football is a community and before starting the luncheon, a moment of silence paid tribute to the tragedy in last Friday's Banneker vs. Creekside scrimmage. Creekside junior De'Antre Turman was fatally injured in the game, and statewide, thoughts and prayers have been sent to his family and teammates. Turman epitomized high school football throughout his young career with his passion and his love for his teammates, and the 2013 Metro PCS Corky Kell Classic will be dedicated in Turman's honor.
After the dedication and quick intro, Taco Mac served up an enormous buffet for the 170 guests that were all hungry for fajitas, wings and of course football. Key sponsors like SprinTurf and Metro PCS were recognized for their time and commitment in supporting high school athletics, and then the coaches and players got into the gameplans and season outlooks with interviews.
Each of the 10 teams brought its head coach and one player. The five sets of opponents took the stage together, and the coaches and players answered a question from GPB Sports. After providing their answer, it was time for the head coach to ask the opposing player a question. This provided some great insight into the game, and of course entertainment.
Camden County head coach Welton Coffey was the first to interview, because he and starting two-way lineman Trayvon Williams had to ride off to Hartsfield Jackson International Airport quickly afterwards in order to make it back in time to practice in Kingsland, Ga. later that day.
"We [Camden County] are really excited as a community as well as a team [to play in the Corky Kell Classic] and we are excited about this opportunity," said Coffey.
"It's always a blessing to play in the Georgia Dome and it means a lot," added Williams.
North Gwinnett head coach Bob Sphire was with his son and starting quarterback, Hayden, and the father-son duo will lead the Bulldogs in Game 4 against the Wildcats on Saturday.
"The Corky Kell is what Georgia High School football is all about," said the elder Sphire. "It showcases the quality and importance of high school football in Georgia…To have this opportunity, I just don't think it gets any better for high school sports."
The first game on Saturday will pit Chattahoochee and Kell against each other for the second straight year in the early 9:00 a.m. slot. Cougars head coach Mike Owens brought UAB commit Collin Lisa with him, and Longhorns head coach Derek Cook brought Kennesaw State commit Taylor Henkle. Lisa hails from North Carolina and has been in Georgia for just a couple years. The wideout has become a leader for Chattahoochee and touched on how he has made the adjustment to Georgia football and what it means to him to play on the state's ultimate football stage
Henkle is a two-way starter and a guy that embraces the physicality and challenges that are involved with starring offensively and defensively for his Longhorns.
"It is an honor to play both sides [of the football]. We take pride in that at Kell and at the end of the game we know that we put everything out on the field."
Henkle then added that while he enjoys offense, the senior safety's favorite part of the game is "coming downhill at the running backs."
Peachtree Ridge and Walton played each other in the  2011 Kell Classic and are set to kickoff at 11:45 a.m. for Game 2. Head coach Rocky Hidalgo and starting quarterback Price Wilson represented the Raiders, where Mark Fleetwood and starting offensive tackle Orlando Brown represented the Lions. Brown's father played in the NFL, and the 6-foot-8 senior and Tennessee commit talked about the high expectations that surround him on the football field, and how they have helped him grow.
"It [expectations] puts a lot more fire in me knowing that I have a lot more pressure on me from people around me, but I put a lot of pressure on myself to become a great player."
Colquitt County and Grayson square off in the third game, and Packers head coach Rush Propst will face Mickey Conn's hungry Rams team. Propst brought his senior leader, center Gabe Mobley. Conn brought his only returning starter from last season, Aares McCall who had interesting things to say about Grayson's attitude this season as opposed to 2012's squad.
Propst question to McCall was what has been different about this year's team in congruence to last year, and the senior answered, "I think last year since it was the year after we won the state championship [2011] we were a little bit more complacent and we got a little bit lazy and we were satisfied with winning that championship. This year I think our team is hungry for a championship and we have been working so much harder in the weight room, conditioning, plays and getting everything down. We are hungry this year and we have more hunger than we did last year."
Propst responded with, "That's not what we wanted to hear." Propst also added what an honor it is for his team to play in this event and how well it is run each year.
The final game is Brookwood against McEachern. These two programs have played in more Corky Kell games than any other two schools. Broncos head coach Mark Crews brought his focused running back Josh Brown, and Indian's head coach Kyle Hockman brought his speedy quarterback Ty Clemmons.
Brookwood's Brown told the audeince that he has been going to Corky Kell Classic games since he was nine years old.
"I've been more than blessed to play and start for three games in the Dome. I've been coming and watching these games since I was nine years old and playing with the guys that I have been playing with since I was nine is going to mean a lot to me too. We expect nothing less than the state championship this year."
Like Brown, Hockman still get's excited to play in the Dome as well.
"To walk out there [on the field] like we did just a few minutes ago, it is still a thrill. Even when there is nobody in the stands and no game is going on, we are still at the Georgia Dome and it is something every year that we look forward to and something we use as motivation."
While the Corky Kell Classic is the biggest football event the upcoming weekend, Georgia football as a whole is what the luncheon commemorates. In attendance were five state 2012 championship coaches, including Keith Maloof (Norcross), Bruce Miller (Gainesville), T. McFerrin (Jefferson), Jess Simpson (Buford) and Chip Walker (Sandy Creek).
Georgia produces some of the best athletes in the country every year, and since 1985, the Atlanta Journal-Constitution has selected a Super 11 team representing the most highly regarded senior football players in the state. This annual tribute has been shared over the years by players like Champ Bailey, Calvin Johnson, Hines Ward, Eric Berry, David Greene, Rodney "Boss" Bailey, Reggie Brown, and DJ Shockley. 10 of the 11 from the 2013 AJC Super 11 class were at the luncheon, and having the group together was an honor.
Lorenzo Carter, Korie Rogers, Nick Chubb, Malkom Parrish, Adam Choice, Kendarius Webster, DeShaun Watson, Cortez McDowell and DeMarre Kitt were there. Liberty County's Raekwon McMilian was unable to attend. Filling in for McMillian was Centennial wideout Christian Robinson who was asked to substitute for McMillian because of his excellence on and off the football field. As a teammate Robinson receives the highest praise, and as a playmaker he enters his senior year after posting 1,000 yard receiving seasons his each of his previous two seasons.
The action begins with Chattahoochee vs. Kell at 9 a.m and then continues with Peachtree Ridge vs. Walton at 11:45 a.m., Grayson vs. Colquitt at 2:30 p.m., North Gwinnett vs. Camden County at 5:30 p.m. and Brookwood vs. McEachern at 8:30 p.m. All five matchups will air live on Georgia Public Broadcasting for the third year in a row and will be available on the radio at 92.9 FM The Game for the first time.