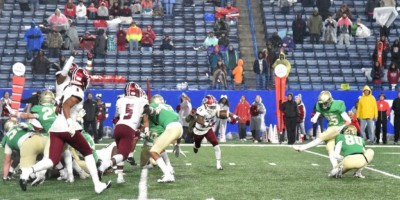 Hyosub Shin / Hyosub.Shin@ajc.com
The GHSA Football State Championships crowned four of its 2019 state champions this Friday at Georgia State Stadium. In the opening game, Keaten Mitchell had a big game running the ball and helped fuel Eagle's Landing Christian to its fifth-straight Class A-Private championship in a 33-13 victory over Wesleyan. Mitchell had a team-high 19 carries for 192 yards and four touchdowns in the win.
In the second game, Dublin overcame a 14-9 halftime deficit and defeated Brooks County 42-32 for the Class AA state title. The win marks the Irish's fifth all-time state title and first since 2006. Dublin did all its work on the ground, compiling 473 rushing yards off 73 carries and closing out the game without a single pass attempt.
Buford defeated Warner Robins 17-14 in overtime of the Class AAAAA championship to win its first state title since 2014 and 12th all-time state crown. Buford orchestrated a 13-play scoring drive to tie the game up 14-14 with just 27 seconds left in regulation on a 22-yard touchdown pass from sophomore quarterback Ashton Daniels to senior Jamarius Isaac. Warner Robins missed a 50-yard field goal attempt at the end of regulation and then was intercepted by Isaac near the goal line on the first possession of overtime. Buford picked up eight yards on its first two snaps of the overtime period and then elected to send out kicker Hayden Olsen on third down to boot through a game-winning 24-yard field goal.
Harrison won its first state title with a 20-7 victory over Allatoona in the Class AAAAAA state championship to close out Friday's games. After a 40-yard field goal by Christian Lowery, Harrison added to the lead on a 49-yard touchdown pass from Gavin Hall to Jay Zigler. Allatoona responded with an 18-yard touchdown pass from Dante Marshall to Asante Das. Lowery connected with another 40-yard field goal with 2:11 in the third quarter and after an interception, Hall converted on a 2-yard touchdown run to secure the win. The Hoyas blocked two field goals in the victory.
2019 Football State Championship Results
Friday, Dec. 13 (At Georgia State Stadium)
Class A-Private: Eagle's Landing Christian 33, Wesleyan 13
Class AA: Dublin 42, Brooks County 32
Class AAAAA: Buford 17, Warner Robins 14 OT
Class AAAAAA: Harrison 20, Allatoona 7