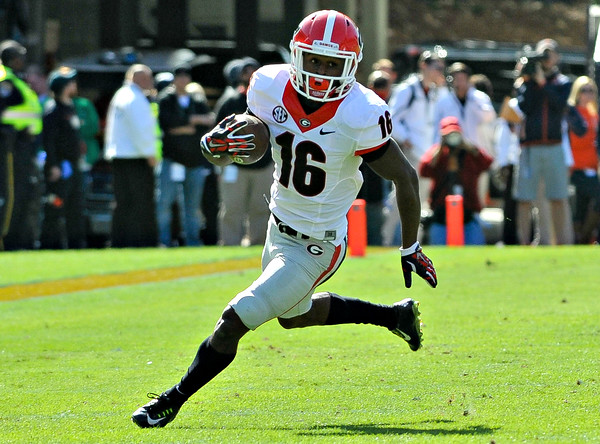 Sean Taylor/ UGA Athletics
AUBURN, Ala.— When it comes to the 2015 season for the Georgia Bulldogs, it can be summed up in one word… Disappointment. The Bulldogs were supposed to win the SEC East and possibly even compete for the College Football Playoff.
Those dreams became wishes that didn't come true after losses to Alabama, Tennessee and Florida. Not to mention, Georgia barely squeaked by Missouri with a touchdown-less win in between those three losses.
November 14, 2015 was a different story in the tale of the season for UGA Football, with a 20-13 win over Auburn. Sure, Auburn is down this season. Yes, their season became even more disappointing with loss number five on the year.
Georgia badly needed a win like this. It was not only over a rival, but it also keeps their hopes of back-to-back ten win seasons alive. Head coach Mark Richt said everyone savored this road win.
"That was a great victory for Georgia," Richt said. "A lot of fun afterwards in the locker room. I got a chance to celebrate with the players and coaches. Just seeing a smile on everyone's face."
All losses are bad and they all carry their own terrible news. The Crimson Tide loss, was just awful at 38-10. In the loss at Neyland, you lose sophomore running back Nick Chubb for the season. Florida was pretty much ugly from the beginning.
So given two straight wins, you can understand why so much emotion was shown after the win at Jordan-Hare.
Georgia was able to force three turnovers in the win. Sophomore defensive back Malkom Parrish intercepted Auburn quarterback Jeremy Johnson. Senior outside linebacker Jordan Jenkins sacked and forced Sean White to fumble when he came in to play quarterback. Then, sophomore outside linebacker Lorenzo Carter forced a fumble on Tigers wide receiver Ricardo Louis on the goal-line to thwart their final chance at a touchdown.
Jenkins had been dealing with a groin/abdomen issue that either kept him off the field or limited the past few weeks. He not only factored in a huge way to get this win. He also knows what it means for the program.
"This win makes up some of the way the season has been going," Jenkins said. "Definitely getting wins help. But this win in particular because of the way we won and it being the last SEC game, it was a great win for the seniors. (We) walk out with a good SEC record. We are happy with the turn out. We just want to keep fighting for the rest of the season and for the seniors."
You cannot talk about this win, without mentioning the play of sophomore wide receiver/return specialist Isaiah McKenzie. He scored both of UGA's touchdowns on a four yard end-around and then a 53 yard go-ahead punt return with under 10 minutes left in the game to put them up 17-10.
McKenzie's season has been a little up and down as well, with the hamstring issue that kept him off the field for some time. That said, he's thrilled that he came up huge in the win.
"It's great to have a game like this," McKenzie said. "It's great to score touchdowns and help the team out. We had ups and downs throughout the season and we came out here and said everything isn't going well. It's a big rivalry game and things didn't go well, but it was a good win."
Now, Georgia will close out their home portion of the schedule next week with senior night under the lights at Sanford Stadium against Georgia Southern. The following weekend, Georgia will try to exact revenge on Georgia Tech for their overtime win last year in Athens.
If Georgia can win out this regular season and win the bowl game, it would give them 10 wins for the second straight year. It would also be the tenth season with 10 or more wins in the Mark Richt era.
Even though some think this season might be lost, these numbers tell a different story.