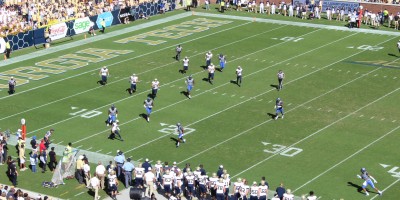 The Duke Blue Devils' name originated from a group of soldiers who emerged during the Great War that were described as a dominant offensive force that defeated all their biggest enemies. On Saturday at Bobby Dodd Stadium, those same Blue Devils emerged to defeat Georgia Tech 28-14, giving Duke their first conference win of the season and improving their record to 5-1.
"We executed plays very well today and I am super proud of this team for this win. We forced turnovers and we responded really well defensively," Duke head coach David Cutcliffe said. "We only allowed fourteen points, which I think shows how hard this defense worked."
Daniel Jones started the game with three straight completions to work the offense down the field, which allowed Deon Jackson to score a 12-yard rushing touchdown, giving the Blue Devils the early advantage in the first quarter.
The Yellow Jackets answered back late in the second quarter with a 32-yard touchdown pass by TaQuon Marshall to Malachi Carter to tie the game at the half.
The chance for Duke to shine offensively and pull away from the Jackets came late in the third quarter, as the Blue Devils scored three consecutive touchdowns and forced a Georgia Tech turnover. Daniel Jones connected with T.J. Rahming for a 48-yard touchdown to begin the scoring spree.
The Yellow Jackets soon lost momentum and any chance of a comeback after Duke recovered the ball after a fumble by Marshall, leading to a 1-yard touchdown pass from Jones to Koppenhaver. Juanyeh Thomas fumbled the ball on Georgia Tech's punt return, giving Duke another chance to reach the end zone with a 6-yard touchdown pass from Jones to Johnathan Lloyd, which extended their lead to 28-7 at the end of the third.
"We turned around in the third quarter and we created turnovers. We responded offensively and in a big way and it was great effort and great energy throughout the whole game," coach Cutcliffe said. "Offensively I thought we made the decision to run the ball more effectively in the second half and we looked really good doing it."
Georgia Tech's last score was off a 2-yard run from Jerry Howard, but it didn't give the Yellow Jackets enough motivation to pull off a surprise comeback.
Daniel Jones, who will be a top contender in the NFL Draft and has already passed for 821 yards in four games, was 17 of 27 and finished with 206 yards passing.
"The third quarter was a lot of fun and we felt a big momentum shift and we kept building on it," Jones said. "The defense put us in some great positions there and special teams came up big too during the whole game, so I think it was a great team effort today."
Deon Jackson finished with 103 yards rushing and T.J Rahming finished with 91 yards receiving.
"This is a big win and our first conference win at that, but we know we have a lot of work aligned in front of us," said coach Cutcliffe. "I'm anxious to go back and watch the tape and figure what we need to learn to prepare us for our next game."
The Yellow Jackets are now 3-4 and they view this game as a chance to see where they need to improve with turnovers and penalties.
"We can be a pretty good football team if we don't turn the ball over and we don't have penalties," Georgia Tech coach Paul Johnson said. "When the turnovers started, it was like we went crazy. We got misaligned and missed many assignments. We did a very poor job at execution and I probably could have made some better calls."
TaQuon Marshall was five of 11 and finished the game with 91-yards passing and 59-yards rushing. Georgia Tech finished with 354 yards of total offense.
"The bottom line is we can't put the ball on the dang ground," coach Johnson said. "We talk about it, preach it, and chirp it, but evidently, we aren't doing a good enough job coaching."