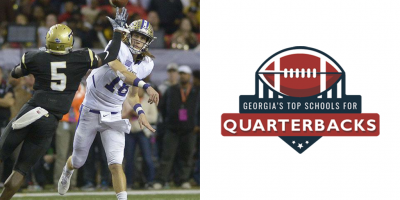 For decades, Georgia High School Football has been home to outstanding quarterbacks and this star-power has been especially evident in the last 10 seasons with some of the nation's highest rated quarterback prospects coming out of the Peach State. The talent at the quarterback position is witnessed statewide on Friday nights each fall, but within this landscape there are programs that continuously excel at the position. Below, I will list 10 of the state's best programs when it comes to quarterbacks. The criteria that was considered in making this list varied program to program. For example, some of the programs made the list based on specific moments of unprecedented quarterback success in their respective histories, while others were measured by more recent trends.
1. North Gwinnett: The North Gwinnett Bulldogs top the list as the No. 1 quarterback producing program in the state. From the 2008 season until this past season, the quarterback talent seen at the school is truly staggering. The team's 2008 starter Michael Tamburo went on to play at Boise State. Junior C.J Uzomah quarterbacked the team the following season and passed for 1,750 yards and 15 touchdowns, and ran for 800 yards and 10 more touchdowns. Uzomah went on to play college football at Auburn and is now a starting tight end for the Cincinnati Bengals. Future Harvard quarterback Scott Hosch shared the starting role with Uzomah during the 2010 season and remained the starter his senior year in 2011—where he led the team to the quarterfinals. Six more college quarterbacks have graduated from the Bulldogs' program in the time since with Michael Hanyes (Mercer), Hayden Sphire (Murray State), John Urzua (Middle Tennessee State), Cade Fortin (North Carolina), Jimmy Urzua (Mars Hill) and JR Martin (Elon).
2. Valdosta: The Wildcats come in at No. 2 on the list and have been a breeding ground for star quarterbacks for decades. As the all-time winningest high school football program in the entire nation, Valdosta has a fraternity of quarterbacks that have upheld the school's historic success. This group of talented leaders and state championship passers includes University of Georgia quarterbacks Buck Belue, John Lastinger and Greg Talley in addition to John Bond (Mississippi State), Alton Histon (Georgia Southern), Seth Shuman (Georgia Southern) and last year's starter Tate Rodemaker (Florida State). Belue was the first player to start all four years at quarterback for Valdosta, and helped lead Georgia to the 1980 National Championship. He also led the Valdosta baseball team to the state championship his senior year. Bond went on to be a four-year starter and an All-American at quarterback for Mississippi State. Hitson quarterbacked the Wildcats to back-to-back state championships (1989 and 1990) before attending Georgia Southern. Lastinger was the quarterback of Nick Hyder's first state championship team in 1978. Once at Georgia, he led the Bulldogs to the Sugar Bowl and the Cotton Bowl in his two seasons as a starter. Josh Belton, who quarterbacked Valdosta to its 24th all-time state title in 2016 is now at Mississippi Delta.
3. Cartersville: The Purple Hurricanes have been the state's most successful program over the past eight seasons and the program's three starting quarterbacks over the same span is a leading factor. Cartersville has gone 79-1 in the last eight regular seasons and has won 93 games with two state championships in that period. The quarterback of the Canes in 2012 and 2013 was Brooks Barden, who played under his father Frank Barden before earning a scholarship to play at Charlotte. After Barden's graduation, Joey King was hired as head coach and he would have freshman Trevor Lawrence ready to lead Cartersville for the next four years. Lawrence, became the No. 1 prospect in the country and left Cartersville having broken every state passing record—with 13,908 career passing yards and 161 touchdowns. Lawrence took Clemson to the 2018 National Championship and will be one of the top picks of the 2021 NFL Draft. Cartersville didn't skip a beat after the graduation of Lawrence in 2018. Class of 2020 passer Tee Webb stepped in as the starter and led Cartersville to back-to-back perfect regular seasons and a 26-2 overall record. Webb is set to attend Louisville this fall.
4. Harrison: Defending Class AAAAAA state champion Harrison has become a hotbed of nationally-recognized quarterback talent over the years. The Hoyas started playing football in 1992 and were led by the late Bruce Cobleigh for the program's first 12 seasons. Future Georgia Bulldog Daniel Cobb was an AJC Super 11 Selection in the 1996 season and the first prominent quarterback to lead the program. Zack MacDowell was Cobb County Quarterback of the Year in 2004 and 2005 and threw for 4,085 yards on 64 percent passing with 52 touchdowns in his two years as the Hoyas' starter. MacDowell went on to play at Wake Forest before transferring to Coastal Carolina. After MacDowell, the program has been led by dual-threat quarterback Lorenzo Nunez who would go on to play at South Carolina, and former five-star and current Ohio State starting quarterback Justin Fields. This past season, Class of 2020 quarterback Gavin Hall led the Hoyas to a perfect 15-0 season and first-ever state title as the starter. He is now heading to Toledo.
5. Gainesville: The Red Elephants had a remarkable string of quarterback success spanning from 2008-2014 that is worth further examining. This impressive run started in 2008 with Blake Sims at quarterback. Sims led Gainesville to a 14–1 record and a state runner-up finish—throwing for 2,785 yards as a junior in 2008 while rushing for 822 yards and 15 scores. As a senior, he threw for 2,288 yards with 28 touchdowns and rushed for 863 yards and 13 touchdowns. Following Sims graduation, DeShaun Watson stepped in as a freshman. During his varsity career, Watson led Gainesville to its first-ever state title and set numerous state records, including total yards (17,134), total touchdowns (218), career passing yards (13,077), and career passing touchdowns (155). He also rushed for 4,057 yards and 63 touchdowns. Watson, of course, would go on to lead Clemson to the National Title in 2016 before getting drafted to the Houston Texans in the first round of the 2017 NFL Draft. As for Sims, he quarterbacked at Alabama and would later play quarterback in the Canadian Football League and the NFL. After the Sims and Watson-led seasons at Gainesville, the Red Elephants saw senior and first-time starter Mikey Gonzalez step in to quarterback them for the 2014 season. Gonzalez had big shoes to fill and did a remarkable job in keeping the Red Elephants' offense on track. In his lone season as the starter, Gonzalez threw for 3,160 yards and 38 touchdowns and earned Area Player of the Year. Gainesville's offense has struggled in the seasons since, but the program's incredible run with Sims, Watson and Gonzalez is worth admiration.
6. Marietta: The Marietta Blue Devils have a trio of exceptional quarterbacks that have come through the program over the years. The first notable name is Eric Zeier—who can be considered one of the most coveted quarterback prospects to ever come out of the state. Zeier played his first two years of high school football in Heidelberg, Germany, where his father was a U.S. Army colonel. His family made the decision to have him attend Marietta under head coach Dexter Wood, who would build his offense around his new star. In his two seasons as a Blue Devil, Zeier threw for 4,502 yards and 50 touchdowns. He was the consensus No. 1 quarterback prospect in the nation, a first-team USA Today All-America and Super Prep magazine's national player of the year. Zeier went to the University of Georgia and became the SEC's all-time passing leader with 11,153 yards—a record which has been surpassed only by Peyton Manning, David Greene and Aaron Murray. After Zeier, Marietta's next major quarterback star was current Blue Devils wide receiver coach Labrone Mitchell. Before becoming a coach at his alma mater, Mitchell was a successful three-year starter for the Blue Devils from 1994 to 1996. He compiled a 35-5 record in his three seasons and three region titles before receiving a full scholarship to the University of Georgia where he was a two-year starter. As talented as Zeier and Mitchell were, Marietta's starter these last four seasons, Harrison Bailey, shares their incredible potential. Bailey led Marietta to the program's first-ever state title this past season and put up a whopping 4,674 passing yards, with 50 touchdowns. The All-American Bailey is currently enrolled at Tennessee and is expected to earn the Vols' starting role. Marietta also had four-star Class of 2013 quarterback Anthony Jennings come through the program. Jennings, would go on to start games for LSU before joining the Louisiana Rajin Cajuns.
7. Colquitt County: The Colquitt County program has been a nationally-ranked powerhouse over the last decade—always contending for state titles and succeeding against a schedule packed with the top programs around. This high standard of success has been made possible by consistent leadership and play at the quarterback position. In just the last eight graduating classes, Colquitt County has produced a great group of passers. Cole Seagraves was a Class of 2013 three-star prospect that split time with Daniel Mobley during the Packers' 11-4 run in 2012. Mobley passed for 2,492 yards as a senior in 2013 as Colquitt County finished 11-3. Following Mobley, Chase Parrish stepped in and led Colquitt to back-to-back state titles in 2014 and 2015. During his senior season Parrish passed for 3,501 yards and 40 touchdowns with just six interceptions. Parrish currently plays for Navy. Colquitt County's next starter was Jay Saunders and he signed a baseball scholarship with GCSU. Class of 2018 passer Steven Krajewski earned a scholarship to play quarterback at UConn and Class of 2020 graduate Jaycee Harden signed with Valdosta State after his two years spent starting for the Packers.
8. Grayson: The Grayson Rams are near the pace of North Gwinnett when it comes to producing college quarterbacks in the last several seasons and the trend can be expected to continue. Class of 2012 passer Nick Schuessler walked on at Clemson after signing with Mississippi State and eventually earned a scholarship with the Tigers, becoming the team's second-string quarterback. Grayson's next starter was Chase Brice and he attended Clemson before transferring to Duke. After Brice, D.J. Irons took over the Rams starting job and earned Region 8-AAAAAAA Offensive Player of the Year. Irons is now quarterbacking at Iowa Central. Three-star CJ Dixon went 11-2 as the Rams' starter this past season and picked up 11 total offers. Now, the program has former McEachern quarterback Carlos Del Rio set to start for the Rams in 2020. Del Rio is a four-star recruit that is ranked as the No. 11 quarterback in the country for the Class of 2021 and is currently committed to Florida.
9. Oconee County: Oconee County has had big names at the quarterback position emerge in the last decade. The program's 2009 graduate Zach Mettenberger went on to play at the University of Georgia and LSU before spending three seasons in the NFL. After Mettenberger, Oconee County had Zeb Noland, the son of current head coach Travis Noland under center. As a senior, Zeb was named 2015 Region 8-AAA Player of the Year. He passed for 1,627 yards and 17 touchdowns and led the Warriors to their first region title since 2004. Zeb went on to play for Iowa State before transferring to North Dakota State in 2019 for his junior season. Oconee County's most recent star quarterback is Class of 2020 graduate Max Johnson, who earned national attention over the course of his career. The 6-foot-5 Johnson is the son of former Super Bowl XXXVII winner and two-time Pro Bowl quarterback Brad Johnson. Max led Oconee County to the Class AAAA state finals this past season and is now enrolled at defending National Champion LSU.
10. Central Gwinnett: The Black Knights have had three college quarterbacks emerge from the program in the last three seasons. Class of 2018 graduate and U.S. Army All-American Jaren Williams is now at the University of Miami. Class of 2019 graduate Justin Fomby signed with the Norther Iowa Panthers the following year and last year's starter Skylar Adams signed with Clarke Atlanta. It is worth pointing out that this past season, freshman quarterback Justin Johnson had to fill in for Adams when the Black Knights faced Lanier in non-region action. The Class of 2023 prospect completed 15-of-22 attempts with a pair of touchdowns—showcasing the school's ability to groom quarterbacks for the spotlight.