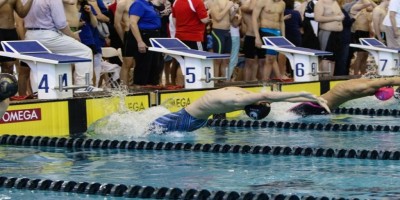 The 2020 GHSA Swimming and Diving State Championship returns to Georgia Tech's Recreation Center Aquatic Center from Thursday to Saturday. With scoring divisions in each meet, 7A and 6A are in the 7A-6A session and 3A-1A and 5A-4A in the 5A-1A session. The top three male and female teams and individuals in their respective divisions will be awarded medals and team trophies following their showings during the competition.
Collins Hill's Peter Smithson set a state record of 762.35 and won his third-straight diving state title at last year's meet. Smithson has since graduated, and this Thursday will see a new name take home the top prize in Georgia's largest classification. Kennesaw Mountain sophomore Kyler Dixon posted a first-place finish in Class AAAAAAA girls last year. Dixon wasn't the only freshman, however, that stole the spotlight as a freshman a year ago—Allatoona's Hannah Stumpf scored a state-record 570.6 to take the Class AAAAAA title.
RECORD-BREAKING GREATNESS
Following the diving competition on Thursday will be the prelims on Friday, Feb. 7. In Class AAAAAAA, Brookwood took home the boys and girls team titles last year. The four-time defending champion boys won with 359 points while Lambert (266) placed second and Lakeside-DeKalb (255) was third. The two-time defending champion Lady Broncos scored 349 points, with rival Parkview (274.5) placing second ahead of third-place South Forsyth (241). The Brookwood boys placed first in the 200-yard medley relay and the 400-yard freestyle relay for the second year in a row. Senior Aidan Stoffle defended his 100-yard freestyle gold medal with a time of 44.05, besting his 2018 first-place time of 45.94. Stoffle also repeated his 2018 first-place finish in the 100-yard backstroke, scoring 47.62 to best his previous gold medal time of 48.98. The Brookwood girls' team of Maddie Cordle, Emma Cohen, Lily Burke and Reagan Sweeney placed first in the 400-yard freestyle relay with a time of 3:29.39, edging out second-place Parkview (3:32.03).
The Johns Creek boys took the Class AAAAAAA crown a year ago for the program's first-ever state title and the Centennial girls took first place to win its first state championship since 2006. The St. Pius boys will be looking for a fourth-straight team state championship this weekend and a fifth state title in the last seven years. On the girls side of Class 4-5A, Chambee will look to defend its first-ever state title after edging St. Pius 262-256 a year ago.
Finally, in Class A-3A Westminster will attempt its third-straight championship sweep. Both the Westminster girls and boys have won back-to-back titles heading into the weekend and the school is one championship away from recording its 50th all-time swimming team state title.