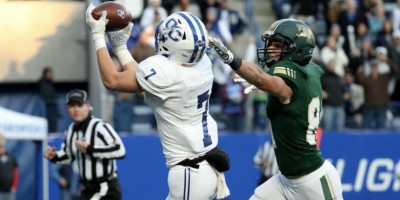 No. 7-ranked Milton seized control in the first half of Friday's second-round matchup against visiting Norcross with a 41-yard touchdown completion from Luke Nickel to Scott Moskowitz and a 26-yard pick-six from Brayden Holmes just three plays later, ultimately defeating the Blue Devils 30-23 to set up a quarterfinals showdown with Grayson.
The Norcross defense has been stellar all season, averaging 14 tackles for a loss per game and forcing 22 total turnovers through last week. True to form, junior Andre Thompson intercepted Milton quarterback Luke Nickel on the Eagles' opening drive and returned it to the 2-yard line, and Norcross got on the board moments later with a touchdown from Nakai Poole (the extra point was no good).
Milton finally found some success on a late first-quarter drive that was extended by a DPI call that brought the Eagles into Norcross territory. Coming out of a timeout called by first-year head coach Ben Reaves Jr, Nickel and Moskowitz connected for the 41-yard score to take the lead, and Holmes' pick-six on the first play of the second quarter gave the Eagles a 14-6 edge. Senior DE Owen Phillips then sacked Watkins on the next Norcross possession, and Nickel scored on a keeper to extend the lead to 21-6.
Drew Duva added a 34-yard field goal for Norcross later in the second quarter, which ended with an interception thrown by backup Blue Devils quarterback Zaire Goff. Watkins, who finished the first half 4-of-15 for 76 yards and a pick, returned in the second half and was quickly sacked by Wyatt Smalley to force a punt, which was blocked in the end zone by Clemson-commit Rob Billings for a safety. Late in the third, Watkins picked up 1st-and-goal on 4th-and-5 with a pass to Poole, then ran it in.
Norcross marched into Milton territory early in the fourth as well, but a sack from Terence Spencer Jr and Phillips and Bryce Thornton's pass break-up on 3rd-and-13 led to another Blue Devil punt. Milton was unable to capitalize, giving the ball back to Watkins, but he fumbled it on 4th-and-2 and Phillips came up with the recovery at the Norcross 41. Moskowitz took an 18-yard trip to the end zone on the next drive for a 30-16 lead with 4:20 remaining before Goff took the field again and connected with Poole on a 17-yarder to make it a one-score game. Billings picked up a pair of first downs for Milton, however, and the Eagles ran out the rest of the clock.
The AJC had writers covering Walton at Buford, Norcross at Milton and Mill Creek at North Cobb for the second round of the GHSA football playoffs. Follow the link to the Prep Scoreboard and Brackets powered by Score Atlanta or see Todd Holcomb's Friday Night Wrap here.
Class 7A
North Gwinnett 38, Lambert 35
North Gwinnett handed visiting Lambert a 38-35 loss to return to the quarterfinals for the first time in three years. The Bulldogs began the matchup with a safety on a bad Lambert snap, a touchdown on the ensuing possession, and another score on the first play following the recovery of a Lambert fumble at the Longhorns' 1-yard line. Brandon Jones cut the Bulldogs' lead to 16-7 with a 34-yard touchdown on a screen pass from James Tyre, but Kayden McDonald's touchdown and a successful two-point attempt put the home team up 24-7. Tyre added back-to-back touchdown passes to Christian Smith before the break, then gave Lambert a 28-24 edge with a rushing score to start the third. McDonald's third-quarter touchdown and Kalil Mazone's touchdown pass to Will Collins in the third and fourth quarters, respectively, put North Gwinnett back on top 38-28, and Tyre's 36-yarder to Smith on fourth down provided the final points of the game with 5:13 remaining.
Westlake 30, Parkview 28
Westlake kicker Omar Camara might have missed the extra point after the Lions' third-quarter touchdown, but he redeemed himself with a 42-yard game-winner in the final minute of the second-round matchup with Parkview. The Lions, who are returning to the quarterfinals for the third year in a row, led 14-7 before Parkview added back-to-back touchdowns to end the opening frame with a 21-14 advantage. Westlake tied the game in the second, then took a 27-21 lead in the third before Khyair Spain's 67-yard touchdown put the Panthers ahead 28-27. Parkview missed a 28-yard field goal attempt in the fourth, then failed to capitalize on an interception inside of four minutes, ultimately punting ahead of Camara's field goal. Avieon Terrell's interception in the game's final moments sealed the win for the Lions.
Grayson 28, Camden County 10
Grayson is advancing to the quarterfinals for the fifth straight year after handing Camden County a 28-10 loss in the first meeting between the two programs since 2009. The visiting Wildcats were tied 7-7 with the host Rams early in the second frame, then answered a Grayson touchdown with a field goal for a 14-10 Grayson advantage at the break. The Rams added another score in both the third and fourth quarters to seal the win and set up a showdown with Milton next week.
Colquitt County 49, Harrison 28
Colquitt County surged past Harrison at home as quarterback Neko Fann threw for two touchdowns and rushed for one. Fann opened the scoring in the first quarter with a 5-yard touchdown run and found Ny'Quavion Carr for a 47-yard touchdown pass in the second quarter to help the Packers to a 28-14 halftime lead. Fann threw a 40-yard touchdown pass to Markese Wilson in the third quarter. Ramsey Dennis and Charlie Pace rushed for two touchdowns apiece for Colquitt County; Pace rushed for scores of 34 and 28 yards, and Dennis rushed for scores of 3 and 2 yards. Colquitt County will host North Gwinnett in the quarterfinals.
Carrollton 47, Marietta 14
Host Carrollton got three touchdown runs by Bryce Hicks and two touchdown passes from Julian Lewis to defeat Marietta. Hicks rushed for two 1-yard touchdowns and a 2-yard score in the first half and Lewis found Seth Childers for a 10-yard touchdown to give the Trojans a 26-7 lead at halftime. Lewis threw his second touchdown to tight end Jordan White for a 20-yard score in the third quarter, and the Carrollton defense added a touchdown with a sack and forced fumble by John Jacob Levy and a 20-yard return by CJ Kelley. Jamun Evans capped the scoring in the fourth quarter for Carrollton with a 19-yard touchdown rush. Carrollton will host Walton in the quarterfinals after the Raiders' upset win at Buford
Class 6A
Gainesville 42, South Paulding 21
Gainesville will return to the quarterfinals for the first time since 2014 under first-year head coach Josh Nibblett following the undefeated Red Elephants' 42-21 victory over South Paulding. Gainesville held a 14-7 lead at halftime, thanks to a pair of Baxter Wright touchdown passes to Darius Cannon for 28 and 73 yards. The undefeated Red Elephants scored twice in both the third and fourth quarters as well to pull away, including a 20-yard touchdown from Naim Cheeks. Gainesville will host four-seed Houston County next week.
Roswell 49, Allatoona 31
No. 3-ranked Roswell came out on top of a high-scoring affair with visiting Allatoona, earning a quarterfinals matchup with Thomas County Central with the 49-31 victory. Nykahi Davenport's big second half helped the Hornets pull away from a previously back-and-forth matchup, compiling 163 yards on 13 carries for two touchdowns in the third and fourth quarters alone. Davenport had a first-half touchdown as well for Roswell, which maintained a two-possession lead throughout the final frame, despite Allatoona's 532 yards of total offense on the night and a two-touchdown, 183-yard performance from Jayden Ponder.
Thomas County Central 49, St Pius X 14
No. 2-ranked Thomas County Central is returning to the quarterfinals for the first time since 2009 under first-year head coach Justin Rogers. The Yellow Jackets took an early lead before visiting St Pius X knotted the game for a 7-7 tie heading into the second quarter, but the home team added 42 unanswered points from there to hold a 49-7 edge in the fourth quarter. It was the first meeting between the programs since 2006, which the Golden Lions won 34-33.
Rome 35, Alpharetta 14
Rome defeated visiting Alpharetta 35-14 to secure a trip to the quarterfinals, where the Wolves will face Marist. The teams traded scores throughout the first half, but Rome led 21-14 at the break thanks to two touchdowns from Javarius McDearmout. Rome's defense slowed down a potent Alpharetta offense in the second half, shutting them out while the offense added a pair of scores for insurance. QB Reece Fountain was back on the field after suffering an injury in Rome's playoff win against Paulding County and threw a 27-yard touchdown pass to DK Daniel.
Langston Hughes 77, North Forsyth 16
Langston Hughes cruised to a 77-16 victory at home against North Forsyth. The Panthers held a 49-0 lead in the second quarter thanks to a five-touchdown first-half performance from quarterback Printess Air Noland. Noland had touchdown passes of 60, 50, 42, 32 and 28 yards and connected with Jaden Barnes for three of them. Langston Hughes advances to the quarterfinals for the third straight year
Houston County 41, North Atlanta 31 
Houston County built a 14-0 lead, but then surrendered 24-straight points to the Warriors and faced a 10-point deficit. Ryan Taleb helped lift the Bears with a 76-yard touchdown run and a 59-yard touchdown run that cut the deficit to 24-21. With six minutes left in the game, Taleb iced the game with a 19-yard touchdown that marked the final tally.
Woodward Academy 23, Lee County 7
Jalen Woods passed to Ben Grice on an 85-yard touchdown pass to put Woodward up 7-0. Two field goals by Hudson Hanges (47, 25 yards) expanded the lead to 13-0 at the half. With 1:36 left in the third quarter, Woods passed to Cameron Thompson on an 89-yard pass to expand the lead to 20-0. Devin Collier scored on an 18-yard run for Lee County early in the fourth quarter but Hanges kicked a 47-yard field goal with 5:46 left to put the game away.
Marist 32, Northside-Warner Robins 13
War Eagles quarterback Jack Euart rushed for touchdowns of 13 and 12 yards in Marist's home win. After Jackson Hughes' second-quarter touchdown gave Marist a 7-6 lead at halftime, Euart rushed for his first score in the third quarter and then found Luke Harpring for a two-point conversion to give the War Eagles a 15-6 lead. Joseph Pizzo had a 26-yard touchdown rush for Marist late in the third quarter, and Euart rushed for his second touchdown in the fourth quarter to put the War Eagles ahead 32-6. Marist will face Rome on the road in the quarterfinals.
Class 5A
Mays 34, Cass 27
Mays won a nail-biter at home against Cass, advancing to the quarterfinals for the first time since 2017 with the 34-27 win. The score of the back-and-forth affair was 20-14 at halftime after a Saulamon Evans 10-yard rushing touchdown for Mays, and Cass responded in the third quarter, completing multiple fourth-down conversions to keep the drive alive and take a 21-20 lead. The teams traded scores again, after which Cass held a 27-26 advantage. Mays scored on a seven-play, 51-yard drive and added a successful two-point conversion to take the lead in the fourth, and the defense held strong to seal the win.
Warner Robins 38, Northside-Columbus 7
Quarterback Isiah Canion threw a 30-yard touchdown pass to tight end Vic Burley in the second quarter and a 64-yard touchdown pass to wide receiver Chaz Sturn in the third quarter for visiting Warner Robins. Elijah Antonio (5 yards) and Malcolm Brown (4 yards) both had rushing scores in the first quarter, and William Gunnings III had a 37-yard touchdown run to cap the scoring for the Demons. Daniel Barber added a 26-yard field goal in the third quarter. Warner Robins will travel to Creekside for the quarterfinals.
Cartersville 37, Cambridge 14
Cartersville is back in the quarterfinals after defeating Cambridge 37-14 on the road. The Purple Hurricanes held a 20-0 lead in the second quarter after quarterback Paul Gamble's 64-yard passing touchdown. Cambridge answered with a 13-yard rushing score to trail 20-7, but Cartersville maintained control through the rest of the game, holding a 30-7 lead at halftime and coasting to a comfortable win. The No. 3-ranked Hurricanes will be at home next week against Coffee.
Calhoun 34, Kell 7
Quarterback Trey Townshend passed to Cam Curtis on a 50-yard touchdown to put Calhoun up 34-7 with six minutes left, putting the game out of reach.. Emaree Winston scored on a 4-yard run to put Calhoun up 7-0. Carlos Lopez kicked a 22-yard field goal to give the Yellow Jackets a 10-0 lead. Townshend passed to Dustin Kerns on a 16-yard pass to put Calhoun up 17-0. Kell scored with a 5-yard run with seven minutes left in the third quarter  but Calhoun responded on a 47-yard interception returned for a touchdown from Kristyane Gregory. Lopez put the Yellow Jackets up 27-7 on a 27-yard field goal with one minute left in the third quarter.
Ware County 24, Chamblee 7
No. 1 ranked Ware County got on the board in the final minute of the first half with a Williams Bates field goal and trailed 7-3 at the break. The Gators' grabbed their first lead of the game with a RJ Boyd rushing touchdown and then recovered a blocked punt for a touchdown to extend the lead to 17-7 heading into the fourth quarter. Quarterback Niko Smith found Brandon Washington early in the fourth quarter on a 42-yard strike for the final tally.
Creekside 61, Dalton 0
Host Creekside (10-2) jumped out to a 41-0 lead over visiting Dalton midway through the second quarter and cruised to a 61-0 victory to extend its win-streak to 10 games. Travis Terrell had four touchdowns and teammate Roderick McCrary had two touchdowns to fuel the 41-0 scoring burst to open the game. Vinson Berry ran in Creekside's seventh touchdown run to push the lead to 48-0 at the half and the Seminoles grew the lead to 55-0 at the end of the third quarter with an Ashton Mitchell touchdown run.
In other 5A games – No. 6 ranked Coffee defeated Decatur on the road 51-23 to set up a quarterfinal matchup with No. 3 Cartersville. No. 7 Dutchtown jumped out to a 28-7 halftime lead over visiting Northgate and closed out a 41-14 victory to improve to 11-1 on the season. The Bulldogs will face Mays in the second round after the Raiders' 34-27 win over Cass.
Class 4A
North Oconee 35, Lovett 9
Dominic Elder rushed for three touchdowns for host North Oconee, which led 28-3 at halftime. Elder had touchdown rushes of 4 and 2 yards in the first half and Max Wilson threw both of his touchdowns in the first half as well, finding Cole Davidson for a 17-yard score and Brooks Thompson for a 42-yard score. Lovett made a field goal with under a minute remaining in the first half, and neither team scored again until Elder rushed for a 10-yard touchdown in the fourth quarter to put North Oconee ahead 35-3. North Oconee faces Wayne County at home in the quarterfinals.
Benedictine 45, Spalding 6
The No. 4-ranked Cadets are heading to the quarterfinals for the ninth time in 10 years following a 45-6 rout of visiting Spalding. Benedictine led 21-0 at halftime and 42-6 heading into the final frame thanks to a pair of punt return touchdowns and a pick-six from senior Za'quan Bryan, a rushing score and a touchdown reception from sophomore Na'seir Samuel and a touchdown run from Bryce Baker. Quarterback Luke Kromenhoek finished 11-of-14 for 121 yards.
Stockbridge 38, Walnut Grove 6
Host Stockbridge took a 16-0 halftime lead with a Shelton Lewis fumble recovery touchdown, a Lewis 30-yard touchdown reception from Cobey Thompkins and a 40-yard Preston Wright field goal. Stockbridge added touchdown runs from Jayden Woods (40 yards), Diontre Stone (30) and Jayden Scott (10) before Wright's 27-yard field goal pushed the lead to 38-0.
In other 4A games – Cairo and Troup will be decided on Saturday and the winner will meet with Holy Innocents' after the Golden Bears' 24-14 win over Central-Carroll. Bainbridge (8-4) was 0-4 against ranked opponents prior to the Bearcats' 44-0 win over Burke County that results in the program's third-straight trip to the quarterfinals.
Class 3A
Calvary Day 54, Dougherty 41
Quarterback Jake Merklinger scored on a quarterback keeper with 8:11 left in the first quarter to put Calvary Day up 7-0, a lead the Cavaliers would not give up, giving coach Mark Stroud his 250th career victory. Merklinger scored on a bootleg run to expand the lead to 14-0. Antonio Butts Jr scored on a 2-yard run to put the Cavaliers up 21-7. Butts scored from five-yards out to push the lead to 27-14. Edward Coleman scored on a 10-yard run, capping a drive that started with an interception from Brody Dawson. Butts scored his third touchdown with :45 left in the third quarter to expand the lead to 41-21 and his fourth gave Calvary a 54-28 lead.
Sandy Creek 20, Stephens County 7
With the score knotted at 7-7 in the third quarter, Sandy Creek quarterback Geimere Latimer threw a 34-yard touchdown pass to give the No. 3-ranked Fighting Patriots the lead over visiting Stephens County. The Sandy Creek defense shut out the Indians in the second half, forcing a fumble and contributing multiple sacks to stifle a Stephens County offense that averaged 32 ppg prior to Friday night and put up 51 last week against Wesleyan.
Oconee County 45, Adairsville 20
Whit Weeks scored on a 65-yard touchdown reception to give Ocone ea 7-0 lead. Bo Gaines pushed the lead to 10-0 on a 30-yard field goal. CJ Jones scored on a 5-yard run to expand the lead. Mac Ricks passed to Dylan Manders on a 38-yard touchdown pass  to push the lead to 24-0. Weeks returned an interception 28 yards for a touchdown to extend the lead on the first play of the second half. Jones scored on a 22-yard run to make it a 38-7 game. Cole Smith scored on a 3-yard run with 12 minutes left in the game to give Oconee County a 45-7 advantage.
In other 3A games – Top-ranked Cedar Grove beat Hebron Christian 70-33 and will play No. 2-ranked Calvary Day after the Cavaliers defeated Dougherty 54-41. … Carver-Columbus defeated Harlem 40-7 and will play Oconee County in the quarterfinals. The Warriors defeated Adairsville 45-20. …Savannah Christian's 23-7 victory over Peach County set up a meeting with No. 3 Sandy Creek after the Patriots beat Stephens County 20-7. … Carver-Atlanta outlasted Monroe Area 30-18 and will play Thomasville in the quarters after the Bulldogs beat Liberty County 13-6.
Class 2A
Callaway 20, Fannin County 13
Host Callaway advanced to the quarterfinals for the seventh-straight season over the visiting Rebels. The Cavaliers built a 13-7 lead with a DeShun Coleman touchdown pass to Sam Williams and a Qua Whitfield touchdown run. The Cavs traded touchdowns with Fannin County in the third quarter to preserve a 20-13 lead before a scoreless fourth quarter.
In other 2A games – No. 1 ranked Fitzgerald advanced with a 28-21 home victory over Putnam County to face off with No. 7 ranked Rockmart in the quarterfinals. Rockmart defeated No. 10 ranked North Cobb Christian 63-10 and has averaged 46 ppg this season with no losses within Class 2A. No. 6 Pierce County recorded its first shutout of the season in a 52-0 win over Berrien and advanced to the quarterfinals for the third-straight season where the Bears will take on Fellowship Christian—who has a seven-game win-streak after its 26-15 win over No. 8 ranked ELCA.
Class A Division I
Prince Avenue Christian 48, Elbert County 14
Prince Avenue wide receiver Bailey Stockton scored three touchdowns just minutes into the first quarter, with his first coming on the game's opening kickoff, but left the game with an injury he suffered while scoring his final touchdown and did not return. Wolverines quarterback Aaron Philo also rushed for a touchdown in the second quarter to give host Prince Avenue a 27-7 lead at halftime. Keon Rogers had two rushing touchdowns for Prince Avenue in the second half, and Philo added a touchdown pass to Ethan Christian. Prince Avenue will host Metter in the quarterfinals.
Metter 16, Dublin 0
No. 8 ranked Metter capitalized on a Dublin fumble at midfield and converted it into a 6-yard CJ Donaldson touchdown run with less than a minute left in the half to grab a 6-0 lead. The Tigers added a 10-yard Reco Coney touchdown run late in the third quarter and iced the game with a 19-yard Antwan Coney touchdown run early in the final frame.
In other Division I games – No. 2 seed Mt. Pisgah dispatched top-seeded Darlington 26-20 to set up a quarterfinal showdown with Irwin County—who dominated Heard County 55-0 to punch its ticket. Rabun County comfortably topped Social Circle 42-0 and will square off with Swainsboro in the quarterfinals after the Tigers' 57-13 win over Screven County. Metter's 18-0 shutout win over Dublin will set up a battle between Prince Avenue Christian—which toppled Elbert County 48-14. No. 3 seed Bleckley County had another big victory after topping Brooks County in the first round and advanced to the quarterfinals with a 27-23 road win over Lamar County. The Royals will visit top-seeded St. Francis next after the Knights' 34-20 win over Trion.
Class A Division II
Schley County 58, Washington-Wilkes 14
No. 5 ranked Schley County advanced to the quarterfinals for the second time in school history and improved to 10-2 with its ninth-straight victory. The Wildcats led 37-7 at the half with Jay Kanazawa touchdown passes to Kendall Sims and Jalewis Solomon, a 26-yard Miguel Yanez-Rueda field goal, a 5-yard Zayden Walker touchdown run and a 2-yard Malachi Banks rushing score.
In other Division II games – No. 1 ranked Bowdon cruised past No. 8 Manchester 42-21 to set up a quarterfinal showdown with No. 3 ranked Early County. The Bobcats' advanced with a 47-6 victory over Telfair County. Lincoln County was the only team with a first round bye and the Red Devils returned to the field to defeat Wilkinson County 42-8. No. 8 ranked Lincoln County will host three-seeded Dooly County in the quarterfinals after its 14-13 road win over top-seeded Charlton County. Clinch No. 6 County edged No. 7 ranked McIntosh County Academy 17-16 to set up a quarterfinal showdown with 11-0 Johnson County—who defeated Christian Heritage 26-14. No. 5 Schley County and No. 10 Wilcox County will clash in the quarterfinals after wins over Washington-Wilkes (58-14) and Lanier County (44-33), respectfully.