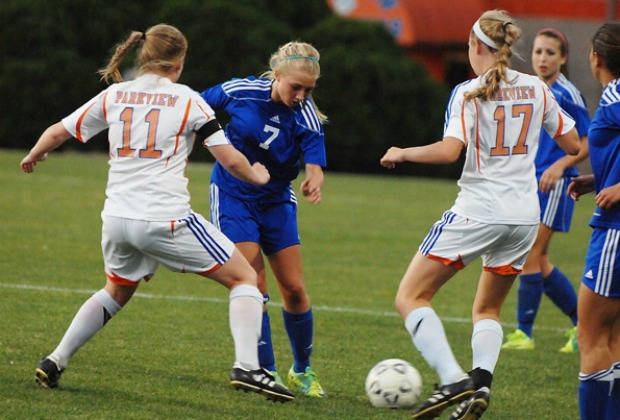 Photo by Sonny Kennedy
Defending Class AAAAAA-champion Parkview has been bounced out of the top ranking after losing to Grayson last week. It was Grayson's first-ever win in the head-to-head series and the Rams used it to reach the No. 2 ranking behind Harrison.
The other five No. 1 spots remained unchanged: Northgate in Class AAAAA, Marist in Class AAAA, St. Pius in Class AAA, Lovett in Class AA and First Presbyterian Day in Class A are still looking good. Marist played up in classification last week and defeated Pope, which is ranked fourth in Class AAAAA.
A battle between the No. 2 teams in Class AAA and Class AA took place last Friday, with Greater Atlanta Christian getting the best of former region foe Blessed Trinity 2-0. Both squads held their places in the rankings behind Lovett and St. Pius, respectively.
Class AAAAAA
1. Harrison
2. Grayson
3. Parkview
4. Peachtree Ridge
5. Brookwood
6. Lassiter
7. Collins Hill
8. South Forsyth
9. Walton
10. Centennial
Class AAAAA
1. Northgate
2. McIntosh
3. Starr's Mill
4. Pope
5. Heritage-Conyers
6. Flowery Branch
7. Gainesville
8. Loganville
9. Northview
10. Lakeside-DeKalb
Class AAAA
1. Marist
2. Veterans
3. Alexander
4. Columbus
5. Heritage-Catoosa
6. Grady
7. Chamblee
8. Spalding
9. Cairo
10. Carrollton
Class AAA
1. St. Pius X
2. Blessed Trinity
3. Woodward Academy
4. Dawson County
5. Pike County
6. Oconee County
7. Buford
8. Cartersville
9. Decatur
10. Chapel Hill
Class AA
1. Lovett
2. Greater Atlanta Christian
3. Westminster
4. Wesleyan
5. Calhoun
6. St. Vincent's
7. Armuchee
8. Jefferson
9. Vidalia
10. Dade County
Class A
1. First Presbyterian Day
2. Hebron Christian
3. Providence Christian
4. Fellowship Christian
5. Paideia
6. Calvary Day
7. Holy Innocents'
8. Pace Academy
9. Mt. Paran Christian
10. Walker