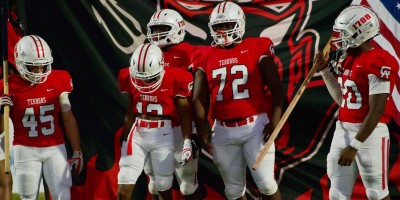 Sunday evening, Glynn Academy joined Long County and Hillgrove High School as the third school in the past week to temporarily shutdown activities after a positive COVID test within the program. Long County and Hillgrove did not disclose whether or not the positive test was of a player or a coach, but Glynn Academy head coach Rocky Hidalgo was not presented a choice when he confirmed the news Sunday evening on his Twitter. Earlier that day, one of his players was tested through his employer and posted the news of testing positive on his personal Facebook.
"It wasn't anything about a thought process in regards to making the announcement," said Hidalgo. "The young man posted about it on Facebook that he was COVID positive. And actually, that is how I found out. I learned about it from one of my assistant coaches who was called by another player and when I was told that, I called the kid and he told me he had tested COVID positive."
After receiving the news, Hidalgo took an aggressive approach and called for all activities to be suspended until July 6, rather than having just the group that the player had been assigned to during the workouts halt activities. Additionally, Hidalgo and the entire coaching staff went and took tests earlier today and all kids that came in contact with the individual were also told to get tests. Due to the backlog of test results, individuals that are not displaying symptoms sometimes have to wait 3-5 days to get results.
"In an attempt to be proactive against the spread of Covid19 in our community, the Glynn Academy Red Terrors' football program is suspending workouts until July 6. This is in response to one of our players testing positive Sunday for Covid19," read Hidalgo's tweet. "At this time, we are notifying all people who may have come in contact with this player and asking them to get tested. Additionally, the football facility will be sanitized over the upcoming days to ensure a safe environment for all of our athletes. It is our hope that we can resume training following the GHSA dead week. We look forward to representing our school and the upcoming community in the 2020 football season. Go Terrors!"
While Hidalgo was quick in his response, he continues to look ahead at the difficult situation that all programs are finding themselves in right now.
"We have the kids up here for an hour," said Hidalgo. "The other 23 hours of the day, they are running around socializing with people. We can't control them those remaining 23 hours a day. We told anyone that came in contact to get tested. It is just an impossible situation in some ways and the reality of what we are trying to do is discouraging. …It has nothing to do with the workouts. This is the thing that I'm trying to guard against honestly. We had one kid that tested positive for it and he works at a business that he comes in contact with a lot of people from outside the area. I think more than likely, that is probably how he got it. And I have three more kids that are in the process of getting tested because they work at restaurants where someone with COVID-19 positive was found. We were very diligent with our sanitation and sterilization, we keep our kids socially distanced and we keep our groups apart. I don't think our kids picked up the virus from each other at our workouts."
Since the test did not occur until Sunday, it is impossible to even know if the infected individual had COVID when the team's groups last met on Thursday. Still, Hidalgo wanted to follow suit by doing what other businesses in the area have done when confronted with similar situations.
"We can't know if he was positive on Thursday, because he went in for the test on Sunday morning and got the results that back that evening," said Hidalgo. "But it doesn't really matter though, because the policy is pretty clear. We felt like going above and beyond was the best thing we could do. We followed what some of the business leaders in our area have done in terms of shutting things down. If a restaurant for instance had someone test positive, they shut it down, cleaned it for 5-7 days and then open back up."
This is the first disruption that the program has faced since reopening activities earlier this month and the Terrors are definitely not alone. Five schools in Central Texas announced earlier today they were shutting down after having players test positive and schools in other states have recently had to do the same thing. Similar stories have been seen across college campuses where team-wide tests are revealing startling levels of positive returns. There are ongoing conversations amongst coaches on how to plan for and respond to a positive test. For instance, Blessed Trinity head coach Tim McFarlin met with his staff this weekend to discuss whether or not they would increase the group size following the GHSA's announcement that groups as big as 50 would be allowed. McFarlin was hesitant to increase the group size, because if one player in a group of 50 tested positive, then all 50 players would have to go into quarantine, whereas a smaller group could allow more of the team to continue training.
"This is going to be reoccurring thing for all of us," said Hidalgo. "Some people may cancel groups, some people are going to shut down everything. I hate being the one to set a precedent, but I think being aggressive to stop the spread of it is the best thing to do right now."
Hidalgo also pointed out that this is bigger than football, or the football season, and that this is raising major questions about school in the fall.
"I think the way forward for America is to get back to normal," explained Hidalgo. "I think we should be isolating people with immunodeficiencies and the elderly and caring for the people that get sick and have symptoms. We can't stay shut down indefinitely. We just can't do it and that's not about football or football season. We don't even have a plan about how we are going back to school in the state of Georgia yet. So football is a pipe dream to me if you are going to say that you have to social distance in a classroom and when you get on a bus. How are you going to practice and do all the things that it takes to play football. The reality of it and what I personally believe, is that we just need to go back to school normally and deal with it as it pops up. I'm not a medical professional and I don't play one on T.V. either, but the task at hand is really difficult. I mean restaurants are having to close here because they get a COVID test positive and they have to shut down for seven days. You can't run a business like this. The nation is going to grind to a halt. We either need to shut everything down for two weeks so this thing passes or get back to normal, because there is no in between where this is going to work."