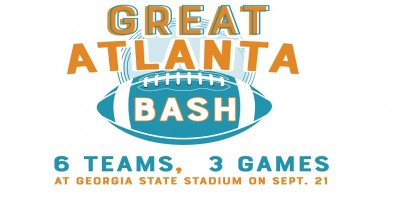 On September 21st, six Atlanta high schools will take part in the inaugural Great Atlanta Bash, a GHSA football tripleheader between five Atlanta public high schools and one school from Douglas County. Carver, Maynard Jackson, Mays, South Atlanta, Washington and New Manchester will all play a region contest at Georgia State Stadium as the Great Atlanta Bash's first-ever participants.
The first kickoff is scheduled for 10 a.m. and all the games will be televised on Peachtree TV. Longtime high school football voice Matt Stewart and Craig Sager II will be in the TV booth all day, with Sam Crenshaw reporting from the sidelines and hosting halftimes and between game shows.
Atlanta Public Schools athletics director Jasper Jewell calls the Bash "a celebration of Atlanta Public Schools." He put an emphasis on the feeling of community meant to be evoked from the event. Jewell went on to say that in future years the hope is to include all 10 of the APS high schools in the Bash. He also noted that this is a great opportunity for the players to showcase their talents for college coaches and recruiters.
I.J. Rosenberg, president of Score Atlanta, the company who is part of the ownership group for the Metro by T-Mobile Corky Kell Classic and runs the 28-year-old three-day extravaganza along with Dave Hunter among other high school events in Georgia, worked closely with Jewell to make the Bash a reality.
Said Rosenberg, "This is a great opportunity for Atlanta Public Schools to show off what is going on in the city with their football programs. These schools have taken a large step over the last few years and it is also a chance for a lot of these players that plan on moving on to the next level to get exposure on television. Most of them haven't had the chance to played on TV before.''
Rosenberg worked out a television partnership for the Bash with CBS46, who just recently signed a two-year deal to televise all nine Corky Kell games on CBS46 and Peachtree TV. A local radio deal is in the works for the Bash. The National High School Federation is expected to put the three games on their digital network. CBS46 will put the games on their digital platform as well as doing live cut ins during the games on Peachtree TV from Athens where Georgia and Notre Dame will kick off on CBS46 later that evening.
Georgia State Stadium, the new home of the GHSA State Championships for football, will host the games which are scheduled for 10 a.m., 12:40 p.m., and 3:20 p.m. GSU recently put a deal together with the GHSA to move over the football championships which have been at Mercedes-Benz Stadium the last two years.
Tickets for the Bash will be available soon and will be priced at $15 in advance and $18 at the gate.
A press conference for the Great Atlanta Bash will be held Tuesday (June 18) at 11 a.m. in the Georgia State Stadium Trophy Room. For all those attending, parking will be in the Victory Plaza in front of the Georgia State Stadium ticket office. Please enter at Gate 7 and take the elevator up to the second floor.
For more information on the press conference, call Graham David at 513-600-6557, or email him at gdavid@scoreatl.com.
Game times for the Great Atlanta Bash are:
10 a.m.: South Atlanta vs. Washington
12:40 p.m.: Maynard Jackson vs. Carver
3:20 p.m.: Mays vs. New Manchester
Here is more information on the teams participating the in Great Atlanta Bash:
The first game of the event is a Region 6-AA game between South Atlanta and Washington, both of which made it to the first round of last year's state playoffs. Washington won last year's bout between the two schools, 30-0, a game which featured running back Quintavious Lockett, who rushed for 195 yards and three touchdowns as a sophomore.
This year, the plan for the Hornets is to follow up its first winning season since 1995 with another one according to head coach Brad Stephens, who's entering his fourth year at the helm. Last year, South Atlanta's 6-4 regular-season finish – highlighted by wins over McNair (43-7) and KIPP (41-9) in the final two weeks — earned the Hornets the No. 4 seed from Region 6-AA. In its second-straight playoff berth, the Hornets lost to state runner-up Rockmart 55-0. Since 1995's 6-3 finish under head coach Leland Mangrum, six coaches have tried for what Stephens helped accomplish last year. Coach Julius Moses came close in 2011 but finished 5-5. With an experienced group of players returning in 2019, South Atlanta is primed for success and possibly an appearance deeper into the playoffs. The Hornets will be young on offense with a sophomore starting quarterback and will have an experienced bunch of juniors leading the defensive efforts. The Hornets run a triple-option offense will be run by 5-10, 180-pound quarterback John Lawton, who was the backup quarterback last year. He's quick, agile and experienced after last year's play as well as games against Mt. Zion and Tri-Cities — both AAAAAA programs — this spring.
The Bulldogs are coming off a 7-4 season in 2018 and its early exit to Chattooga 7-6 in the first round of the playoffs left a sour taste in the mouths of the Washington fanbase. This year is about redemption. In 2018, Washington started slow, losing the first two games, but reeled off seven-straight victories — including a streak of four shutouts – before losing to Hapeville Charter to close the regular season. In 2019, the Bulldogs are looking to build upon last year's efforts with 10 seniors on the roster. On defense a group of three players will use their experience to lead the way. Jacorey Long, a 6-2, 235-pound senior guard, Mahlon West, a 6-foot, 170-pound free safety/cornerback and William Royalston, a 6-foot, 220-pound middle linebacker, are the defensive anchors. Washington returns its leading tackler, linebacker Maurice Ford alongside cornerback Jonathan Nunn. On offense, quarterback Monye' Jones, a 6-2, 171-pound junior, is set to lead. Jones has experience and started two years ago as a true freshman. The Bulldogs also return wideout Vachon Raye who had 700 receiving yards and 17 touchdowns last year. Washington holds a commanding lead in the overall series against South Atlanta as the teams have met 15 times and the Bulldogs have won 14 of them. The only loss, however, came during the 2017 season when South Atlanta blanked Washington 19-0.
Following a redemption attempt by South Atlanta, Maynard Jackson will face-off against Carver, two teams that made the Class AAAAA playoffs last season. The Carver Panthers toppled the Jackson Jaguars 27-15 in 2018, propelled by 127 all-purpose yards from sophomore Tony Jones. His teammate, junior Noah Smith had three sacks in the game. Maynard Jackson's Charles Daniels, a junior, had 190 all-purpose yards and senior Lyntavious Tucker had 16 tackles.
Entering this game against Carver, coach Eric Williams knows the history of the series. It's even at 6-6 in the 12 meetings. Since 2006, however, the programs have met five times with Williams at the helm and the Jaguars have struggled to find a win. All of that could change this year. Jackson returns an experienced quarterback in Daniels, a 6-1, 165-pound senior, who passed for just over 1,600 yards and rushed for just over 900 yards last year. Daniels was listed as the first-team All-Region 6-AAAAA last season. Daniel's targets will be varied and more like tight ends doubling as receivers including 6-2, 225-pound junior Raveon Moore. He can play both tight end and receiver and will bring a physicality to the wideout position and has great hands for either spot. On defense, Jackson returns all but one starter from last year and will look to capitalized with experience and size to overwork opposing offensive lines. Jalan Davis, a 6-2, 215-pound defensive end, Quemetrice Cain, a 6-3, 250-pound defensive tackle and Chris Newby, a 6-foot, 270-pound guard, lead the way. Another anchor on the defensive side is Deshane London, a 6-foot, 205-pound linebacker who came into the program last year as a junior. London's defensive production will be an asset at the linebacker position.
In certain places, Carver will be young. In others, the Panthers will be experienced as it returns nine seniors in 2019 on both sides of the ball. A new sophomore quarterback will be the signal caller. Amari Jones, at 6-2, 172-pounds, has been gaining experience in 7-on-7 tournaments over the summer. To protect the fledgling starting quarterback, Carver brings in the big bodies. Junior Yonas Temesgen, a 6-4, 270-pound tackle, started at right tackle last year in his first year playing football. At left guard, sophomore Marquis Bentley Jr., a 6-5, 330-pounder, has the size to be a serious threat. Isaiah Conn, a 5-10, 230-pound sophomore, will handle the snaps. Kentavious Williams, a 6-4, 315-pound guard, will help anchor the offensive line with another big body. Anthony King, at guard, is a 5-11, 278-pounder to complete the offensive ensemble. Kiontae Strozier started last year as a freshman and returns at slot receiver as well as a defensive starter in the secondary. Another option at receiver is sophomore Quintavious Davis. Terrell Lightfoot, a sophomore receiver, will add production. Tobias Fletcher, a 5-10, 160-pound junior, will be a two-way starter at receiver and cornerback. Fletcher has an early offer from Auburn and is the most experienced defensive player for the Panthers. In the backfield, four-star running back Jo'quavious Marks will handle the ground game. At 5-11, 190-pounds, Marks has the size and speed to make the opposition pay.
The day concludes with New Manchester taking on Mays. New Manchester is the only team participating in the Bash who didn't qualify for state playoffs last year as Lanier made the Class AAAAAA postseason bracket. When the teams saw each other last season, the Mays Raiders handedly defeated the New Manchester Jaguars 28-0. Mays senior running backs Terrance Morton, Jahquez Evans and Jaylen Dunson all racked up over 100 yards, and junior JaQuari Wiggles added six sacks on the other side of the ball.
After a disappointing 2-8 finish in 2018, New Manchester will bring a new look to the upcoming season with the addition of a new head coach, Kevin Whitley from Stockbridge. New Manchester came into existence in 2011 where it played just two games. In 2012, it ended its first full season at 2-8 and since it's had just two winning seasons, both 6-4, in 2013 and 2014 with a 5-5 finish in 2015. Since then, the Jaguars have struggled. However, with a new coach in the picture, things are on the ups. The search for a quarterback is the focus during Whitley's first months leading the Jaguars after last year's starter transferred to Westlake. Caleb Lowery, a 5-9, 160-pound transfer from Seattle, WA, will be battling for the quarterback position with 5-11, 170-pound junior Lamar Clark. On defense, senior Cam Oglesby, a 6-foot-3, 195-pound outside linebacker, and senior Jerome Glover, a 5-8, 205-pound linebacker, will help lead. New Manchester has faced Mays three times – in each of the past three seasons – and lost each of them. But, with the experience it gained in those contests, the Jaguars could turn the tide of the series at the Great Atlanta Bash.
After finishing 2018 at 6-5, Mays is set to improve in the upcoming season with talent all over the field. The Raiders return 11 starters on defense and seven on offense. Andrew Banks, a 6-3, 207-pound senior quarterback, transferred in and will be the single caller for Mays. Tyree Nelson, a 5-10, 205-pound senior, is a 3-year starter at Running Back with multiple D1 offers. Nelson will be very dominant in the run game and has speed and toughness to break tackles and make the most of each run. Wideouts Tavarious Carswell and Shifty Zaire Thornton will be the go-to wide receivers for the Raiders. The most dominant player on both sides of the football 6-4, 240-pound DE/TE JaQuari Wiggles, a Georgia Tech commit. Wiggles will see a lot of action in the offensive game plan. Defensively, Mays will be led by Senior Draveon Scott, a 5-10, 180-pound safety/linebacker. The Raiders feature a very fast and seasoned defensive backfield which could wreak havoc on opposing receivers. Each starting defensive back has multiple Division 1 scholarship offers. Durante Jones 6'2 185 is the most recruited defensive back with an offer from Kentucky at the top of his list followed by Boston College and Kansas. Wiggles will lead the defensive line as the rush end.