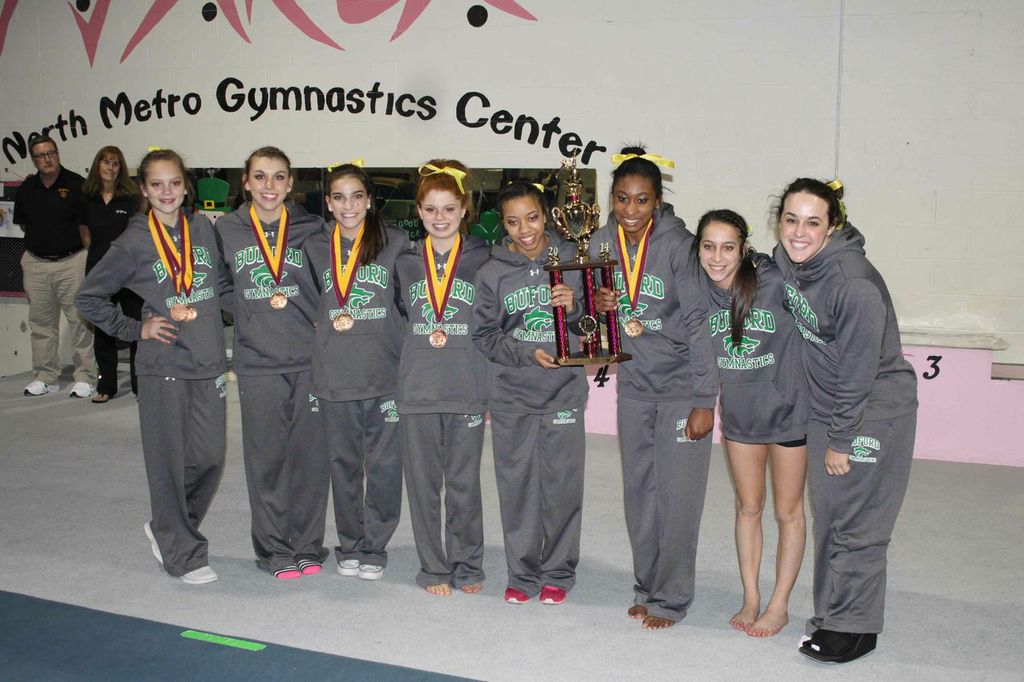 LHSGymnastics.org
Lassiter senior Mary Katherine Ballow finished first in all around at the House of Troy Invitational this past weekend while Buford finished first as a team and earned top team scores in vault, beam and floor. Buford's Brei Butts and Lyndzi Jones tied for first on vault with scores of 9.5. Claudia Goyco earned a 9.5 on the beam and Logan Nugent rounded out Buford's top finishers with a 9.75 on floor. (House of Troy results below story)
Ballow scored a 36.85 and the host Trojans placed fourth out of the 16 teams. Carrollton scored an impressive second-place finish in the event and tallied a 108.275 team score. Kyndel Yett finished second in the all-around and Carrollton teammate Jennifer Brandenburg took home a third-place all-around finish.
Former Alexander standout Kelsie Brooks is having a solid freshman season at Eastern Michigan. Brooks scored a 9.7 on bars in the final meet before the Mid-American Conference Championships. Brooks and the Eagles will host the MAC championships March 22.
Forsyth Central's gymnastics team started the 2014 season with a win at the Forsyth County Gymnastics Meet at Dobbs Creek with 106.65 total points. The Bulldogs edged defending state champion Lambert, which finished with 102.9 points. South Forsyth (91.85) placed third, and West Forsyth (90.5) placed fourth.
Forsyth Central finished first in every event, and won them all with underclassmen. Freshman Emily Flint placed first in vault (9.1) and the all around (35.25). Freshman MacKenzie Miller earned first on beam (9.45) and sophomore Maecie Winter placed first on bars (9.3) and floor routine (9.2). In the House of Troy, Lambert got the best of Forsyth Central and placed third with 106.350. Forsyth Central came in at No. 6 with 102.450 team points.
Colquitt County freshman Evelyn Fagan qualified for Area on vault, beam and floor at the Jones County meet. Fagan scored a 9 on vault 8.5 on beam and 8.6 on floor. Fagan missed qualifying for all around by .10.
North Oconee is in its first year of competition and topped First Presbyterian Day, West Forsyth and Madison County in its first-ever meet last month. Since then, the Titans have seen Natalie Babin qualify for area on floor and bars and Mary Alex qualify for area on floor.
House of Troy Invitational results
1. Buford (110.425)
2. Carrollton (108.275)
3. Lambert (106.350)
4. Lassiter (104.725)
5. Cartersville (102.475)
6. Forsyth Central (102.450)
7. Milton (101.725)
8. Walton (99.950)
9. Alpharetta (96.150)
10. South Forsyth (94.250)
11. TIft County (91.675)
12. Cambridge (89.625)
13. Pope (88.175)
14. North Oconee (68.975)
15. Wheeler (62.425)