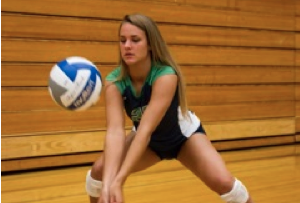 Standout Harrison High School senior and UGA-volleyball commitment Caroline Ostman is our Girls Athlete of the Week presented by Children's Health Care of Atlanta. Ostman is being recognized for her exceptional individual accomplishments this season and throughout her career. In addition to racking up 365 kills and 288 digs in 93 sets played this season, she is an outstanding student with a 4.3 + GPA.
Harrison's head volleyball coach Clay Taylor awarded Ostman with the golden spike and shovel symbolizing her career accomplishment of 1,000 kills and digs. She currently has 1,365 kills and 1,288 digs, and is the only Harrison volleyball player to ever accomplish this.
"Caroline's work ethic and drive are unlike any player I have coached. She never seems satisfied with a performance, always acknowledging the positive but striving to improve her shortcomings in her game," explains Taylor. "She takes it as a challenge if another player is perceived as out working or out hustling her in practice or a match."
Although having several memorable moments of coaching the senior, Taylor reminisces about his strongest memories of Ostman. One came during the Final Four match in her freshman year when Ostman took it upon herself to help lead her team to victory. In the final set of a battle against rival North Cobb the team was down by two late in the set, Ostman had a solo block followed by three straight kills to bring them to match point against the Warriors, which they ended up winning. The other was during another Final Four match against John's Creek, when the volleyball star was called in the net after an impetus turning attack. She was positive she had not touched the net, but with determination to prove her innocence, Ostman went on to score the next two points with dramatic and powerful terms. The Hoyas took four of the next six points to finish the game.
Ostman's drive, attitude and leadership exemplify what it means to be a leader both on and off the court.
"Caroline carries such a powerful presence that her teammates are simply drawn to her, allowing her a natural leadership position," added Taylor. "She genuinely cares and looks out for them."
With an overall record of 43-5 and 7-0 in region play this season, we expect to see Ostman and her Hoya teammates make their presence known in postseason play. The Hoyas are the No. 1 seed out of Area 5 and open the playoffs in a home match against Peachtree Ridge on Thursday.