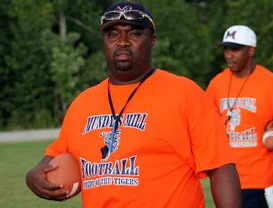 Photo by riseupatlantafalcons.com
Mundy's Mill head coach Gregory Manior is this week's Falcons Coach of the Week winner. Manior's impact on the Tigers' program has brought noticeable transformations in just three short seasons. Manior has been a head coach in Georgia for 11 years and took over the Tigers' program in 2012. As a program, Mundy's Mill's first varsity season was 2003 and it had seen four head coaches in its young history prior to Manior's arrival. With all the changes and lack of continuity, Manior set out to build tradition and earn the trust and support of the community.
Mundy's Mill went 4-6 in Manior's first year, but improved to a school-record 8-5 finish last year. The Tigers defeated Lee County 41-35 in the first round of the state playoffs, stamping the first playoff win in school history. This year, the Tigers opened with losses to Class AAAAAA's Lovejoy and Central Gwinnett, but have won their last five games and sit at 5-2 heading into their home contest with region-rival Drew on Friday.
Winning has certainly helped the program, but the winning attitude shared by the community and football team stemmed from Manior, who made it his mission to build a team and community that believes in themselves. Manior has helped the program overcome financial obligations that took a hit with the recession and substantial amounts of resources and funds have since been invested into securing the mental and physical health of the players.
His attitude and efforts to strengthen the program have changed the way the community and athletes both think and believe in themselves. The positive changes carries over to the teamwork and sportsmanship seen when the Tigers take the field each Friday night. Mundy's Mill has also become active in the Fellowship of Christian Athletes Community improvement organization since Manior's arrival.