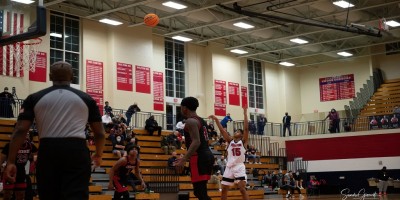 Levi Holtzclaw's basket with .3 second left lifted East Hall over Gainesville 62-61 in the boys Lanierland title game. The victory marked East Hall's first championship at Lanierland since 2010 and the program's 25th overall Lanierland title.
Holtzclaw finished with 16 points and three assists alongside teammate Christian Torres who finished with 17 points and nine rebounds. CJ Agbor scored 16 points with nine rebounds.
On the girls side of the event, North Hall defeated Lakeview Academy 60-55 to win the team's 15th Lanierland title and second title in three years. Kristina Peach scored 21 points – including two 3-pointers late in the game – to help seal the victory.
See the other scores below.
Boys
Bainbridge 52, Malone 42
Baylor School, TN 54, Christian Heritage 47
Bishop O'Connell 71, Milton 49
Calhoun 83, Cartersville 61
Calhoun County 90, Early County 57
Cedartown 52, Haralson County 27
Chattahoochee 69, Barron Collier 62
Chattanooga Central, 56, Dade County 53
Chattooga 59, Adairsville 57
Cherokee Bluff 74, Lakeview Academy 45
Columbia 66, Lakewood 40
Cornerstone Prep Aca 54, Cross Keys 25
Creekview 58, Sonoraville 38
Deerfield-Windsor 53, Loganville Christian 26
Discovery 58, Winder-Barrow 54
Dublin 59, Johnson County 26
Effingham County 63, Model 45
Etowah 78, Sprayberry 33
Evans 67, Laney 54
Excel Christian 70, Dalton Academy 29
Fannin County 64, Duluth 48
Gordon Lee 65, Trion 42
Grayson 54, Lexington 53
Harris County 76, Calvary Christian 32
Hebron Christian 51, Johnson-Gainesville 28
King 61, Parkview 57
King's Ridge 59, Johnson-Savannah 58
LaFayette 43, Heritage-Catoosa 42
Lassiter 64, North Murray 41
Lincoln 63, Mt. Pisgah Christian 53
Lovejoy 37, Auburn, AL 35
McIntosh 57, New Manchester 47
Monroe 64, Lee County 45
Monroe Area 73, Lumpkin County 41
New Hampstead 41, Augusta Prep Day 39
Newnan 51, Valley 44
North Hall 77, Chestatee 60
Opelika, AL 79, Riverdale 68
Pickens 59, Gilmer 46
Pinecrest Academy 49, Fideles Christian 39
Putnam County 65, Jackson 55
Rome 53, White County 43
Savannah Country Day 47, Richmond Hill 40
Shiloh 69, Fayette County 49
Social Circle 78, Pope 73
Solid Rock Christian 66, Lowndes 44
South Forsyth 66, Woodstock 48
St. Pius X 72, Canisius 60
Stockbridge 53, Westside-Macon 52
Temple 49, Bremen 44
Towns County 63, Rabun County 61
Washington County 68, Swainsboro 55
Washington-Wilkes 70, Prince Avenue 52
West Forsyth 50, Hendersonville 39
Westside-Augusta 78, Calvary Day 57
Woodland-Stockbridge 60, Cambridge 40
Girls
Athens Academy 38, St. Pius X 30
Brookwood 52, Holy Innocents' 51
Calhoun 73, Chattooga 33
Cambridge 56, M. L. King 25
Charlton County 53, Irwin County 35
Cherokee Bluff 54, East Hall 34
Creekview 51, Windermere Prep 37
Dublin 76, Johnson County 44
Early County 35, Calhoun County 34
East Paulding 46, Haralson County 14
Etowah 56, Woodland-Stockbridge 51
George Walton Academy 51, Bethlehem Christian 8
Greene County 40, Crawford County 35
Harrison 67, Newton 55
Hilton Head Christian 56, Richmond Hill 34
Lakeside-Evans 47, Fox Creek, SC 28
Lumpkin County 49, Jefferson 32
Mary Persons 54, Ola 42
Murphy 54, Rabun County 49
Murray County 68, Southeast Whitfield 22
Norcross 51, Troup County 19
North Cobb Christian 50, Sonoraville 33
North Paulding 35, Pope 25
Pepperell 59, Unity Christian 37
Pickens 48, White County 42
River Ridge 55, Hillgrove 52
Sequoyah 76, Banks County 28
South Forsyth 51, Summerville 47
Tift County 48, North Cobb 39
Walton 39, Chattahoochee 34