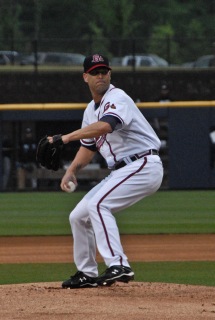 Jon Barash
Tim Hudson allowed one run on six hits in 5.2 innings pitched in his second rehab start, earning the win as the Gwinnett Braves snapped a two-game losing streak with a 5-4 win over the Charlotte Knights at Coolray Field. Hudson looked sharp early with his velocity and control on par and a fastball hovering around the 90 MPH mark. It wasn't until the fifth inning when signs of fatigue began to present, as he walked two batters and loaded the bases before striking out Charlotte's Hector Gimenez to retire the side.
The sixth inning saw the end of Hudson's night as he allowed a lead-off triple to Josh Phegley, who was brought home by a Jordan Danks single. Overall, Hudson was pleased with his performance and is ready to head back to Atlanta to boost the Braves' rotation.
"I feel like I was a little more crisp than the last time out," Hudson said. "There's still occasions where everything's not quite altogether like I want it, but all in all I feel pretty good.
Hudson baffled the Knights with an array of fastballs and off-speed pitches in his 110-pitch outing, which saw him throw 68 strikes.
Despite the jams in the fifth and sixth innings, Hudson was happy to find himself in those situations after cruising through the first four innings. "It's nice to get in some jams and have to work out of them," Hudson said. "Even though they scored a run there, it gives you a gauge on where you are when your back is to the wall a little bit."
Five different Braves drove in the five runs, with Luis Durango going 2-for-4 with an RBI-double and Josh Wilson going 3-for-4 with an RBI. Jordan Parraz also collected three hits for Gwinnett, while scoring two of the runs.
Trailing 5-1 entering the ninth, Charlotte certainly made things interesting, tacking on three runs and nearly stealing the game from the G-Braves. Dusty Hughes was able to pitch his way out of a bases-loaded jam to end the Knights' attempt at a comeback and seal the win for Hudson and Gwinnett.
Hudson is targeting a Sunday return to the Atlanta lineup to face the Pittsburgh Pirates. His return to Atlanta will come on the heels of the news of Jair Jurrjens being sent to Gwinnett to try to shake off his recent struggles. Hudson feels that a stint at Class-AAA Gwinnett will help his mechanics and help him find his all-star form from the 2011 season.
"There comes a point in everybody's career where they have to go out there and really figure out where they are as a pitcher," Hudson said of Jurrjens. "Hopefully he can come down here and start figuring out what adjustments he needs to make for himself."
Atlanta recalled reliever Cory Gearrin from Gwinnett to replace Jurrjens on the roster. The Braves and Knights continue their three-game series tomorrow with Eric Junge getting the start for Gwinnett. He will oppose Charlotte's Terry Doyle.