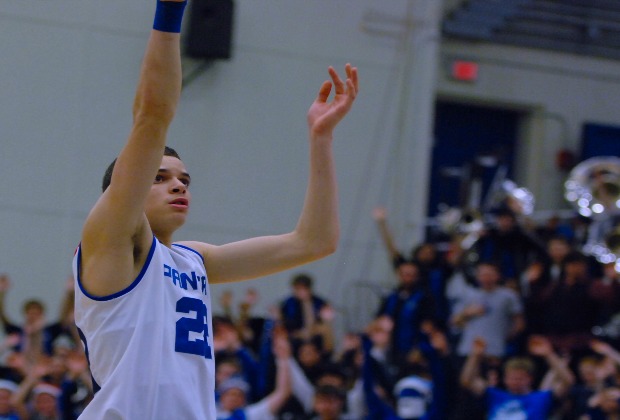 Photo by Sonny Kennedy
Last Thursday, Georgia State men's basket- ball junior guard R.J. Hunter was invited to the LeBron James Skills Academy, which takes place this weekend in Las Vegas, Nev. The LeBron James Skills Academy features 30 of the top college basketball players from all over the nation. Last month, Hunter attended the Nike Elite Kevin Durant Skills Academy in Washington, D.C. Hunter earned Sun Belt Male Athlete-of- the-Year and Sun Belt Player of the Year honors while averaging 18.3 points per game last season.
SUMMER BASEBALL …
Georgia State baseball's junior infielder Matt Rose, junior left-hander Garrett Ford and junior catcher Joey Roach, all members of the Harrisonburg Turks – a collegiate summer baseball team based in Harrisonburg, Va. in the Valley Baseball League (VBL) – competed for the South team Sunday in the VBL All-Star Game at Veterans Memorial Park in Harrisonburg.
Rose hit a RBI single in the South's 2-1 win over the North. This season, Rose leads the Turks with a .366 batting average, three home runs and 17 RBI. On Sunday, right-hander junior Nathan Bates led the Ocean State Waves – a collegiate summer baseball team based in South Kingstown, Rhode Island in the New England Colle- giate Baseball League (NECBL) – to a 5-0 win over the Valley Blue Sox, the NECBL team based in Holyoke, Mass. Bates pitched seven scoreless innings in Sunday's win over the Blue Sox.
TRACK NOTES … On Monday, Georgia State women's track and field thrower Alysiah Whittaker finished seventh in the women's shot put event at the United States of America Track and Field (US- ATF) Junior National Championships at Hayward in Eugene, Ore. Whitaker's best throw took place on Saturday when she threw for 14.3m.
"I am really excited to go to this event with a chance to make the USA team," Whittaker told Georgia State Athletics. "I have nothing to lose and will give it my all because my whole freshman year experience has been so great. Just getting to compete on the national stage makes this is a fantastic experience." Last year, Whittaker set a school record in the outdoor shot put with a 15.70-meter throw in the 14th Annual Coach "O" Invitational at Jes- se H. Colley Track on Troy University's campus